Sure, San Diego has all the traditional excitement you'd expect in a first-class oceanside city: beaches, surfing, swimming, and biking, walking and skating along the boardwalk. There are concerts, stand-up comedy clubs, pro sports and a handful of amazing animal parks like SeaWorld and the San Diego Zoo.
Your adventure starts with the right place to stay. San Diego Coast has a great selection of vacation rentals in the best locations  Consider this 2 Bedroom Mission Beach Condo – the perfect launch pad!
But what about sports a little off the beaten path? While the term extreme sports may be passe and not completely apply, there are lots of adventure tour activities in San Diego that will get your adrenaline pumping. Here's a look at a few uncommon adventures that are worth a closer look as you're planning your unforgettable San Diego getaway. Here's a collection of the best adventure tours in San Diego.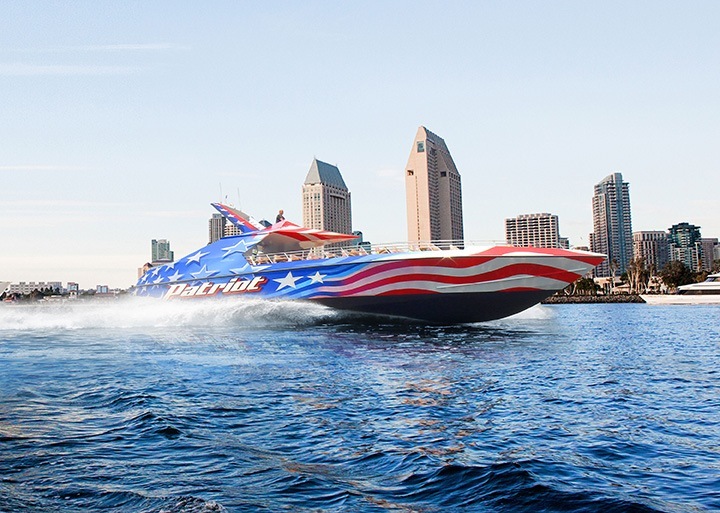 LAND
Try Rock Climbing and Bouldering
There are multi-pitch wall routes in Mission Gorge at the upper end of the San Diego River Valley, and world-class bouldering at Mount Woodson on San Diego's east side. Mission Gorge is a fantastic one-pitch, top-rope climbing area that's only a short drive from downtown. If you want a prime line, plan to get there early on the weekends.
Mount Woodson has over 100 rated routes that are in the 10-foot to 20-foot range – many of which are perfect for soloing. Longer routes are top-roped. There is more face climbing than cracks, but the number and assortment of cracks makes Mount Woodson unique.
Take a Drive in an Exotic Car
San Diego Prestige is a company that rents high-end luxury vehicles. Treat yourself to a sweet ride for a day and cruise the PCH in style. You may never be able to purchase one of these vehicles, that can exceed six figures in price, but here's your chance to get behind the wheel. (We won't tell anyone you don't own it!) Choose from primo rides like a Rolls-Royce, Bentley, Porsche, Ferrari or Lamborghini. I mean, how California can you get? There are several makes and models from which to choose, in a variety of colors.
Hit the Coast on a Hog
Hit the road in a Harley Davidson for a memorable ride around Southern California. At California Motorcycle Tours, you can take a guided tour that begins and ends in San Diego. Trips range from three days to nearly two weeks. Get a real sense of what it's like to live the Harley lifestyle on the road. Get a group of bikers together for a once-in-a-lifetime ride up the coast with friends, or just have a relaxing ride around San Diego. The choice is yours!
SEA
Cruise San Diego Bay in a Jet Boat
How rock 'n roll can boating be? Try a Patriot Jet Boat by Flagship Cruises & Events at reach speeds of 50 miles per hour on San Diego Bay. The Patriot Jet Boat Thrill ride is a 30-minute high-speed tour on Flagship's open-air jet boat. Jet boats can hit top speeds and make smooth 360-degree turns in the water – all while hit music blares through sound speakers. Not feeling that amped up? Never fear, the company offers more tame experiences as well.
Go Sportfishing and Reel 'Em In
Sportfishing in San Diego is epic during the late summer, when you can reel in billfish, dorado, sea bass and tuna. There are several sportfishing outfitters in Mission Bay that can get you out on the water for a memorable experience that you can't have most places. There are packages available for individuals and groups, and lots of choices for first timers.
Swim with Leopard Sharks
From late May to early October, you can snorkel around La Jolla a see beautiful leopard sharks in the warm, shallow waters. The ideal spot for viewing is in front of the Marine Room at La Jolla Shores. There, female leopard sharks enjoy the ideal water to incubate their babies, who hatch inside the mother. At full size, leopard sharks can be 3 or 4 feet long, but are relatively harmless to humans. Along with leopard sharks, you might see shovelnose guitarfish, butterfly rays and round rays. There are several snorkeling trips available out of La Jolla that can accommodate you.
AIR
Fly High in a Glider Planes
If you're looking to soar in the air, there are quite a few options around San Diego. For a terrific adrenaline rush, head to Torrey Pines Gliderport. With nearly a century of flying history, the site is SoCal's top spot for hang-gliding, paragliding, remote-control models and sailplanes. Lessons, tandem rides and gear are available on-site.
Fly in a Classic Biplane
So maybe the jets at Top Gun aren't your speed? Make your way to Montgomery Field and take a ride in a vintage biplane from the 1920s with San Diego Air Tours. You can go for a ride in the front of the plane while the pilot helms the controls from the back seat. If you ask nicely, your pilot may get a few turns and rolls in. Rides last about an hour. It's a terrific way to see San Diego from an old-school perspective. See Coronado, Del Mar, Mission Bay, La Jolla, Torrey Pines, Rancho Santa Fe and more! This is the adventure tour of a lifetime!
Free Fallin' Near the Coast
Ever dreamed of taking the big leap? There are all kinds of skydiving experiences in Southern California, but GoJump Oceanside is the only outfitter that offers a tandem jump with a full view of the Pacific Ocean the entire time. Learn the finer points of skydiving, meet your tandem buddy, gear up, load up and get ready for one of the most thrilling adventures a human being can experience. Skydiving takes place at 13,000 feet above sea level, and jumpers have the option of having their experience filmed of photographed. Soar through the air, enjoy the views of the coastline, mainland and pristine ocean, and land safely on the ground (that's the most important part!).
Accommodations Around San Diego
No matter your intentions while in town, San Diego Coast Rentals can help with your lodging. We have condos and private homes all over the area, from right downtown near the Gaslamp District and Petco Park to beachfront properties and oceanside residences where you can walk to the water in a few minutes, or a few steps! Don't fight crowds, resort fees and exorbitant pricing at lackluster hotels.
Try a vacation rental through us and you'll notice a substantial difference in the quality of your vacation. Enjoy plenty of room, a full kitchen, privacy, a quiet residential neighborhood, an-d sweet amenities like a private hot tub, jetted tubs in the bathrooms, and private parking – even a garage.
Browse our vacation rentals available for your next trip, or give us a call at 858-531-3247, and we'll be happy to recommend something based on your stay dates, personal preferences and budget.