Most places, golf is a recreational sport that's primarily enjoyed during warmer weather – mostly from Memorial Day to Labor Day. But that's the rest of the world. In San Diego, golfers can step into the tee box 12 months out of the year.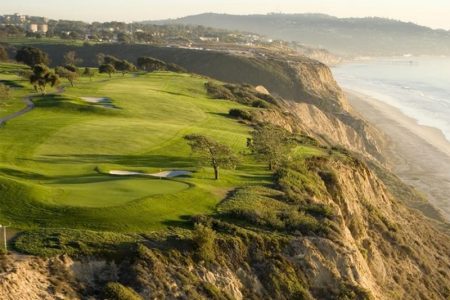 Fall and winter are especially great times to golf in San Diego. While your local course is closed for the season, our courses are open year-round. The weather is fresh and crisp during the fall and winter, and the sun never stops shining.
When it comes to golf, San Diego is a hole in one! If you dream of lining up your shot with ocean waves crashing in the background, putting across a serene desert landscape, or taking a big swing with mountains lining up to watch, then San Diego is the ideal destination.
If you are here on business, the golf course can be a great way to mix business with pleasure. Do some power networking on the course, reward your best employees with a tee time, or impress your biggest clients with a trip out on the green.
If you're in San Diego for pleasure, consider taking a lesson with a pro at one of the area's top courses, or bring your spouse or special someone to the clubhouse for fine dining, drinks, and gorgeous views of the greens.