Americana, ample sunshine and panoramic views all come together at idyllic Belmont Park, an oceanfront amusement park at Surfrider Square in Mission Bay that is a true hidden gem of San Diego. Belmont Park opened in 1925, and some of the historic park's original rides are still operating today. But the park isn't stuck in the past. It has expanded over the years and adds new attractions regularly to complement traditional favorites. In addition to exciting rides, Belmont Park has tasty eateries and eclectic beach-themed retail shops that you won't find anywhere else.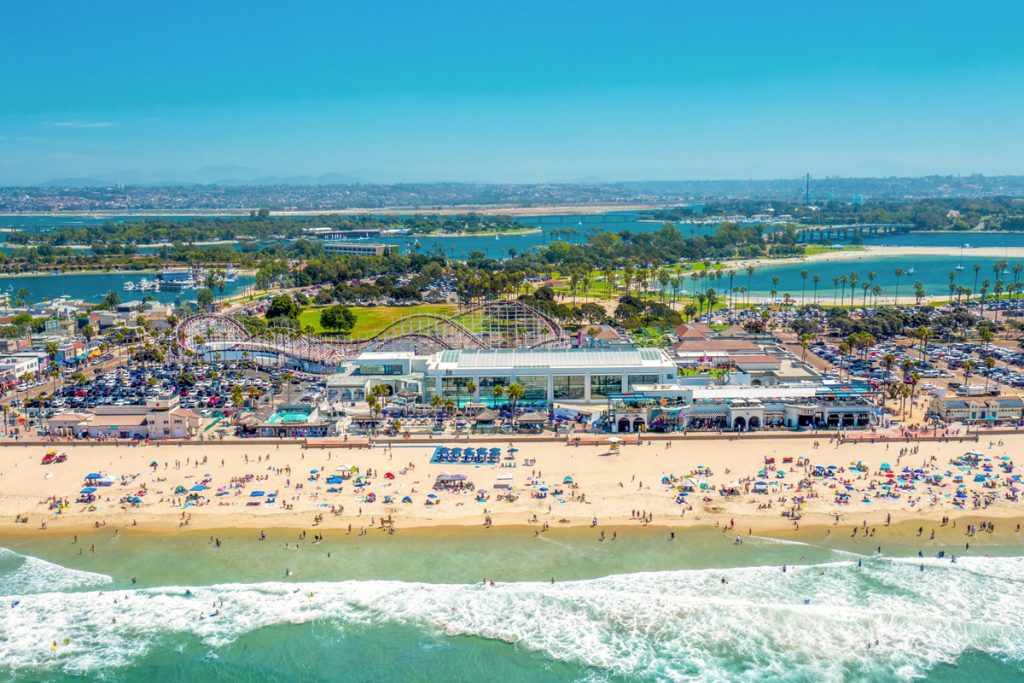 Belmont Park is the perfect place to spend a sunny San Diego day. The park is a must if you are vacationing with your family. The kids will have a blast at this historic and enjoyable park in Mission Bay.
The park is open from 11 a.m. to 10 p.m. or 11 p.m. daily, depending on the time of year.
History of Belmont Park
Belmont Park was first developed a wealthy businessman to attract potential real estate investors to Mission Bay. The park was originally named Mission Beach Amusement Center. Today, the park entices millions of visitors each year. One of the main draws is that many of the original rides are still running, so visitors who came to the park as a kid can now return with their own children for a similar experience.
Attractions like the Giant Dipper, a wooden rollercoaster, and The Plunge, an indoor swimming pool, have been thrilling visitors for almost 100 years. The Giant Dipper is considered a local landmark and is listed on the National Register of Historic Places. Originally called the Natatorium, The Plunge swimming pool was at one time the largest indoor saltwater pool in the world. After falling into disrepair, the pool received a $12 million renovation in 2019 and is now an immaculate freshwater facility with contemporary amenities.
In addition to old favorites, Belmont Park has greatly expanded in the past decade with many more contemporary attractions and several top-notch dining establishments.
Rides and Attractions at Belmont Park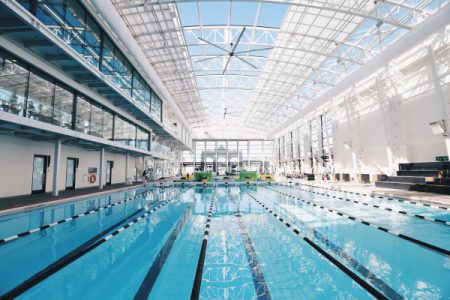 Most visitors come to Belmont Park for the amusement park rides like the Giant Dipper. In addition to the signature coaster, the park has other fun rides like the Beach Blaster, which swings riders 60 feet into the air, a classic Tilt-a-Whirl, and the Octotron, a dizzying spin ride. Other faves include the thrilling Vertical Plunge, a three-story drop tower, Krazy Kars bumper cars and the iconic Liberty Carousel.
If you want to try out all the rides, adults can purchase an unlimited day pass for $26.95. Children under 48 inches tall pay $15.95.
The fun at Belmont Park doesn't stop with rides. The park has great attractions that kids will enjoy, like Tiki Town Adventure Golf, the Sky Climb rock climbing wall, a massive arcade, a 7D theater called Xanadu, a three-level Tron-themed Laser Tag arena and a Sky Ropes obstacle course.
Each attraction charges its own fee for participation.
The Boardwalk at Belmont Park
Take a stroll along the Boardwalk at Belmont Park and experience the vibe of a classic amusement park. The Boardwalk has cool shops that celebrate the sunny Southern California lifestyle and have fun beach gear, gifts, souvenirs and novelties. It's a great spot for people watching, or to snag your signature San Diego t-shirt, hat, art print or shot glass. Swing by Fit Mission Beach, the ultimate SoCal fitness facility, or relax and enjoy the view at stylish Club Aqua.
The Plunge at Belmont Park
The Plunge at Belmont Park is a San Diego landmark that's one of the largest swimming pools in California. The 10,500-square-foot pool is 175 feet long and 60 feet wide and holds 355,000 gallons of water. The pool is located inside of Fit Mission Beach and is open to the public and swimmers of all ages.
The pool has a beautiful aesthetic with floor-to-ceiling windows, a high ceiling and a retractable roof, allowing visitors to bask in the warm San Diego sun all year long.
Wave Machines at Belmont Park
One unique feature of Belmont Park are its two popular wave machines, the FlowBarrel and the FlowRider. Both rides are a great way for new surfers to develop their skills and for established surfers to step up their game.
Passionate surfers will want to head directly to The FlowBarrel, which produces a continuous 10-foot tubing wave. The FlowRider uses patented sheet wave technology to create waves that riders of all skill-levels can enjoy. It's a great way for new surfers to develop their surfing skills.
You can rent either The FlowRider or The FlowBarrel for an hourly fee.
Belmont Park Restaurants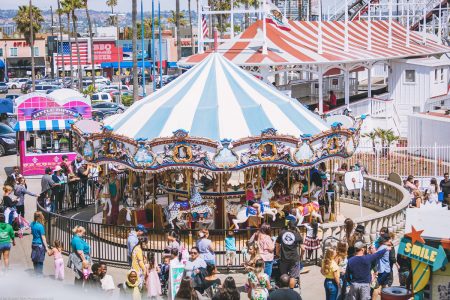 You're bound to get hungry during your time at Belmont Park. Luckily, the park includes a variety of sweet shops, casual eateries, and restaurants. Grab a quick bite so you can get back to ride and play fun in the sun! From tacos and pizza to sweet treats and snacks, you'll be sure to find a bite for everyone.
Cannonball is the largest oceanfront sushi and seafood rooftop restaurant in the city. Draft Mission Beach is the park's savory bar and grill, and the Beach House is a Boardwalk gathering spot with delectable appetizers and bar bites. You can sit down at Belmonty's, a classic American burger joint, enjoy scrumptious fried chicken at Chicken Charlie's, or snag a Hot Dog on a Stick while you stroll the park.
Of course, no amusement park experience is complete without some delicious treats. From upscale Italian coffee to grab-and-go tacos, Dippin' Dots and pizza, there's something for everyone!
Getting to Belmont Park
Belmont Park is located at Mission Beach, at the west end of Mission Bay Drive, south of Ventura Place and west along Mission Boulevard. From Los Angeles, take Interstate 5 south to Exit 21, Sea World/Tecolote Road. Turn right onto Sea World Drive and follow it until it merges with West Mission Bay Drive. Continue onto West Mission Bay Drive and turn left after the Starbucks. The physical address of Belmont Park is 3146 Mission Boulevard.
From downtown San Diego, take Interstate 5 north to Interstate 8 West (Exit 1). Continue to West Mission Bay Drive. It should take about 12 minutes to get to Belmont Park from downtown.
Public Transportation to Belmont Park
You can get to Belmont Park by bus, car, taxi or tram.
Tram: Take the tram from Santa Fe Depot to Old Town Transit Center (Sycuan Green Line). Take the Line 8 bus from Old Town Transit Center to West Mission Bay Drive and Mission Boulevard.
Bus: Take the Line 30 bus from Broadway and 1st Avenue to Old Town Transit Center. Take the Line 8 bus from Old Town Transit Center to West Mission Bay Drive and Mission Boulevard.
Taxi: There are taxi services available to take you from anywhere in San Diego to Belmont Park.
Drive: Drive from San Diego to Belmont Park.
Parking at Belmont Park
Parking in the surrounding parking lots near Belmont Park and free and open to the public. The park offers free entry and is open to the public. Explore and pay as you play, or have an unlimited adventure with the Ride & Play pass. (More details below.)
How to Get Tickets to Belmont Park
There is no cost for admission to Belmont Park. The park is "pay as you play."
There are annual passes that you can purchase for fun at the park all year long. An Annual Pass for anyone over 48 inches tall is about $109. Under 48 inches tall is $99. Passes include two Go Kart rides per day.
The Belmont Park Combo Wristband for anyone over 48 inches is $56 and includes one full day of fun and adventure at the park. Wristbands for anyone under 48 inches tall is $46. Arcade, Escapology and some premium attractions are not included.