San Diego vacationers need accommodations in all sizes, but the ones requested the most are our 2-bedroom residences at Mission Beach. Maybe it's because the modern American family has approximately 3.52 people, or maybe it's because Mission Beach is one of San Diego's best beaches. Or it could be because a 2-bedroom unit provides the right amount of space at a reasonable price. Whatever the reason, it leads to us having some incredible 2-bedroom homes, townhomes, and condos in Mission Beach that are available to rent for a few days, a week, or even longer. From spacious condos only a short walk from the boardwalk to beautiful oceanside beach homes, there is no shortage of exceptional Mission Beach rental properties. Here are our best 2-bedroom San Diego vacation rentals: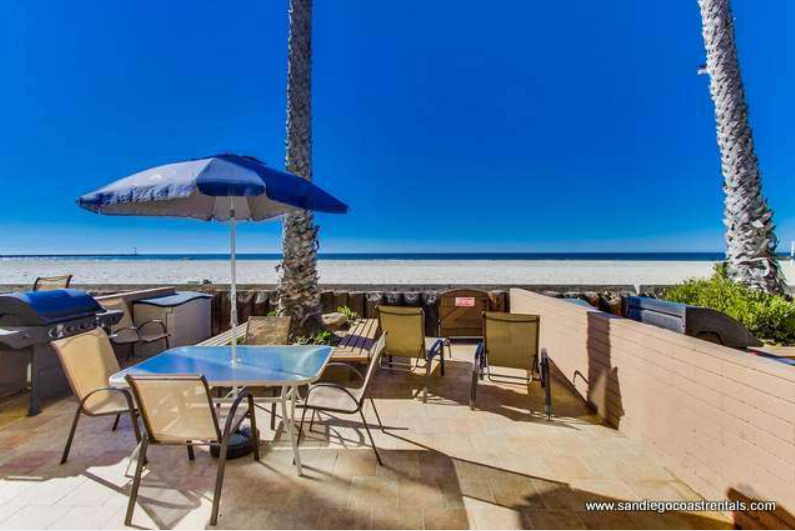 San Diego Hot Spot A
Unit A from $250 per night; Unit B from $250 per night; Unit C from $400 per night
This oceanfront condo has one of the largest private patios on the boardwalk in San Diego's Mission Beach. Although the view and easy beach access are worth the price alone, we have done our best to ensure you will enjoy your stay and be comfortable indoors and out. This two-bedroom, one-bathroom unit comes fully furnished with relaxation in mind. The enormous private patio has furniture with an umbrella, a gas grill, an outdoor shower, and of course, a million-dollar view. We provide beach chairs along with a few beach toys. The primary bedroom has a queen bed, and the second bedroom has two twin beds. There is a full-size sofa sleeper in the living room. We provide open-air parking for one car. It's all here, comes and enjoy it.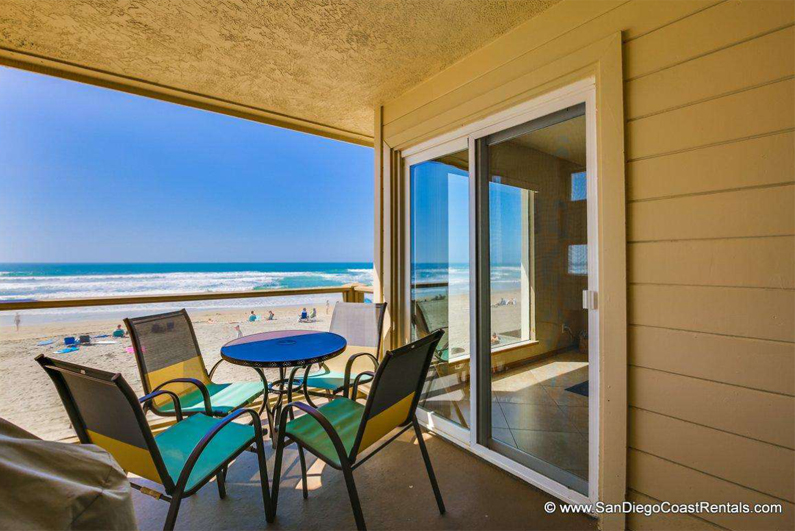 Ocean Front Dream
From $275 per night
Fall asleep and wake up to the gentle sound of the waves in this beautiful oceanfront condo in Mission Beach. This second-floor apartment overlooks the beach and Mission Beach's famous boardwalk. As you step out towards the beach, you can feel the sand between your toes. Of course, you will enjoy your time indoors.
This comfortable apartment is fully furnished and includes a primary bedroom with a queen bed and a second bedroom with two single beds, making it an excellent choice for a romantic getaway or family vacation in San Diego. The apartment includes:
A fully functional kitchen.
A spacious study perfect for nighttime movies.
A balcony with direct ocean views.
At Ocean Front Paradise rentals in Mission Beach, you can take a leisurely jog or stroll along the boardwalk in the morning, enjoy lunch on a balcony overlooking the ocean, and enjoy all the fun of nearby San Diego in the afternoon. At night, San Diego's famous Gaslamp Quarter offers a variety of dining, trendy bars, music, and entertainment. It doesn't get better.
South Mission Holiday
From $215 per night
You won't find a better location or a more private and quiet building. This home away from home is perfect for families. The primary bedroom has a king-size bed, and the second bedroom has two single beds that can be converted to a second king-size bed upon request. There is a full-size pull-out sofa in the living room for extra flexibility. The best beaches in San Diego are just steps away, and taking the kids for a day at SeaWorld is easy as it's only two miles away.
You can rent bikes, surfboards, roller skates, jet skis, and other recreational equipment just around the corner. Or play a game of beach volleyball, or get a tan. You're just a short walk or bike ride away from the famous Belmont Park. It's only during the day, and Pacific Beach is just a few miles down the road for those who enjoy the nightlife. Or head downtown for a night out in San Diego's famous Gaslamp Quarter or to Petco Park for a Padres game. The possibilities are endless.
The condo is in South Mission Beach; this end of the beach offers peaceful accommodations and easy access to all that Mission Beach has to offer. Recently refurbished, it has the most modern amenities and facilities. Our unit is on the ground floor and has two private decks with furnished gas grills. We have a private garage for one car, so you don't have to worry about finding parking on the street.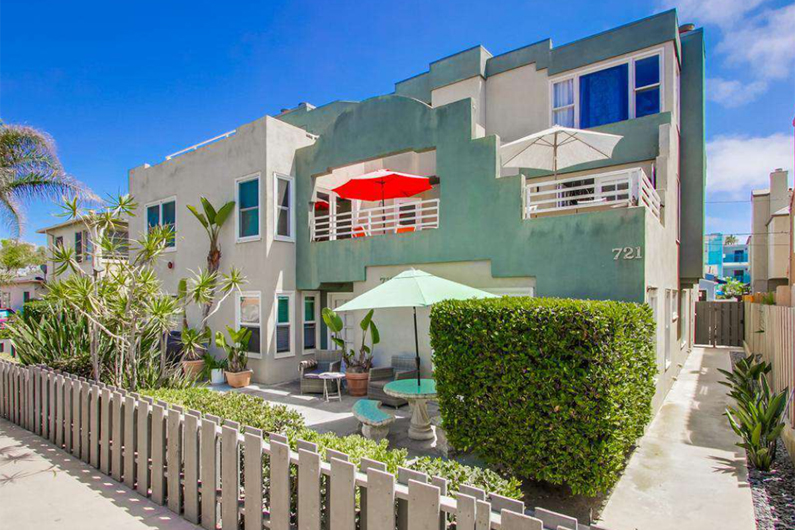 Coronado Retreat 719
From $200 per night
Relax in this private, spacious second-floor apartment in South Mission Beach. This condo offers plenty of space for your family or group during your visit to San Diego. Enjoy morning coffee or an evening barbecue on your private balcony. Overlooking the famous Mission Beach Boardwalk and the Pacific Ocean, you are only two houses from the beach.
The property offers much-needed private garage parking for up to two cars. The owners provide guests beach chairs, an umbrella, and two surfboards. One block from the beach, you can sunbathe and swim in the Pacific Ocean. The boardwalk takes you to Belmont Park, only half a mile away. Get up close with marine life at SeaWorld San Diego, just two miles away. Or drive 10 miles to the world-famous San Diego Zoo to see wildlife from around the world. The La Jolla Tide Pools are six miles away, and the shops, restaurants, and parks of the La Jolla community are nearby. (Note: You must be at least 28 years old to rent this property.)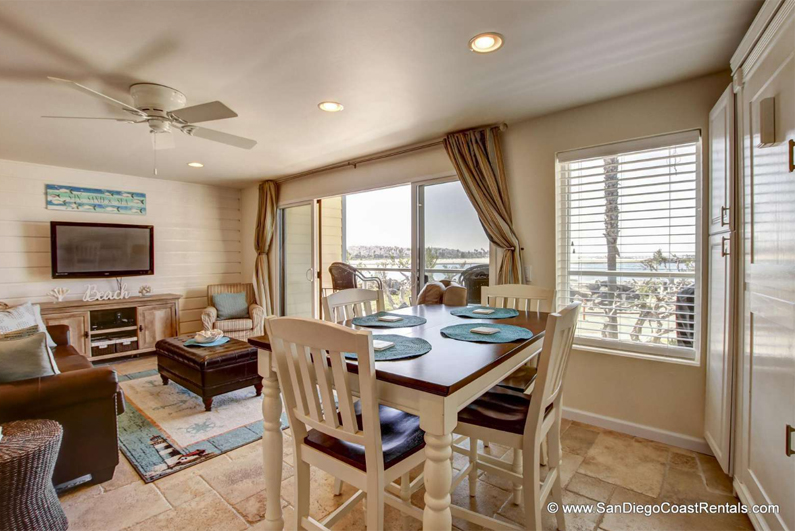 Sandy Beaches Oceanfront
From $189 per night
Need something more intimate? This unit is a one-bedroom home, but it comfortably sleeps four adults. Relax in this spacious, modern condo on the southern tip of the Mission Beach peninsula. This second-floor apartment features a private west-facing balcony overlooking the ocean and marina. This unit offers plenty of space for a small family or couple looking for a stylish vacation, much larger than a typical beach condo or hotel suite.
The unit can accommodate up to six guests (up to four adults) and provides secure parking for one vehicle on the first floor of the building. This property offers outdoor showers to rinse off after a fun-filled day on the beach and the Pacific Ocean. Mission Beach's famous boardwalk is just 75 yards from the complex. Once on the boardwalk, you can walk, play, skate, or bike for miles along the ocean and Mission Bay. If water sports are more your thing, you're only a few hundred yards from the water, where you can surf, paddle, kayak, swim, and kitesurf. You'll be glad you chose this seaside gem for your stay and want to come back year after year, if not several times a year.