There's a lot to see and do on a San Diego vacation, and sometimes a few days just won't cut it. If you've never been to San Diego or don't plan on returning for a while, you might want to plan a more extended vacation so that you can fit in everything. The city offers scenic skylines, historic buildings, parks, beach piers, seaside villages, and unforgettable sunsets. There's sun, surf, stunning beaches, a flourishing culinary and craft beer scene, trendy shopping, and fantastic art galleries. It doesn't matter if you're an independent traveler, romantic couple, family with young children, or a larger group; there are just some things you won't want to miss.
A typical trip to San Diego involves visiting the San Diego Zoo, Balboa Park, SeaWorld, and the USS Midway Museum. San Diego has several beautiful beaches like Ocean Beach, Mission Beach, and La Jolla that offer swimming, stand-up paddleboarding, snorkeling, and biking along the beach boardwalks. There's so much to do. San Diego attractions and activities range from theme parks and zoos to museums and tours. To help with your vacation planning, we've put together a 7-Day Best of San Diego Trip Itinerary that hits all the highlights. Here are our top suggestions for where to go and what to do.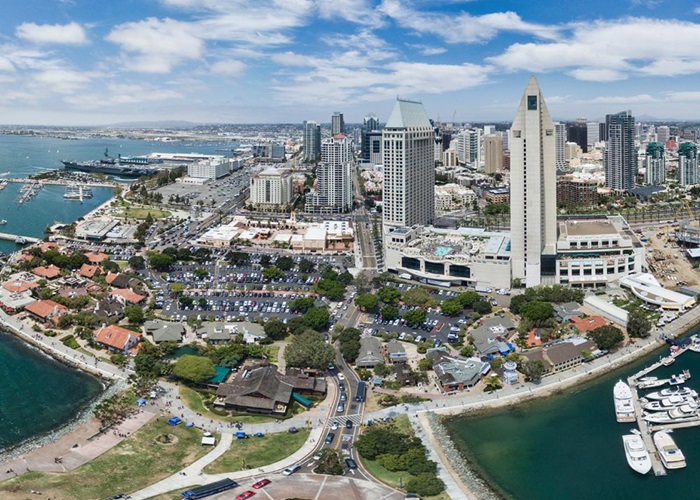 Day 1: San Diego Zoo and Balboa Park
Start your vacation with an iconic San Diego destination: the San Diego Zoo in the heart of Balboa Park. The San Diego Zoo is one of the most famous zoos globally, with more than 3,700 animals from more than 650 different species. It is the perfect spot for animal lovers. The zoo is also a leader in global conservation, rescuing and rehabilitating hundreds of animals every year. The zoo requires tickets that you can purchase in advance or at the gate—plan three to four hours to tour the park.
After the zoo, make your way to the Natural History Museum, located at Balboa Park. The NAT (as locals know it) has fascinating exhibits and ancient artifacts that are educational and inspiring. There are impressive dinosaur fossils and exhibits ranging from ancient civilizations to whales. You'll need to plan about an hour to get through the museum and its many intriguing displays.
Following the NAT, spend another hour just bopping around Balboa Park. The park, constructed in 1835, covers 1,200 acres and is one of the oldest public parks in the United States. There are numerous activities and sights, like the Balboa Park Carousel, Cabrillo Bridge, California Tower, El Cid Statue, Moreton Bay Fig Tree, Photographic Arts Building, and Spanish Village Art Center. There are also many hiking paths to explore.
The San Diego Air & Space Museum at Balboa Park is a must-see for space exploration and modern aviation fans. The museum has immersive exhibits and restored aircraft, like a Navy F6F Hellcat, A-4 Skyhawk Jet, and Wright EX Vin Fiz. You should be able to make your way through the museum in about an hour. (The nearby Rueben H. Fleet Science Center is a terrific companion to the Air & Space Museum if you have science buffs in the family.)
Day 2: The Beach! (And Birch Aquarium)
If you're going to vacation in San Diego, you must devote at least one full day to the beach, right? Odds are, you're going to want to spend more time than that soaking up the sun and surf. For a classic SoCal beach experience, head to La Jolla. The old-fashioned beach is ideal for swimming, surfing, building sandcastles, or working on your tan. Check out the Shell Beach Tide Pools for a unique, picture-perfect experience at the south end of Ellen Browning Scripps Park. La Jolla Cove is a small beach with sea lions and birds. There are sea caves to explore, too. You can easily spend the entire day here – remember to hydrate and wear sunscreen.
Scripps is also home to the Birch Aquarium. The aquarium is one of the best in the country and offers a variety of sea creatures and lots of special exhibits that showcase the delicate marine habitat. See more than 60 habitats of fishes and invertebrates from the Pacific Northwest to Mexico (and beyond). Learn about everything from seahorses to coral reefs. Plan to spend at least a couple of hours at Birch Aquarium.
Day 3: Museum of Making Music and Whale Watching
The Museum of Making Music in Carlsbad offers more than a century of music history in interactive and intriguing exhibits. It showcases all kinds of music that Americans have enjoyed and created over the years, from the first American player piano to the innovation of modern digital music. Browse and learn about more than 500 vintage instruments with hundreds of audio and video samples — a captivating experience for musicians and all lovers of music.
For the remainder of the day, head to Newport Beach for a whale watching and dolphin cruise. After spending the first part of the day walking, kick back for a cruise on a cozy catamaran. View giant blue whales, orcas, finback whales, California gray whales, humpback whales, minke whales, and several species of dolphins, seals, and sharks on your expedition. A whale-watching cruise lasts just under three hours and is very affordable.
Day 4: SeaWorld and Belmont Park
Yesterday's whale-watching expedition was just an appetizer for today's main course: SeaWorld San Diego. SeaWorld has been a San Diego institution and entertained families for decades. The amusement park has unmatched animal shows, animal encounters, and behind-the-scenes feeding demonstrations. There are also amusement park rides, food, shopping, and more. Attendance times vary depending on how many shows you'd like to see. (They're worth it.) It's safe to plan at least three to four hours to conquer SeaWorld San Diego's many sights and shows.
There isn't much in San Diego that's been around longer than SeaWorld – except Belmont Park. The legendary amusement park harkens back to the Golden Era of classic rides and arcade games from the early to mid-20th Century. Ride the legendary Giant Dipper roller coaster or crash into someone on the Krazy Kars bummer car ride. Splash through a few wave rides, or try your luck at the Vertical Plunge. This throwback amusement park doesn't disappoint. It's the Coney Island of the West Coast.
Day 5: USS Midway Museum and Coronado Island
Kick-off Day 5 with a slice of Americana – a trip to the historic USS Midway battleship. The World War II-era vessel is one of the most-visited attractions in San Diego. You can explore the entire ship at the USS Midway Museum, including the sleeping quarters and other essential rooms, and learn about significant battles. Watch the movie "Battle of Midway: Voices of Midway" and other informational presentations. Then make your way to the deck and see authentic aircraft from the times. Slot about three hours to experience it all.
For the rest of the day, catch the ferry and head to Coronado Island. The island has its own distinct culture and vibe apart from mainstream San Diego. The island is a perfect spot to play outside – enjoy hiking and biking trails, kayaking (tandem and singles), and stand-up paddle boarding. There's plenty to see around Coronado, like the beautiful Hotel del Coronado and Centennial Park. Tee up for golf, explore the many open spaces, or bask in the rays on the beach. Don't miss the picture-perfect sunset to conclude your day of adventure.
Day 6: LEGOLAND
On Day 6, everything is awesome! One of San Diego's newest theme parks, LEGOLAND, is on the agenda for today. The amusement park inspired by the popular kids' toy has thrilling rides for older children and adults and the innovative DUPLO area for youngsters. There's also a water park and an aquarium. If you're a fan of LEGO, you can't miss this place. The gigantic theme park deserves an entire day, but you can get through a good portion of it in about five hours.
Day 7: San Diego Safari Park
Wrap up your complete San Diego vacation experience with a visit to the San Diego Safari Park. The animal park is different than the San Diego Zoo. Here, you'll find animal encounters and experiences that go far beyond the average zoo visit. Watch cheetahs hit full speed (over 60 mph), or get a glimpse into the daily life of a majestic lion or tiger. The San Diego Safari Park has shops and on-site restaurants when you need a relaxing break or bite to eat. It's OK to spend the entire day at the park or allow a little extra time to make a return visit to one of your favorite spots from an earlier day. It's your last day in San Diego, so make it count!