San Diego has some of the best waterfront dining on the West Coast. There's nothing more fulfilling than sitting down for a perfect meal with stunning ocean views. From classic seafood favorites to steak and Vegan plates, contemporary restaurants along the coast offer something for all taste buds.
To get your mouth watering, we've culled our list of the best waterfront restaurants in San Diego where you can eat and enjoy picturesque ocean vistas. These restaurants are a step above the rest, and reservations are recommended, so you're sure to get a seat. Here are the best oceanfront restaurants in San Diego (in no particular order):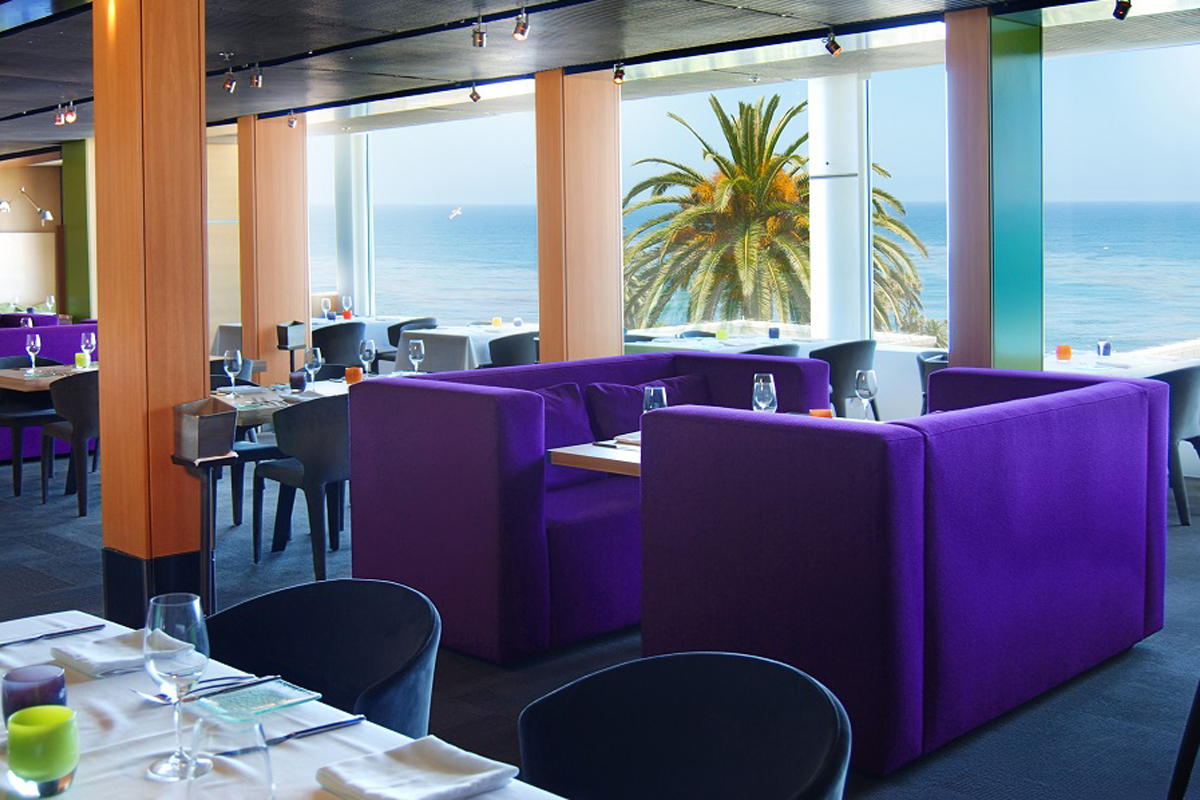 George's at the Cove (La Jolla)
San Diego is known for fish tacos – and Georgie's has some of the best. Overlooking the Pacific Ocean, George's at the Cove combines outstanding cuisine and service with breathtaking views from every level of the restaurant. Dine indoors in the modern restaurant and bar, the Ocean Terrace rooftop dining space, or sit at Level2, a relaxed dining and bar spot.
World Famous (Pacific Beach)
World Famous is another excellent spot for fish tacos. This casual restaurant draws a crowd, so plan accordingly. There's good seating along the boardwalk, relaxing ocean views, and entertaining people-watching. It's a pleasant stop for affordable seafood and salads, and the Happy Hour menu runs Monday through Thursday.
JRDN (Pacific Beach)
If you're looking for sleek and trendy, try JRDN, Tower 23 Hotel's 10,000-square-foot oceanfront restaurant. JRDN has live music and innovative cocktails in a relaxed setting with colorful lighting and a giant water wall. This upscale spot on the Pacific Beach boardwalk keeps the décor simple but goes long on style and overall bar vibe.
Vigilucci's Seafood and Steakhouse (Carlsbad)
A Carlsbad staple since 1980, owner Roberto Vigilucci's restaurant near Cardiff State Beach features cuisine inspired by his native city of Milan. The menu includes a famous seafood tower stacked with clams, lobsters, mussels, and oysters. Guests also love the grass-fed steaks that have been aged for 40 days.
Top of the Market (Downtown)
Situated upstairs from the casual Fish Market, Top of the Market presents views from Point Loma to the Coronado Bridge. This refined downtown eatery has spectacular cuisine with a broad selection of seafood, including prime salmon, lobster tail, Dungeness crab, and sea bass flown in daily. Top of the Market is an ideal spot for a romantic dinner with candlelight and exhibition-style cooking. To top it off, a great wine list pairs magically with the menu.
Brockton Villa (La Jolla)
If you're near La Jolla, Brockton Villa can be your spot for breakfast, brunch, lunch, or dinner. Positioned in a historic cottage with lots of character, you can enjoy your meal while gazing over stunning La Jolla Cove. A legendary menu item awaits for eats, no matter the time of day. Try the Coast Toast (their signature French Toast) or the Crab Ipanema – the restaurant's take on Crab Benedict. For lunch, give the pulled pork chilaquiles a go.
Jake's Del Mar (Del Mar)
Jake's is another local staple that's right on the beach. Open all day, the restaurant has seafood favorites mixed with innovations, along with land-based goodies like burgers and steak. You can't go wrong no matter what you order. But save room for dessert, when you can pick from goodies like macadamia nut ice cream or chocolate cookie crust Hula pie. At night, huge flood lights light up the ocean for an enhanced nighttime view.
Il Fornaio Coronado (Coronado)
Il Fornaio Tuscan restaurant transports a bit of Italy to the San Diego waterfront. Everything from the ingredients to the pasta machine comes from Europe, including the daily tomatoes. Fresh pasta and pizza dough are made daily on-site. Try Paccheri Alla Vodka, tube pasta with a delicious vodka tomato sauce, or Pizza Cristina with prosciutto, mushrooms, and white truffle oil.
Poseidon Restaurant Del Mar (Del Mar)
Poseidon Restaurant is always a top pick for fresh, high-quality seafood if you're looking for luxury al fresco dining on the beach. Make reservations for a terrace table if you want exceptional water views. Here, you can enjoy the ocean views at night even when the spotlights are on. On the menu, guests rave about the lemon-pepper Chilean sea bass and the pistachio-crusted salmon.
Tom Ham's Lighthouse (Harbor Island)
Tom Ham's Lighthouse is one of the best waterfront restaurants in San Diego because its classic lighthouse and bay enhance its casual nautical feel. Eight minutes west of Harbor Island Park, Tom Ham's seafood-based menu has traditional seafood faves and a few custom in-house creations that will earn praise from even the most finicky diners.
Monarch Ocean Pub (Del Mar)
There's nothing but good vibes at Monarch Ocean Pub high above Del Mar. A full face of windows offers breathtaking views of the endless sea. To relax, when the sun goes down every night, the bartender rings the bell and stands on top of the bar, reading a poem he writes daily while toasting customers. If you're hungry, don't miss the butter-poached lobster and wild prawns on a toasted brioche bun, paired with a dragon fruit margarita and garnished around the edges with black lava salt.
Portside Pier (Downtown)
The Portside Pier is a $25-million waterfront development with many dining choices under one roof: a brewery, a rooftop bar, a gelato spot, Mexican fare, and seafood. Try Brigantine Seafood and Oyster Bar for famous fish tacos or oysters (raw and grilled). For a brew, head to Ketch Brewing.
The Shores Restaurant (La Jolla)
Off the ocean, The Shores Restaurant serves Sunday brunch with a side order of sun and surf. Part of the La Jolla Shores Hotel, the eatery plates tasty brioche French toast, chilaquiles, and huevos rancheros for brunch. Well-known chef and award-winning cookbook author Bernard Guillas rotates the menu based on the season. The bar hosts Happy Hour regularly, and it's a prime spot to soak in the Pacific sunset over the water.
Serea Coastal Cuisine (Coronado)
Serea Coastal, the main restaurant at the legendary Del Coronado Hotel, offers stunning views of the palm trees that line the esplanade near Coronado Beach. Led by acclaimed chef Jojo Ruiz, noted specials include boneless wood-roasted whole fish and Serea Mezze, a hummus platter with raw cheese and homemade flatbread.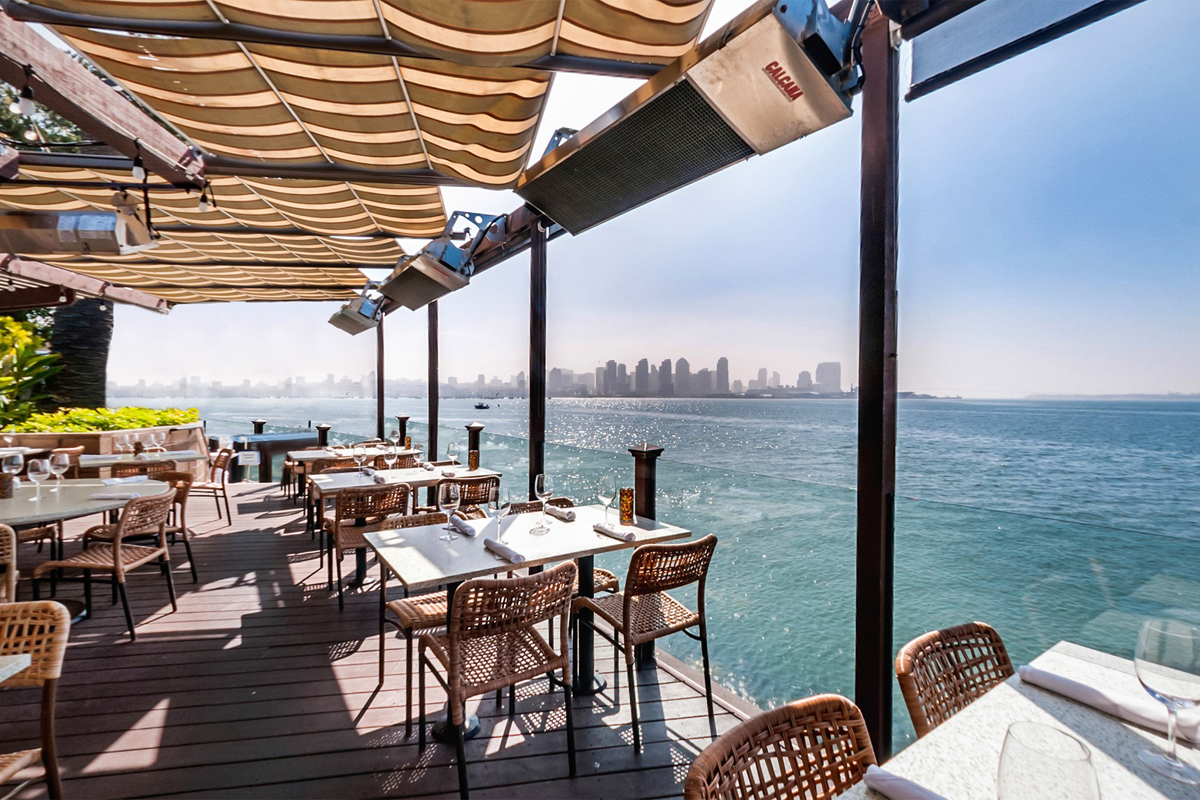 Island Prime (Point Loma)
Island Prime and C Level (see below) present scrumptious cuisine and spectacular panoramic views of the San Diego skyline. The restaurant offers stunning skyline views, an array of stylish cocktails, and impeccable service. Perched on water stilts on San Diego Bay, this restaurant is a trendy destination for dinner or a drink. Sample creations such as macadamia-crusted Mahi Mahi, or try the filet trio with Alaskan king crab, wild mushrooms, and blue cheese. A perfectly grilled steak is always a good choice.
C Level Lounge (Point Loma)
Overlooking North San Diego Bay and the East Basin, C Level Lounge is an upscale destination with an airy ambiance and breathtaking views of the San Diego skyline. When it comes to hearty beachside eats, the lounge offers delicious steakhouse and seafood specials. The menu is perfect for those who like the best of both worlds.
SEA180 (Imperial Beach)
This oceanfront restaurant is located on the ground floor of Pier South Resort in Empire Beach, America's most southwestern seaside town. At SEA180, patrons can appreciate breathtaking views of the Pacific Ocean. Try the famous double cheeseburger with bacon jam. Opt for the seafood platter and a spicy mango margarita on the weekends.
Pacific Coast Grill (Cardiff)
Pacific Coast Grill's oceanfront location is one of the best places to eat and drink in North County. An outdoor festival patio borders the sand. Popular Cali cuisine menu items include seafood mains like lobster tacos, sushi rolls, and Hawaiian-style baby back ribs. Reservations are recommended, especially during busy times.
The Marine Room (La Jolla)
The Marine Room is so close to the water that waves crash on the windows during exceptionally high tides. The restaurant offers elegant dining on gorgeous La Jolla Shores Beach sand. Offering globally infused cuisine, the season menu constantly changes but always retains house specialties like lobster bisque, absinthe butter-basted lobster tail, sea salt crispy skin branzino, and kalbi shiso lacquered organic tofu.
Las Olas (Cardiff)
Serving custom beachside tacos and cheerful margaritas for over three decades, Las Olas is a Mexican restaurant along Highway 101 and Cardiff State Beach with idyllic views of the sparkling Pacific Ocean. Wash down Las Olas's popular breaded fish or Baja-style meat tacos with a spicy Chilean N' Pina margarita.