San Diego is amazing during the holiday season. While most of the country is under a sheet of ice or a blanket of snow, America's Finest City is experiencing another day in paradise, with temperatures in the 60s or 70s in late December. It's no reason the holidays are one of the best times to visit San Diego. Not to mention, there are some festive holiday events that you shouldn't miss. Here are a few can't-miss holiday favorites in and around San Diego. And, the best part is, more of them are free!
San Diego Coast has a great selection of vacation rentals for the holiday season.  Book early as Christmas and New Year is a popular time of year.  Search our San Diego Vacation Rental Availability to quickly sort through your options.
Old Town Trolley's Holiday Lights and Sights Tour
The Old Town Trolley at Old Town Market is a fun ride any time of year, but during the holiday season it takes on a whole new level of joy. Join a sing-along with Elf conductors as they give out neat holiday facts and traditions. Enjoy a 15-minute stop at Seaport Village for holiday festivities. See the festive holiday lights of Old Town, Embarcadero, Seaport Village, Balboa Park and more. It's an enjoyable ride at any age!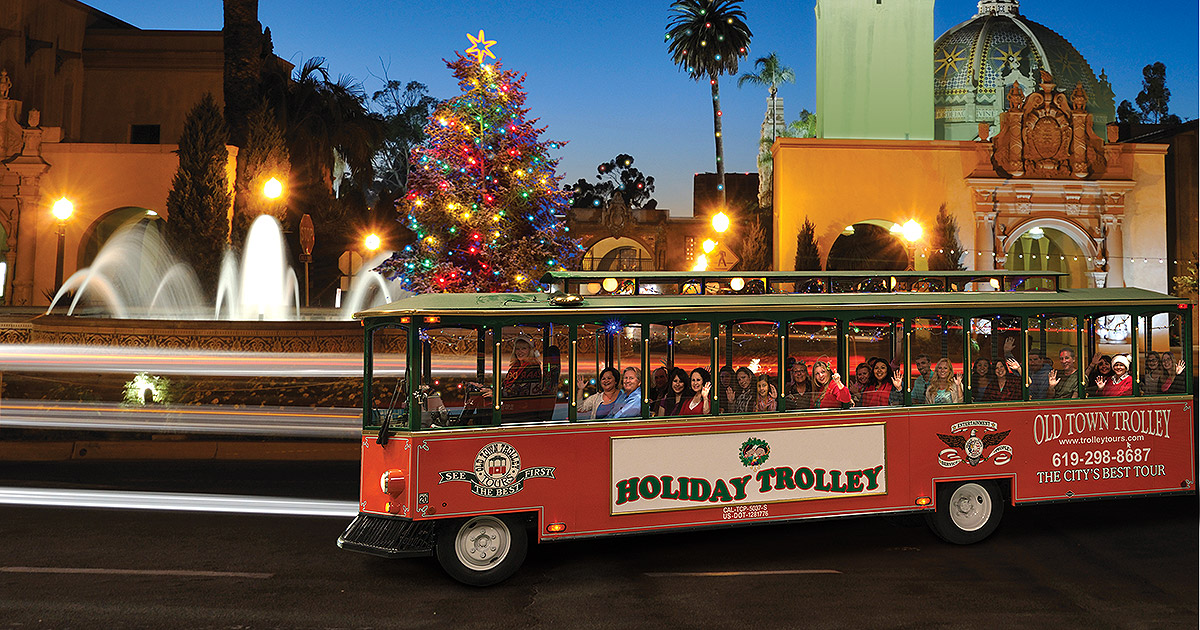 Little Italy Tree Lighting and Christmas Village
Little Italy transforms into a winter wonderland with twinkling lights and 10-foot-tall nutcrackers as the entire community comes together to celebrate the holidays. The family-friendly event has two Christmas trees, seasonal vendors, live music, entertainment, holiday treats, a visit from Santa, and a traditional Italian tree lighting ceremony. Visitors can also enjoy Christmas Village on India Street between West Cedar and West Grape Streets, where you'll discover holiday goodies from seasonal vendors and a few Little Italy Mercato vendors.
Julian County Christmas Tree Lighting
The town of Julian has a traditional country Christmas celebration every year, including the annual tree lighting. The whole town comes together for this signature event, and there are decorations and holiday cheer all over! Many local shops and organizations participate to make it a memorable event. Because of its location in the Cuyamaca Mountains, it gets closer to a white Christmas than most spots in SoCal.
Oceanside Harbor Parade of Lights
Join fishing boats, sail boats, kayaks, dinghy and yachts as they make the rounds on Oceanside Harbor to celebrate the Yuletide. Several boats will have Santa on board, waving to onlookers. A great spot to catch the Parade of Lights is along Oceanside Harbor near the police station and fishing dock. The concrete walkway that surrounds the harbor is another great spot to catch the parade.
Encinitas Holiday Parade
The Encinitas Holiday Parade has blessed the holiday season for more than 60 years. The classic parade features more than 100 entries every year, including paradegoers on floats, on foot, in cars and in marching bands along Coast Highway 101. The 101 closes for the parade and spectators can line up along the highway to watch. There are judged categories for lights, creativity, performance, music, spirit and overall impression.
Jungle Bells at the San Diego Zoo
The zoo is a wonderful place to visit any time of year, but the holidays are even better! Typical holiday customs take on a fierce twist at the San Diego Zoo's annual Jungle Bells celebration. The zoo comes alive with holiday cheer and decorations, with music filling the air, joyful wandering entertainers, and fun food items. Jungle Bells runs from early December through the New Year.
Jingle Bell Run
At the Arthritis Foundation's original Jingle Bell Run at Point Loma Peninsula, you can get decked out in your best holiday garb and race to raise funds to cure the number one cause of disability. The event is typically a gathering of runners who dress in all kinds of holiday outfits. Ever run next to Santa Claus? Well, you're about to! It's a great cause and a great time!
La Jolla Christmas Parade and Holiday Festival
Come to the fun downtown streets of La Jolla for a tree lighting ceremony and holiday festival. The La Jolla Christmas Parade and Holiday Festival comes complete with floats, marching bands, Santa Claus, horses and classic automobiles. It's a fun event that's walkable and gets you in the holiday mood.
La Mesa's Holiday in the Village
A newer event, the La Mesa Holiday in the Village has become a standard in only a few years, due to the awesome live music, bonfires, craft vendors, food, holiday photo ops and a massive area for kiddies. The event really strives to have activities and things for kids of all ages. Get in the holiday spirit while playing carnival games, listening to carolers and live entertainment on the La Mesa Lumber Stage, and enjoying great food and drinks from local La Mesa favorites.
December Nights at Balboa Park
For more than four decades, the community has ushered in the holiday season at beautiful Balboa Park. In recent years, the drive-through experience at the Inspiration Point parking lot area has allowed revelers to enjoy the sights without exiting their vehicles. The three-day event has food vendors, food trucks and entertainment from past December Nights. The theme changes every year.
Encinitas Holiday Street Fair
The Encinitas Holiday Street Fair has more than 450 booths and dozens of unique downtown retailers, so you can knock out your holiday shopping in one fell swoop. Enjoy the music of popular local bands, dance, or take your young ones to the Kids Zone for a variety of fun activities. Eat, drink and be merry at the street fair, or at the 40+ restaurants and bars in the vicinity. Or you can walk your canine companions into Dog Zone for some treats and special attention.
San Diego Bay Parade of Lights
Take in a time-honored tradition with more than six dozen boats lavishly decorated for all to see. The San Diego boating community is a proud bunch, and the Parade of Lights does not disappoint. Enjoy evenings of dazzling lights and entertainment on the bayfront as the boats pass by in all their glory. It's become one of the most iconic events in San Diego and shouldn't be missed. There is no cost to view the Parade of Lights.
SDCCU Holiday Bowl
Catch the Holiday Bowl at Petco Park! The signature San Diego event highlights top teams from two of college football's finest conferences: the ACC and the Pac-12. The bowl game has a rich history over the years, but recently moved to Petco Park for a change of scenery, and the event has gone to another level. Pregame in downtown San Diego with all the finest bars, pubs and taverns in the city within walking distance. Then head to the game for an amazing contest. Afterward, hit the bars and club and celebrate a win (or drown your sorrows)!