Planning a fun vacation to San Diego? Ready for warm air, sunny skies, sun and sandy beaches? San Diego offers all that and then some: world-class cultural events, festivals, amusement parks, professional sports and iconic SeaWorld, just to name a few. But before your big vacation kicks off, you have a big decision to make. Do you stay in a vacation rental condo or a hotel?
Vacation Rental Condo vs. Hotel Room
After being cooped up in the office all day under oppressive florescent lighting, you look at your beach photography calendar with desperation. Now that you've endured your third meeting (today) about "increasing productivity," the time has come to finally discover why San Diegans are known for their consistently relaxed attitudes and chill lifestyles: you're going to book that trip to the beach.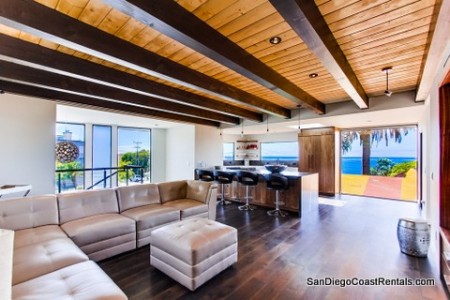 This is going to be a real vacation, so it should feel like one. That means minimum stress and maximum luxury, but spending hours comparing hotels online and then paying an outrageous price to stay far from the beach in cramped conditions is the opposite of this goal. Fortunately, there's a better way: beach vacation homes in San Diego. It might surprise you to find out that beach vacation homes can be less expensive, much more luxurious, and easier to rent than a hotel. Here are five reasons why you should go with a rental rather than a hotel:
#1. San Diego Rentals are Easy to Book Online
Many people are under the impression that arranging for a San Diego rental property requires a great deal of legwork, wrangling, and awkward games of telephone-tag with the owners. It actually takes way less effort that you think. This might be why beach rentals are still the best-kept secret of San Diego, but now you can learn the truth!
Making a reservation at a San Diego vacation rental property is just as easy as reserving a hotel room at a major brand like Hilton, Marriott or Holiday Inn. Vacation rental agencies like San Diego Coast Rentals are designed to make the process simple and quick for you. You simply browse listings online, find the best property for your needs and make your reservation online. Up-to-date photos, easy-to-read booking calendars, and professional management by the agency make reserving your vacation a breeze.
Just like a major hotel, you'll receive a confirmation of your reservation after you book, along with all the pertinent information you'll need to finish planning your San Diego getaway. Like a hotel reservation, you can call and adjust your dates, cancel or extend your stay, and get in touch with representatives to help you plan for special needs like extra bedding, towels, a crib or any other special requests.
#2. You Can Save Money with a San Diego Vacation Rental
Prices for accommodations vary with seasonal demand, but even at the most expensive time of year for San Diego (the weeks surrounding Comic-Con in July), prices for a place that can sleep a family of four rarely exceed $225 per night. That same family will be hard-pressed to find a hotel for less than $350 a night, for smaller space, and certainly no beachfront without another $50 to $150 dollars a night coming out of your wallet.
The only cheaper options around San Diego are the dreaded motel experience, or hotels that can be 40-plus miles away from the action. With one of these scenarios, you'll either be driving into the city every day (so there will be added transportation costs), or you'll be packed in like sardines at a motel that can be dated, overpriced and noisy. The math is pretty simple: those $100+ you'll save per night translates into more money for having fun around town. That's more money for mojitos!
San Diego vacation rental homes and condos typically don't have as many attached units as a hotel or motel, so you won't be hearing every conversation your neighbors are having. Also, nicer condominiums in gated communities provide more privacy and less traffic in general. There are quality condos spread across many pockets of San Diego, so it's easy to find something near the beach, zoo or downtown – whatever you desire!
#3. Vacation Rentals Have Better Beach Access
Did we mention… the beach: What's the point of a beach vacation if you don't spend a hefty amount of time at the beach? Staying in a beach rental condo or house means that you don't have to deal with taking a cab or rental car for 30 minutes to see the water. All you must do is wake up. Even though all the reasons in this list are good, you don't really need any other reason than this one.
With a San Diego vacation rental, you can set your own beach schedule. Go for a day or a night swim at your leisure, lounge around in your swimsuit 24/7, soak up the sun during the day, and drift to sleep on the soothing rhythm of the waves.
The beach isn't going anywhere, but neither are you until you book your trip. There are excellent rentals available near the beach in hot spots like Del Mar, Mission Beach and San Diego Bay that are only minutes from a spotless sandy beach.
#4. Vacation Rentals are Bigger than a Hotel Room
With a San Diego vacation rental, you can stretch out in style. Picture in your mind a typical hotel room interior, supposedly big enough for a family of four: two queen sized beds, narrow area between the beds and the TV, maybe a couple of chairs by the window and a tiny writing desk, and then the bathroom (where if the door to the room and the door to the bathroom are open at the same time, they bump into each other). Imagine two adults and two children sharing this space simultaneously. Not such a good combo.
Let's take a look at one particular scenario we hear quite often: On one hand, there's a hotel room; on the other hand, a private vacation rental. One has someone coming into the room yelling "housekeeping!" at 8 a.m. every morning of your vacation, and the other has privacy and sleeping in.
Oh, and one is $384 for the nights around Comic-Con, and the other is $210.
Whoops, forgot to mention that one is three miles from the beach, and one is 300 feet from the beach. One requires driving, fighting for parking or paying for a rideshare. The other requires much less effort.
Oh, did you notice the kitchen in the back of the picture? That's because houses have kitchens. Having a kitchen can help cut down on expenses because you can prepare a few meals or snacks at your residence, so you don't have to go out for every meal. Savvy vacationers enjoy fixing smaller meals at their vacation rental so they can save up for a truly memorable dining experience at one of San Diego's fascinating restaurants.
#5. San Diego Vacation Rentals Provide Added Value
Many beach rentals throw in some nice extras, goodies and freebies to sweeten the deal. Some come with cruiser bicycles so that you can explore the beach neighborhoods easily, most offer cable TV and Wi-Fi, and many have BBQ grills or Jacuzzi tubs. Laundry machines are another common feature, and it's not uncommon for garages or dedicated parking spaces to be available. Additionally, the rental agency can provide concierge services for guests to help them plan an exciting adventure and take advantage of their time in sunny southern California.
Ready to go to San Diego?
You know that some time at the beach in San Diego is just what you need. Think of how rejuvenated you'll feel after a week in the sun and water. Now you even know that doing so is easy, cheap, and better than you had thought! So, are you going to look at your beach photography calendar, or are you going to do it? Check out our available rental properties today!