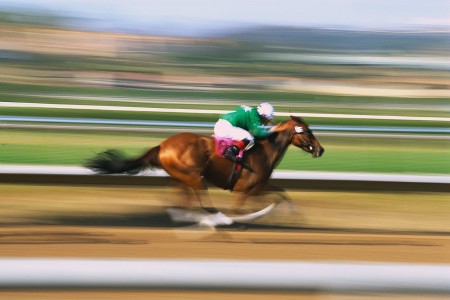 Heading to the Del Mar Horse Races this year? Find the perfect lodging, we have short term vacation condo rentals on the beach within a short drive from the race track. View Vacation Rentals
The Del Mar Racetrack in the seaside city of Del Mar is one of the preeminent horse racing tracks in the world. It is a large, beautifully-built facility that attracts excitement, large crowds and plenty of celebrities each racing season.
About the Del Mar Racetrack
Located about 20 miles north of San Diego, the Del Mar Racetrack was founded in 1937 and continues to be a mainstay San Diego attraction to this day.  The racetrack's slogan is "Where the Turf Meets the Surf," and it's definitely true. Visitors to San Diego during racing season (July 18 – Sept 5th) can visit the Del Mar Racetrack to bet on some of the finest horses as they race on the one-mile dirt track or the seven furlong turf course.
History of the Racetrack
Bing Crosby, one of the racetrack's principal investors, greeted fans on the track's opening day in 1937, and celebrities have frequented the track ever since. On August 12, 1938, the Del Mar Racetrack held one of the most historic races of all time when Seabiscuit ridden by jockey George Woolf won by a nose against Ligaroti ridden by Noel Richardson for a $25,000 winner-take-all purse.
The track was closed between 1942 and 1944 and initially used by the U.S. Marines to train recruits for World War II. Later during the war, the area became a manufacturing site for B-17 bombers. After the war, the racetrack opened once again and began attracting large crowds and Hollywood celebrities. Not much has changed since then, and the racetrack continues to be one of the most exciting destinations within San Diego.
Food & Beverages
The Del Mar Racetrack offers visitors a variety of fare. While the horses get oats and sugar cubes, guests can enjoy concession stands that sell burgers, fries, fish & chips, sausages, pizza, cookies, ice cream and more. Those looking for a little more refinement should consider making reservations at the Clubhouse Terrace Restaurant or the Café del Sol Restaurant, which each offer high-quality sandwich and salad selections while providing a great view of the track and all the racing action.
Put The Del Mar Racetrack On Your San Diego Vacation Schedule
If you are visiting San Diego during racing season, don't pass up the opportunity to visit the Del Mar Racetrack. Del Mar is a beautiful city, and the racetrack offers unending excitement and plenty of opportunities to make competitive wagers and win big.
For more information on the Del Mar Racetrack, visit www.dmtc.com.
We offer plenty of vacation rental properties near the Del Mar Racetrack. See our list of vacation rental houses and condos within driving distance of the horse racing track.