The Del Mar Thoroughbred Club in the oceanside city of Del Mar is one of the preeminent horse racing tracks in the United States. The large, beautifully built facility draws big excitement, large crowds and plenty of celebrity sightings each racing season.
Located about 20 miles north of downtown San Diego, the Del Mar Racetrack was founded in 1937 and continues to be a mainstay San Diego attraction during racing season – mid-June through early September, as well as some racing during the month of November.
The racetrack's slogan is "Where the Turf Meets the Surf," and that is unquestionably true. Visitors to San Diego during racing season can visit the Del Mar Thoroughbred Club to see some of the finest horses in the world as they race on the one-mile dirt track or the longer, seven-furlong turf course. You can bet and cheer on your favorite in a thrilling race, or simply enjoy the beauty and majesty of the equines as they gather in the paddock and trot to the starting gates under the watchful command of their jockey.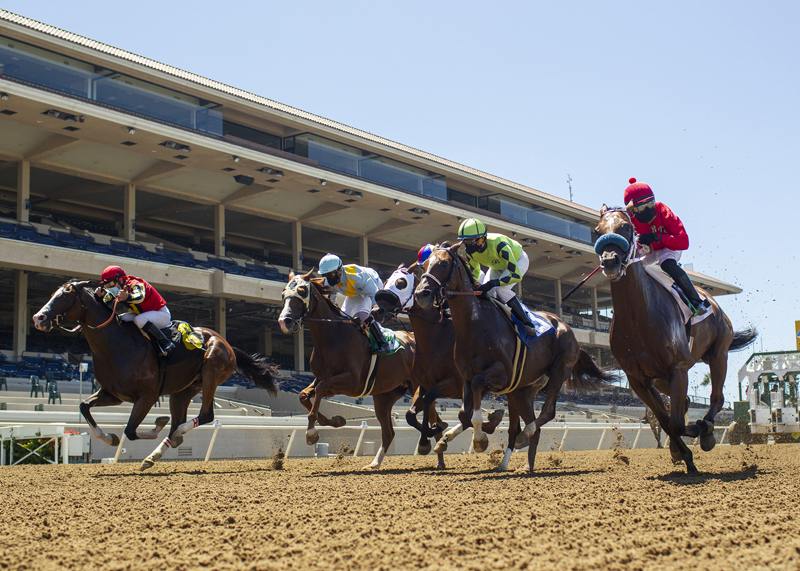 If you're heading to San Diego during racing season, don't pass of the chance to visit picturesque Del Mar Thoroughbred Club for fun, sun, great food, amazing scenery and the unending excitement of world-class horse racing. You might even win big!
Ready to plan an unforgettable experience? Here is everything you need to know about Del Mar Thoroughbred Club:
History of Del Mar Thoroughbred Club
About 15,000 racing enthusiasts turned out at the new Del Mar Racetrack on July 3, 1937, at the Del Mar Fairgrounds. Actor and crooner Bing Crosby was in attendance to usher in the track's inaugural season. Just over a year later, the track hosted the famous Seabiscuit-Ligaroti showdown on Aug. 12, 1938. In a furious duel, the iconic Seabiscuit won by a nose in front of 20,000 fans and a worldwide radio audience.
In 1960, the track unveiled its new 7/8-mile turf course with a unique diagonal chute that could accommodate a variety of race lengths: 1/16-mile, 1/8-mile and 1 mile. The course is an instant success.
In 1969, the Del Mar Racetrack comes under the control of the newly established Del Mar Thoroughbred Club. Under the club's direction, the track would continue to grow its attendance and handle (the total amount of money bet on a single race, day or season) throughout the 1970s and into the 1980s.
In the 1980s, the club added a seven-furlong chute and completed an underground tunnel into the center of the track. The infield soon becomes a fun gathering spot for picnics, playing Frisbee, catching some sun and great horse racing action.
In 1984, the track got a new voice, with commentator Trevor Denman from South Africa taking control of the microphone on the Del Mar roof. Denman quickly becomes a fan favorite for his signature call, "And away they go!"
By the end of the 1980s, Del Mar is recognized as the leading track in the country with a daily handle of more than $7 million. In 1989, legendary jockey Bill Shoemaker captures win No. 889 in his last ride at the seaside oval on Sept. 10.
A "new" Del Mar is unveiled in 1993, sporting more than $80 million in upgrades and improvements. The track continues its great success, with an average handle of $8 million and attendance exceeding 34,000 visitors a day.
A Polytrack multi-track surface was installed at the club in 2007. The $9-million upgrade is safer for horses and riders. The Polytrack was replaced with 31,000 tons of sand in 2015.
In 2014, a new turf course is installed. It can accommodate up to 14 horses in a race and opens the door for a potential Breeder's Cup event. The club hosted its first Breeder's Cup in 2017 and will host the race again in November 2021.
Getting to Del Mar Thoroughbred Club
Getting to Del Mar Thoroughbred Club from downtown San Diego will take you about 30 minutes by car if traffic is normal. Please allot additional time if traffic is heavy. To get there, you can either take Interstate 5 North or Interstate 805 North.
From Interstate 5 North (about 23 minutes): Taking Interstate 5 is usually the fastest route. Take I-5 North to Via De La Valley. Take Exit 36 and turn left. Continue along Via De La Valle and turn left onto Jimmy Durante Boulevard after you cross the interstate. The track's address is 2260 Jimmy Durante Boulevard.
From Interstate 805 North (about 25 minutes): You can also get to the track by taking Interstate 805 North. You can either hop on Interstate 805 directly or take California State Highway CA-163 North to connect with the 805. From there, head north to Via De La Valle and take Exit 36.
From Northern California: If you're coming to the track from up north, jump on Interstate 5 and take Exit 36. You can also take Interstate 15 South to California State Highway CA-50 West and connect with Interstate 5 North to reach the track.
Parking at Del Mar Thoroughbred Club
Parking at Del Mar Thoroughbred Club isn't too difficult. Parking fees are charge on a per-vehicle basis when you enter the racetrack. Be sure to bring cash to pay for parking.
If you'd rather not pay for parking, there are a few options. You can rent a limo through Skye Limousine Services for a first-class ride to the track. Epic Limo Bus provides charter bus transportation to the track if you're heading out in a group. The party bus will drop you off and pick you up!
General taxis line up just west of the Stretch Run Entrance. If you're taking a rideshare, there's a convenient dropoff/pickup lot on Jimmy Durante Boulevard. Please proceed to the lot prior to requesting a ride.
Public Transportation To and From Del Mar Racetrack
San Diego offers some amazing public transportation options that are quick and easy. Both Amtrak and Coaster trains make stops at the nearby Solana Beach station. There are double-decker buses at Solana Beach that will take you directly to the track. The Pony Express Package includes roundtrip fare on Coaster, Sprinter or Breeze, a shuttle to the track and Stretch Run admission.
How to Get Tickets to Del Mar Thoroughbred Club
Del Mar Thoroughbred Club has a few ticket options, depending on what you'd like to experience at the track.
Admission Tickets: During the summer racing season, there are two levels of admission: Stretch Run and Clubhouse. During the fall season (Bing Crosby Season), general admission provides access to both levels of the grandstand. Stretch Run access allows admission to the grandstand west of the finish line and infield. Clubhouse access grants admission to the grandstand east of the finish line and the Stretch Run area. Access does not include the suite levels or Turf Club.
Reserved Seating: Reserve seating is available in Clubhouse Level 3 and in Stretch Room Levels 3-5. Reserve seating is shaded, with theater-style seats and easy access to the betting windows and the concession stands.
Box Seating: Box seats are the best place to watch the horses turn for home. They are located on Stretch Run Level 2. Box seats are available for daily purchase during the season. They are shaded and provide seating for up to six people with unobstructed views of the track.
Food and Drinks at Del Mar Racetrack
Del Mar Thoroughbred Club offers visitors a variety of fare, from quick bites to elegant sit-down dining. On the ground floor, guests can stop by the Paddock Tavern or 17 Hands for a relaxing bite or beverage. The second level is home to the Don Julio Veranda Café, the Corona Beach House and the Ballast Point Jockey Box. The third floor houses the tasty Blue Moon Celebrity Grill. Each dining experience offers high-quality food and service with a great view of the track and all the racing action.
There are a few amazing trackside restaurants where you can eat and watch the races. Table prices vary depending on date, location and size.
Clubhouse Terrace – Clubhouse Level 1 and 2
Café del Sol – Clubhouse Level 1
First Turn Restaurant – Clubhouse Level 3
Stretch Run Grill – Stretch Run Level 1
Turf Club – Turf Club Level 4
Il Palio Indoor Dining Tables – Clubhouse Level 6 (Stretch Run)
Turf Club admission included, see Turf Club Maître d' for daily table assignment.
Where to Stay for Horse Racing at Del Mar
San Diego Coast Rental has plenty of vacation rental properties near the Del Mar Thoroughbred Club. Choosing a vacation rental over a traditional hotel means you won't be battling other vacationers for the same space. Enjoy all the room you need in your own private home or condo. Many residences have private parking spaces and other amenities that a hotel just can't offer. Not to mention unlimited peace and quiet, with easy access to everything in San Diego.
Vacation rentals have additional benefits over a traditional hotel room. Prepare a few in-between meals and snacks in your full kitchen or relax in your own private hot tub or patio deck with views of the San Diego sunset, Pacific Ocean and starry skies. Save money with all the perks of a vacation home so you can really treat yourself to San Diego's best charms when you walk out the front door.