San Diego is best known for its amazing coast and awesome beaches, but its unparalleled downtown is the pulse of the city. The urban core is where most of the cultural attractions are located, along with unmatched dining, beautiful parks and open spaces, trendy shopping, and arenas, stadiums and theaters where you can catch a movie, performance or athletic event. Vacationers who want to be in the middle of the action should consider a private home or condo rental with San Diego Coast Rentals that is near the Gaslamp Quarter or another downtown neighborhood.
While you're sure to spend a great deal of time at the beach, be sure to schedule a day or two to explore downtown San Diego. You certainly don't want to miss a trip to the iconic San Diego Zoo or SeaWorld San Diego. There's also iconic Balboa Park, the U.S.S. Midway Museum, the New Children's Museum, or you can catch a San Diego Padres game at Petco Park. With plenty of places to eat, shop and discover, downtown San Diego offers something for independent travelers, romantic couples, a group of friends, and families with younger children, teenagers, or adult children.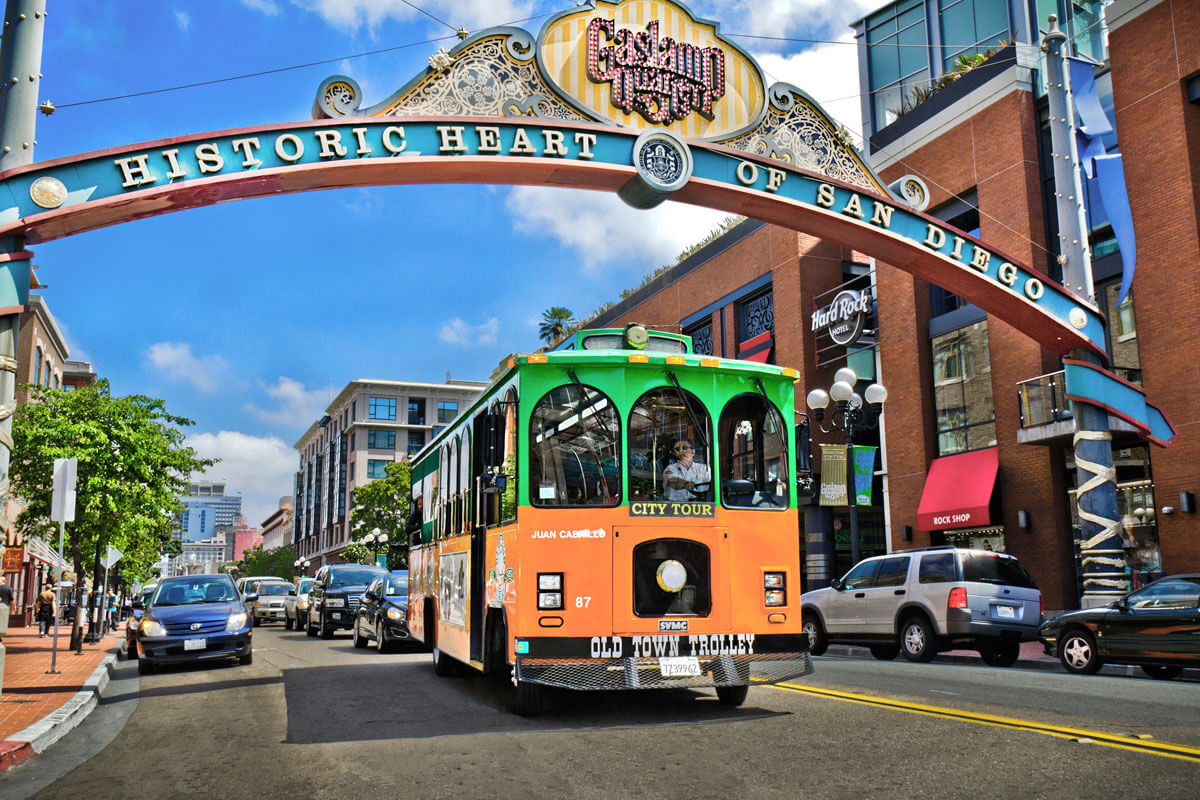 Downtown San Diego is comprised of a few unique neighborhoods, each with its own distinct characteristics and charm. Where you stay on your vacation can play an important role in the success of your getaway, so it's important to make the right decision. From rental condos in the chic Gaslamp Quarter to private homes for rent near historic Little Italy, the city has lots of vibes. Let's take a closer look at which downtown San Diego neighborhood might be a good fit for your next vacation.
Gaslamp Quarter Condos For Rent
The Gaslamp Quarter is one of San Diego's most intriguing destinations. The eclectic neighborhood has contemporary structures standing right next to majestic buildings from the Victorian era. Shopping and entertainment varies from chic galleries and boutique shops to stylish rooftop bars, craft breweries, gastropubs and fine-dining restaurants.
The Gaslamp Quarter is the place to be for epic nightlife after the sun goes down. There are nightclubs for all tastes, a variety of venues with live music or stand-up comedy, and rooftop bars where you can catch a brew with a bird's-eye view of the city skyline. The Gaslamp Quarter is the ideal location to have a wonderful sit-down meal followed by drinks, dancing, a performance, or a movie afterward. Any evening spent at the Gaslamp is a strong contender for the best night of your vacation.
Embarcadero Vacation Rentals in the Marina District
Just west of the Gaslamp Quarter is the Marina District. The Marina District extends from roughly 4th Avenue to the bay, including everything south of G Street. This area includes the waterfront Embarcadero (which means "landing place" in Spanish) and boardwalk along the seaside.
There are several noteworthy destinations to visit, including the Navy Pier, U.S.S. Midway Museum, Maritime Museum, Seaport Village and The Rady Shell at Jacobs Park, home of the San Diego Symphony. The Marina District is where most of the Pacific cruises that depart from San Diego originate. There are also harbor cruises available where you can explore the bay for the day.
Vacation rentals in the Marina District are a wise decision. It puts you equal distance from the beach and downtown. (Depending on where you stay.) The neighborhood is a large area, so you can choose a vacation home or condo closer to the beach if you plan to spend most of your time there. If you're interested more in sights and attractions, you can live a bit close to downtown for a shorter commute or Uber ride.
Little Italy Vacation Rentals
San Diego's Little Italy neighborhood is along the coast, from Ash Street in the south to Laurel Street in the north, and extends to Interstate 5. The neighborhood is home to the most dynamic food scene in the city, especially along Kettner Boulevard, which has been dubbed "Top Chef Alley." Some of the best classic dishes from both Northern Italy and Southern Italy can be sampled on India Street. The central gathering point in Little Italy is a European-style piazza, Piazza della Famiglia, situated at a 10,000-square-foot plaza that connects India and Columbia streets. The site has a spectacular tiled fountain.
But the delectable food doesn't stop there. Little Italy also has marvelous Italian markets where you can get choice cuts, authentic wines and delicious deli sandwiches. There are numerous bars and taverns where you can get a glass of wine or a hearty brew. For livelier fare, head to one of the neighborhood's British or Irish pubs, like the Princess Pub and Grille. There, you can catch the big soccer game or rugby match.
There are many urban wineries, art galleries, boutique shops and a genuine farmers' market. Each Saturday, several blocks of Little Italy are shut down for the weekly Little Italy Mercato. There is a farmers' market with gourmet goods, flowers, crafts and prepared foods.
Vacation rentals in Little Italy are ideal for foodies who want to delve into the rich flavors of the authentic neighborhood – but also have time for the beach. Little Italy's convenience along Interstate 5 makes trips downtown to the Gaslamp Quarter a snap. There are lots of beautiful private homes and tastefully decorated condos available for rent in Little Italy.
Hillcrest Vacation Rentals
One of the more progressive neighborhoods in San Diego is the Hillcrest area. Situated just a few minutes north of downtown, Hillcrest is the city's LGTBQ+ central hub. There is a walkable area west along University Avenue. There is a good selection of coffee houses, boutique retailers, wine bars, taverns and ethnically diverse restaurants. The corner of Normal Street and University Avenue is the focal point of the annual Pride parade every summer. The city's LGBTQ+ Community Center is a block away on Harvey Milk Street.
Just south of Hillcrest is Balboa Park, the largest urban park in North America. It is San Diego's core for recreation, arts and culture, and community get-togethers. Balboa Park is home to 16 museums and performing arts spots. There are also 1,200 acres of exquisite gardens and the renowned San Diego Zoo.
If you want to live like a local, consider a vacation rental condo or private residence near Hillcrest. It's the perfect spot to enjoy the many flavors of the city. From major attractions to hole-in-the-wall dive bars and thrift shopping, you'll get a little bit of it all.