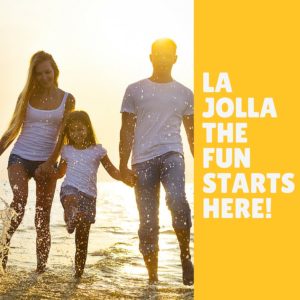 La Jolla is a jewel of Southern California, and one visit will make you never want to leave. Home to stunningly gorgeous cliffside parks and beaches, the natural beauty of La Jolla has enticed some of the most brilliant scientists, artists and intellectuals from around the world. The coastal destination has become synonymous with luxury and refinement; one visit here will give you a taste of the sweet life.
Our La Jolla beach vacation rentals might be the ideals vacation rental for you. No matter whether you are visiting for business or pleasure, you'll experience true convenience and the ultimate in relaxation and leisure. San Diego Coast Rentals can make it happen for you!
There's lots to enjoy on your La Jolla vacation. La Jolla Cove offers guided and self-guided snorkeling that's some of the best on the West Coast. You can access the cove at Scripps Park, which is also a great place for a picnic while enjoying panoramic ocean views. Or even you can rent a kayak and explore the vast marine life, beautiful caves and rugged coastline.
La Jolla Has a Unique Vibe
La Jolla is a smart seaside area, known for its rugged coastline. Trails wind past pine trees and sandstone canyons in Torrey Pines State Natural Reserve, while the two courses at world-renowned Torrey Pines Golf Course sit atop sea cliffs. La Jolla Cove has sweeping ocean views, and the Shell Beach tide pools are home to anemones and crabs. Posh boutiques and waterfront restaurants dot walkable La Jolla Village.
There are several reasons you might find yourself spending vacation time in La Jolla. Some of the world's most advanced medical research happens here, either at the beautiful campus of the University of California-San Diego; or at the world-renown Scripps Research Institute; or at any of the dozens of other foundations and biotech companies. La Jolla is the center for the Scripps Institution of Oceanography, which conducts cutting-edge research in Earth sciences.
In addition to science and technology, La Jolla has long been home to open-minded thinkers and free spirits. La Jolla staples like the Museum of Contemporary Art and Athenaeum Music & Arts Library have been breaking boundaries for decades – a tradition that dates to when La Jolla was first established as an art colony in the late 1800s. Around La Jolla you are sure to see vibrant, inspiring artwork from stunning seascapes to exquisitely detailed murals.
Attractions in La Jolla
Fine tastes naturally follow from such an environment, and La Jolla delivers with class. Torrey Pines Golf Course offers an amazing 36 holes of golf, and hosts the annual Farmers Insurance Open every year, in addition to having been a U.S. Open location. The La Jolla Beach & Tennis Club meanwhile offers exclusive leisure and sporting for their elite membership.
The La Jolla Symphony and Chorus offers amazing nights out with distinction. Discover San Diego's thriving vineyards with a wine tour, or go shopping in the vibrant La Jolla Village. Even the Westfield UTC shopping center is so incredibly well designed you'll forget it's just a mall.
Whether you come for a conference of leading minds, or to experience culture, arts, and luxury; there is still one thing that will demand your attention: the beach. La Jolla has several different beaches, each of which are among the most stunning shores you will see in your life. Learn to surf while you're here, or explore the caves set into the cliffs by kayak. If you're brave enough, those same cliffs offer a particularly unique opportunity for adventure: paragliding! Whatever you do, at least spend some time at the beach just enjoying the sand and warm air.
Beaches in La Jolla
La Jolla is a perfect place to soak up the sun, with a wide selection of sandy beaches, sea cliffs, rocky reefs and secluded coves to explore. Some rocky areas make portions of the beach inaccessible, but the views are immaculate. More remote cove areas have seals and sea lions basking in the rays, while other spots make for ideal scuba diving. Here are a few of the best beaches in La Jolla.
La Jolla Shores
La Jolla Shores presents about a mile of pristine sandy beach that's perfect for swimming. A popular spot with families and surfers, the crescent-shaped beach is a prime spot for kayaking or scuba diving. At night, the beach brightens up with the glow of many fire pits.
Torrey Pines State Beach
The northernmost beach in LA Jolla is Torrey Pines State Beach. The most noticeable feature at the beach are its stunning 300-foot sea cliffs. You can take a nature walk along the bluffs and stretch out on long stretches of beach. The family-friendly coast is easily accessible, and there is parking in a large lot adjacent to the beach.
Black's Beach
Further south, at secluded Black's Beach, you can see many of SoCal's magnificent mansions, including renowned Salk Mansion. Black's Beach is famously the first clothing-optional beach in the country. (Keep in mind, California law does prohibit public nudity.) A submarine canyon funnels swells into Black's Beach, making it great for surfing, but can be treacherous for novice swimmers.
La Jolla Cove
The beach at La Jolla Cove is somewhat small, but packs a big punch. At the beach, you can discover beautiful sea caves on foot or in a kayak, depending on the tides. The normally tame waters make for great swimming and snorkeling. The Cove has a large park with public bathrooms and showers, picnic tables and a few gazebos.
The Children's Pool
Near downtown La Jolla, the Children's Pool is a hit with kids, and the concrete sea wall allows youngsters to observe the local sea lions and seals from a safe distance. Although it was originally constructed for humans, it is now closed for swimming to keep for the safety of the seals and sea lions. Today, it's a wonderful attraction and excellent opportunity to observe extraordinary marine life up close.
Hospitals Beach
At low tide at Hospitals Beach further south, fantastic tide pools offer some of the best diving in San Diego. The beach isn't much to speak of, but the plethora of undersea arches and ledges are home to many glorious lobsters. The south end near the gazebo presents awesome surfing.
Windansea Beach
Windansea Beach has swimming, bodyboarding, surfers and snorkeling opportunities. The beach was popularized in a Tom Wolfe collection of essays called The Pump House Gang. Here, you'll find families playing in the tide pools during low tides on the north half of the beach, and surfers hitting the waves on the south half.
La Jolla Vacation Rentals
With so much culture and more than a handful of pristine beaches to enjoy, it would be a shame to pass up and opportunity to visit La Jolla. If you're interested in visiting, you should consider staying in one of our vacation rentals. Put yourself 100 yards from the beach and not a few miles, and truly experience what La Jolla living is like. Contact San Diego Coast rentals today to uncover this priceless jewel for yourself!