Mission Beach is one of California's most diverse beaches. It's near several must-see San Diego attractions like SeaWorld and Belmont Park, plus traditional sandy fun like sunbathing, swimming, beach volleyball and walks along the beach. There's also surfing, horseshoes, bicycling, skateboarding, roller skating, in-line skating, Frisbee, basketball and more. And, with nearly two miles of oceanfront all connected by a gorgeous boardwalk, there's plenty of room to spread out.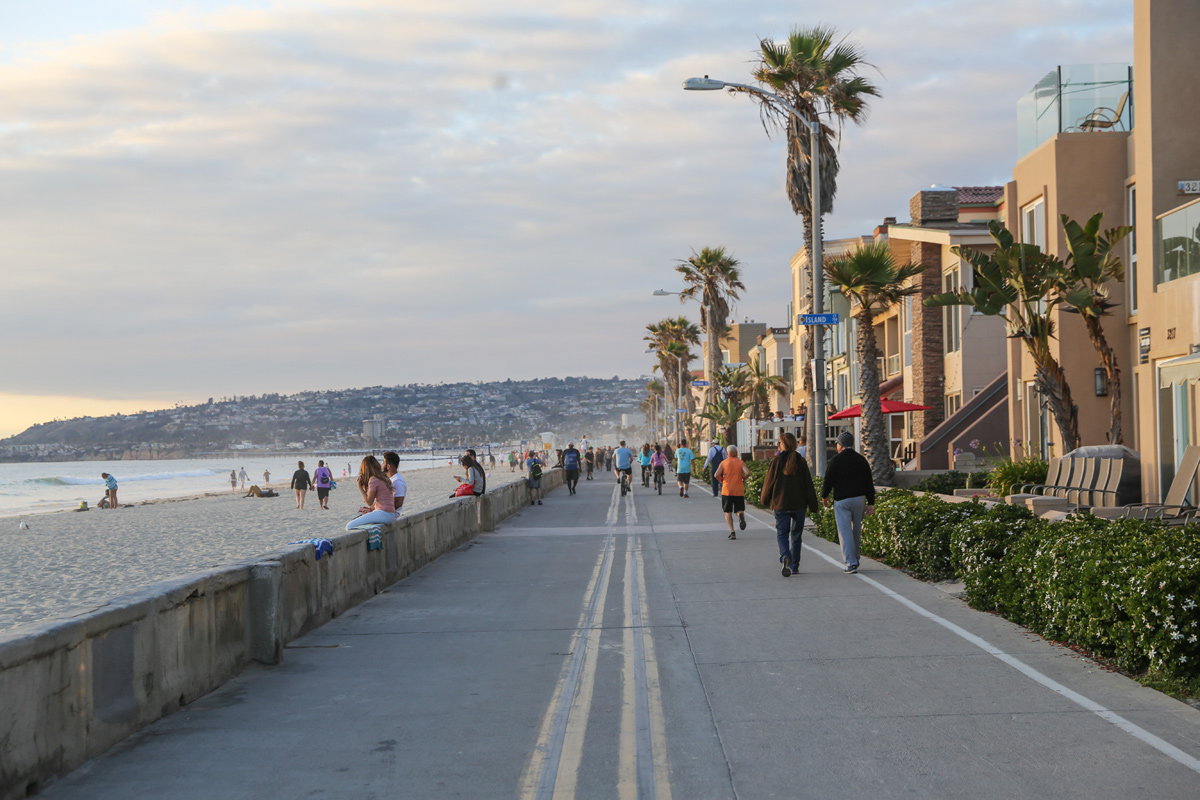 There's so much to do at Mission Beach that it makes sense to stay nearby when you're on vacation. San Diego Coast Rentals has several Mission Beach beachfront rentals ranging from larger four-bedroom condos ideal for families to smaller one-bedroom residences perfect for a romantic getaway for two. Here are a few of our most desirable beachfront rentals at Mission Beach, organized by the number of bedrooms.
Four Bedrooms
A four-bedroom beach condo at Mission Beach is an idyllic ocean getaway with plenty of space and privacy. Our four-bedroom residences are only steps from the beach and are a good match for larger families or a group of friends. Here are two of our best beachside condos:
Ocean View Paradise Condo
Located on the third floor, this four-bedroom, three-bathroom Ocean View Paradise Condo has sweeping panoramic views of the Pacific Ocean. Three west-facing balconies are terrific for sunbathing, having an intimate meal, relaxing with a good book, or watching the picturesque San Diego sunset.
This pet-friendly condo is only steps from the beach and the South Mission Jetty. There are several shops nearby where you can rent surfboards, paddleboards, bodyboards and other beach essentials. Pricing starts around $500 per night, depending on your stay dates.
This recently renovated condo comes fully furnished with a king-size bed in the primary suite, two queen beds and a full-size bed in the remaining bedrooms. The main living area has unparalleled views, comfortable furniture, flatscreen TV and Wi-Fi. Other amenities include a gas grill on the patio, two private parking spaces, and a washer and dryer.
Ocean View Paradise II Condo
This four-bedroom, two-and-a-half-bathroom waterfront Ocean View Paradise II Condo offers 180-degree views of the Pacific Ocean and Mission Beach Jetty. There are two private balconies on the west side of the building to watch the sunset over the ocean. You can also sit on the east side to view the nightly fireworks show in spring and summer.
This condo features more than 1,750 square feet of living space and can sleep 10 guests comfortably. It has a full-sized kitchen and a spacious living area. The primary bedroom has a king-size bed, while the other bedrooms offer a king, queen, full and full-size sleeper sofa. Pricing starts at $325 per night, depending on your stay dates.
The residence is just steps from the boardwalk and less than a mile from the bay. It is about a quarter mile from the Belmont Park roller coaster and only a short drive to SeaWorld, the San Diego Zoo, and the La Jolla tide pools.
Three Bedrooms
Three-bedroom condos at Mission Beach combine luxury, location and affordability. A three-bedroom condo can accommodate friends or family members for an unforgettable vacation. Our retreats have tremendous ocean views and immediate beach access. Here are two of our most requested three-bedroom condominiums.
Bayfront Oasis Condo
This immaculate, ground-level Bayfront Oasis Condo has over 1,200 square feet of living space with an expanded living room and an adjacent dining and kitchen area. This condo is fantastic for families that want to maximize their beach time – the sand and waves are less than two minutes from your door!
After a day at the beach, retreat to your condo and grill on the grassy patio facing beautiful Mission Bay. The kitchen has been enhanced with under-cupboard lighting and plenty of storage space. Both bathrooms have been recently remodeled and feature custom cabinetry and stunning countertops. Rental rates start at $289 per night, depending on the time of year.
Ocean Front Getaway Condo
Here's another Mission Beach beachfront rental with plenty of family space and immediate ocean access. This three-bedroom, two-bathroom Ocean Front Getaway Condo has direct ocean views and ample outdoor space to soak up the sun. The oceanfront patio is right along the boardwalk, presenting front-row water and beach views.
The expansive main living area offers unobstructed ocean views on the second floor. The large living room, kitchen and dining area are ideal for relaxing with family or entertaining guests. There is a small balcony facing the ocean from the living room. On the third floor are two additional rooms and a second full bathroom. Lodging starts at $449 per night, depending on your stay dates.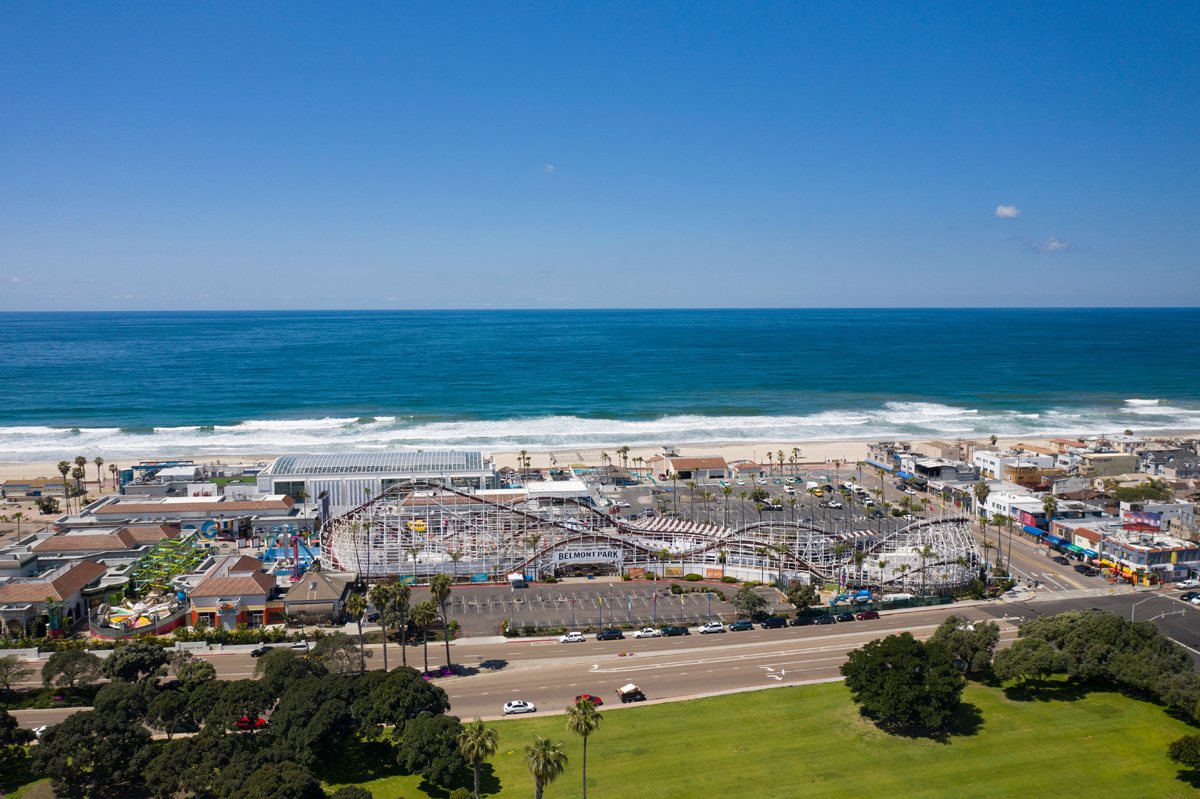 One Bedroom and Two Bedrooms
Our one- and two-bedroom condos are perfect for lovebirds, smaller families and independent travelers. Smaller residences can be challenging to find so close to the beach, but we have a few that offer a convenient location and an affordable price. Here are three of our best Mission Beach beachfront rentals:
Ocean Front Dream Condo
This fully furnished two-bedroom, one-bathroom second-floor Ocean Front Dream Condo is terrific for a couple of friends or a small family. The condo looks out on Mission Beach and its famous boardwalk and is only a few minutes from San Diego's top attractions. The primary bedroom has a queen bed, and the second has two twin beds. The fully loaded kitchen has everything you need for preparing meals and entertaining guests, and the sizable den is a great place to kick back for movie night after a fun day at the beach. Rentals start at $389 per night, depending on your stay dates.
Ocean Front Gem Condo
This second-floor, one-bedroom, one-bathroom Ocean Front Gem "Sandy Beaches" Condo may seem small, but it sleeps six guests (four adults and two children). Located at the southern tip of the Mission Beach peninsula, this beachfront condo is just steps from the boardwalk and ocean. The boardwalk is less than 75 years from your front door. There's even an outdoor shower for rinsing off after a swim or soaking up the sun. Modern, light and bright, this residence is the perfect home base for Mission Beach fun. Rates start at $359 per night, depending on your stay dates.
Mission Point View Condo
Are you looking for an ocean view without paying a fortune? Our one-bedroom Mission Point View Condo may be the answer. This residence has an unobstructed channel view toward Ocean Beach and sits between the ocean to the west and the bay to the east. The recently renovated property comes turnkey with everything you need for a fantastic beach getaway. Large, south- and west-facing windows frame the stunning local landscape. Enjoy an open living room, dining area and kitchen with updated stainless-steel appliances. Vacation rentals start at $209 per night, depending on your stay dates.