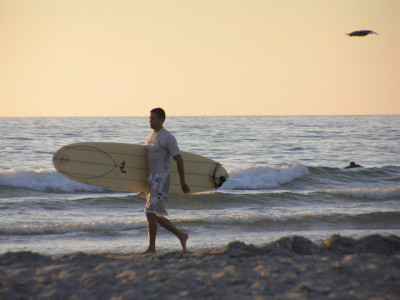 San Diego Vacation Tips: Your Mission – Beach Life!
San Diegans revere the beach life, and with good reason. Sun, sand, and water will put anyone in a good mood, and Mission Beach is exactly most people are looking for. There's lots to do, but if you're in town for just a few days then here are a few vacation tips on the five things you have to do, or you'll end up regretting it!
1. Visit Belmont Park: This must-see destination originally opened in 1925, but it has now been completely renovated to provide endless opportunities for fun. If you can believe it, even though Belmont Park has rollercoasters, climbing walls, laser tag, arcades, zip lines, and mini golf; none of them are actually the main attraction. That distinction goes to two different kinds of artificial wave generators, the FlowRider and the incredible FlowBarrel. For a fee, you can try these guys out and learn to surf the easy way!
2. Rent a Fire Pit at the Beach: An old San Diego past time! Unfortunately, due to budget cutbacks and changes in regulations, many of the public fire pits have disappeared from San Diego beaches. Fortunately, there are companies which can help you set up your bonfire. Not only do they provide you with all the equipment and wood you'll need, they even clean up for you after you're done! One company for example, San Diego Coast Rentals, can assist you with beach bonfire plans during your stay in one of their beachside rental homes. Many great memories can be made sitting with friends and family around the fire, so don't pass this activity up.
3. Bike the Boardwalk: The boardwalk comes alive during the day with throngs of young people making the most of the gorgeous San Diego weather. Renting a bike is cheap, and again San Diego Coast Rentals is your one-stop-shop for going on a casual cruise. Ride along the interesting shops, exciting people, and stunning views. Excellent food in Mission Beach is hard not to find, whether you're in the mood for a local hot dog, some just-north of the border Mexican (the street tacos really are better than what you've got back home), or even fine dining. Don't forget, San Diego is legendary in the craft brew scene- make sure you stop in at any bar along the boardwalk to try some local beers!
4. Surf: The Wave House at Belmont Park doesn't get you off the hook! California is the original home of surfer culture, and you just won't be able to say you've really experienced California until you give it a go in the great waves of the Pacific Ocean! Buy a lesson if you've never hopped on a board before, so there's no excuse to not give it a try at least once. In addition to surfing, all kinds of fun activities can be done on the water around Mission Bay: jet skis, paddle boards, and canoes are all easy and cheap to rent, so get exploring!
5. Watch the Sunset: Don't forget to slow down every once in a while! You're on vacation, not a political campaign trail! Don't worry about hitting every single attraction, or zipping from one place to the next. Pull up some sand, and catch the free show that has brought peace to humans for thousands of years. Whether you're in Mission Beach with your family, on a romantic getaway, or just treating yourself; you will be glad to have taken the time to sit quietly, basking in the beauty of mother Earth.
When it's time to book your Mission Bay accommodation, check out our catalogue of available rental homes close to the beach. Our homes are fully furnished and offer privacy, space, and comfort for less than you'd pay at many hotels!