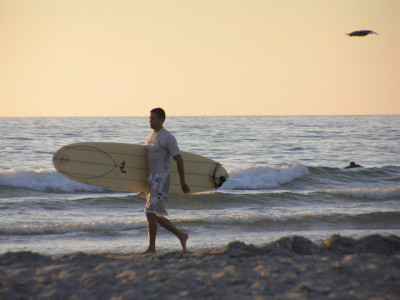 San Diego has some awesome beaches – and Mission Beach is one of its finest. The beach is perfectly located between the Pacific Ocean and Mission Bay, spanning nearly 2 miles along the shoreline. It is considered part of the city of San Diego, bounded by Mission Bay Park to the east, Pacific Beach to the north, the ocean to the west and the San Diego River to the south.
Mission Beach is a spotless beach in San Diego with lots to do. From a classic boardwalk and fun amusement park to hoops, sand volleyball, fishing or just kicking back, you can fill a whole week and never do the same activity twice. To prove it, we put together our list of 7 Things You'll Regret Not Doing at Mission Beach.
San Diego Coast Vacation Rentals offers some of the best properties in Mission Beach.  Make sure to check out our availability to reserve the perfect condo or home for your stay in Mission Beach.  If you do not see what you need please call.  We have new vacation rentals in Mission Beach that are not listed on the website.
No. 7: Bask in the San Diego Sun
Let's start with an entire day at the beach. San Diego is all about that beach life – and with good reason. Sun, sand and water will put anyone in a good mood, and Mission Beach is exactly what most vacationers are looking for. Find a good spot, plop down your oversized beach towel, prepare an icy beverage and kick back with a good book or podcast while the kids frolic in the ocean or build sandcastles. Sunbathe, swim, or engage in a nearly endless list of beach and water sports.
For added safety, Mission Beach is one of nine beaches in San Diego that have permanent lifeguards on duty year-round. Lifeguards patrol the beach from 9 a.m. to dusk. Leashed dogs are allowed at the beach before 9 a.m. and after 6 p.m. during the summer months.
South Mission Beach is home to several grassy lawns and picnic tables that are ideal for a barbecue cookout or a pre-packed picnic. Conclude your day at the beach with a crackling bonfire, roasting hot dogs, watching the sunset and making s'mores. The San Diego sunset is a sight to behold, and one of the best views is from Mission Beach.
No. 6: Hoop It Up at Mission Beach
If you've ever seen the movie "White Men Can't Jump," you know beach basketball is a little different than hooping it up indoors. In the immortal words of Sidney Deane, played by Wesley Snipes: "When you shoot, you adjust for the wind. Out here, the wind can push the ball to the left or right 6 to 8 inches."
At South Mission Beach, you can put your jumper to the test against some stiff competition, or you can play a friendly game of HORSE with friends. The beach has a full court just north of the parking lot that have pickup games throughout the day. There's nothing quite like a game of full-court 5-on-5 during a beautiful, golden San Diego sunset.
Near the basketball court are a few sand volleyball courts and an Over-The-Line (OTL) playing area. Mission Beach is a hotbed for players gearing up for the annual OTL tournament that takes place on Fiesta Island.
No. 5: Cast a Line at Jetty Channel
South Mission Beach is one of the least crowded beaches in the city, and it's a perfect spot for a little fishing. Cast your line and try your luck at reeling in some prime halibut and bass (and a few other species) straight from the ocean at the Mission Bay Jetty Channel.
The jetty is a popular honey hole for experienced fishermen who want to reap the benefits of the ocean's abundant marine life. There have been some big fish pulled here, and that's not all. Divers have been known to catch lobsters in the many nooks and crannies of the jetty during the season.
Because of its abundant stock, convenience and beauty, Mission Bay Jetty Channel is a great spot to introduce young children to the sport of fishing. There's plenty of room to spread out so parents can teach their little ones how to toss their first line into the water. The best part about the jetty is that no fishing license is required.
No. 4: Rent a Fire Pit at the Beach
An old San Diego favorite! Mission Beach is a fantastic spot for a bonfire. There are fire pits at the beach and across the street on the Mission Bayside. It is legal to have a fire going in a city fire pit from 5 a.m. until midnight. There are a limited number of fire pits, and they are first come, first served.
You can burn wood, charcoal and paper in the fire pits. (No trash.) Be sure to pack roasting sticks for marshmallows and hot dogs, and a Fire Starter log will help get things going quickly. (There isn't much dry kindling on the beach!) And don't forget the cooler, silverware and all the fixings.
Need help? There are companies that can help you build the perfect beach bonfire. Not only do these outfitters have all the equipment (and wood) you'll need, but they even do cleanup after the party!
San Diego Coast Rentals can assist with your beach bonfire plans during your stay in one of their beachside rentals. The Beach Fire Experience package includes a fire pit, two bundles of wood, a pair of Tiki torches and four comfy Adirondack chairs. For an additional charge, you can add another fire pit, more chairs or extra bundles of wood. For larger get-togethers, you can craft your own custom event.
­­Many great memories can be made sitting with friends and family around the fire, so don't pass this activity up.
No. 3: Go Retro at Belmont Park
A must-see San Diego institution, Belmont Park first opened its doors to guests in 1925. Today, the amusement park has been completely renovated to provide endless opportunities for fun, from classic carnival favorites to innovative, contemporary attractions and rides.
It's hard to believe, but Belmont Parks many rollercoasters, arcades, climbing walls, zip lines and mini golf aren't even the main attraction. That distinction goes to the park's two innovative artificial wave machines – the incredible FlowRider and the incomparable FlowBarrel! For a fee, you can hit the waves the easy way and learn to surf in style!
Take a walk along the beachfront boardwalk and browse the eclectic stores, play games, or sample the many tasty treats from a variety of different shops.
No. 2: Bike Along the Boardwalk
Ocean Front Walk is a 2-mile boardwalk from North Pacific Beach to the jetty at the end of South Mission Beach. This paved boardwalk is lined with beachfront residences, bars and restaurants, boutique shops and famous Belmont Park.
The boardwalk comes alive during the day as the masses make the most out of the gorgeous San Diego weather. Ocean Front Walk is a fun route for walkers, joggers, cyclists, roller skaters and skateboarders. Renting a bike is inexpensive, and a casual cruise along the boardwalk is an ideal way to get around the many fascinating shops.
San Diego Coast Rdentals to the rescue, again! It's easy to secure a top-flight cycle from the bike rentals page and be on your way. Not only along the boardwalk at Mission Beach, but wherever you want to go. Almost all the beaches around San Diego are bike friendly, and a lot of streets around the city have easily accessible bike lanes. It's eco-friendly and family friendly to boot!
Bike rentals through San Diego Coast Rentals include helmets and pads with every rental. Want something different? How about an iconic tandem bike for you and your mate? For a single ride, choose from a classic beach cruiser, hybrids (21-gear bikes) and trail bikes. Rollerblades and skateboard rentals are also available. There are baby seat and baby carrier rentals available, too.
No. 1: Experience SoCal's Tasty Waves
SoCal is the original home of the surf culture. You won't be able to say you've experienced California until you give it a go. If you've never hopped on a board before, consider a lesson from one of the beach shops.
Mission Beach isn't a pro surfer's paradise, but it does offer some tasty waves. The surf in Mission tends to be best on west to northwest swells and maintains a good size when the tide, wind and swell all hit in unison. The best spot on the beach for a consistent surf is at the jetty at South Mission Beach. But there can be good swells anywhere along the beach on any given day, so keep your eyes peeled.
The ideal time to catch a wave at Mission beach might surprise you. It's during the winter months when the swells arrive from the north and east Pacific Ocean. Too cold for you? Try the fall months, when the arrival of the Santa Ana winds from the northeast get things moving.
In addition to surfing, all kinds of fun activities can be done on the water around Mission Bay: jet skis, paddle boards, and canoes are all easy and inexpensive to rent, so get exploring!