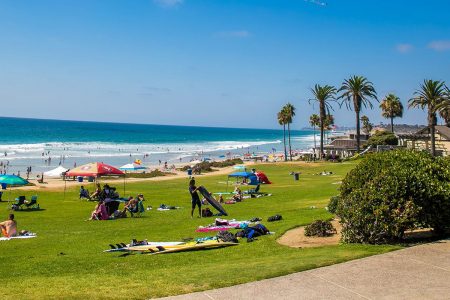 North County is one of the most alluring and influential regions for vacationers in Greater San Diego. Nestled amid a pristine natural environment that includes spotless beaches and perfectly shaped lagoons, North County presents an ideal mix of luxury living and a laid-back beach lifestyle for anyone seeking a break from the everyday norm. The enchanting region is widely known for its affluence – especially in Carlsbad, Del Mar, Encinitas, Rancho Santa Fe and Solana Beach, where homes on average exceed $1 million.
The northernmost area of San Diego, North County is typically divided into two regions: inland and coastal. Inland cities include Escondido, Poway, San Marcos, and mountain communities like Ramona and Valley Center. Rancho Bernardo and Rancho Peñasquitos are often grouped in the North County inland collective as well. Coastal cities include Carlsbad, Del Mar, Encinitas, Oceanside, Rancho Santa Fe, Solana Beach and Vista.
When vacationing in San Diego, it can be tough to decide exactly where to stay. North County has beautiful scenery around every turn – beaches, bluffs, canyons, foothills, rolling grasslands and arid deserts, just to name a few. Every city is different, and each neighborhood presents a completely different vibe to go along with a wide variety in lodging options. Here are a few of North County's finest neighborhoods that you should consider when planning your next vacation.
Del Mar Heights Vacation Rentals
Just minutes from the beach, Del Mar Heights is an affluent neighborhood that's home to most of Del Mar's residents. The smallest city in San Diego County with a population of about 13,000 residents, Del Mar has a beachfront resort vibe where socialites and the rich and famous come to play in the sun and sand, golf, or see the ponies at the world-famous racetrack.
This Del Mar neighborhood has a wonderful mix of luxury single-family homes, but also has some nice townhomes and condominiums that are more affordable for renters. For vacationers, rental options can run the gamut from high-end luxury residences for families to more intimate condos that are great for a romantic getaway or independent travel.
Carmel Valley Vacation Rentals
Carmel Valley is an upscale neighborhood that's both convenient to downtown and has easy access to all the fun and beauty of North County. The communities of Del Mar Mesa, Fairbanks Highlands, Pacific Highlands Ranch and Torrey Highlands are part of Carmel Valley, each one intertwining in the hills and valleys. The affluent area is just minutes from the beach, fine dining, high-end shopping and luxurious country clubs. It's also near Sorrento Valley, the UC-San Diego campus, and the "Golden Triangle" of La Jolla and Universal City.
Adjacent to Interstate 5, Carmel Valley features newer developments, and most residences were built in the last 30 years. Most homes have four or more bedrooms, but there are some condominiums and townhomes available for rent in the area. A main draw to Carmel Valley is its abundance of parks, open spaces, beaches, hiking trails, equestrian centers and golf courses in the community or within a short drive.
Del Mar Mesa Vacation Rentals
Del Mar Mesa is an affluent community about 5 miles from the coast that consists of several gated developments. The area is popular with families, professionals and retirees who want to enjoy luxury living. It's only a short distance from enthralling activities like Championship golf, high-end shopping, four- and five-star restaurants and flawless beaches.
A region rich in history, you can still find eucalyptus trees in the area. They were planted on farmsteads here in the 1800s. Del Mar Mesa still embraces its agricultural, semi-rural roots – there still a few horse ranches around and even a couple equestrian centers nearby.
Torrey Highlands Vacation Rentals
The Torrey Highlands neighborhood is a perfectly calculated mix of residential housing (50 percent), parks and open space (30 percent), schools (12 percent) and commercial and employment spaces (8 percent). Torrey Highlands has about 2,700 total units, including the affluent Fairbanks Highlands gated community. The neighborhood is highly desirable for families because it is served by the esteemed Poway school district.
The Torrey Highlands neighborhood is located on Highway 56 between Interstate 5 and Interstate 15. Residents can easily get to Orange County, North County and the downtown and Gaslamp District's plethora or arts and entertainment. Of course, the main draw in this neighborhood is the stunning Torrey Pines Golf Course that has hosted two U.S. Opens and is considered one of the finest courses on the West Coast.
The neighborhood has lots of newer 21st Century construction, including high-end condos and luxury homes in gated communities. Vacationers love Torrey Highlands for its luxury offerings and convenience. Major highways provide access to everything from quick beach access to quenching winery tours.
Pacific Highlands Ranch Vacation Rentals
Pacific Highlands Ranch is only 5 miles from the beach. Take a short drive for outique shopping, Michelin-rated dining and the Gaslamp District. One of San Diego's newest developments, the master-planned community has a nice selection of two-story single-family homes that range from three to five bedrooms. The overall design of the community is walkable and sustainable, with energy-efficient homes and low-water landscaping.
Fairbanks Highlands Vacation Rentals
Fairbanks Highlands is another affluent neighborhood that's only a short drive to San Diego's pristine beaches, about 6 miles. Situated near Highway 56 (Ted Williams Highway) and Interstate 15, the neighborhood is close to Black Mountain Open Space Park. Black Mountain Open Space Park has approximately 2,350 acres of natural wonderment – including 1,554-foot Black Mountain and miles of biking, hiking and horseback riding trails.
Rancho Peñasquitos Vacation Rentals
Much of Black Mountain Park is in Rancho Peñasquitos, or "PQ" as the locals call it. The North County neighborhood is about 50 percent residential homes. About 35 percent is devoted to parks and open space, including Black Mountain. The neighborhood present excellent hiking and biking opportunities that complement its proximity to the beaches and downtown.
Morgan Run Club & Resort, Fairbanks Ranch and the Bridges and Rancho Santa Fe all provide excellent golf outings in the area.
North City Vacation Rentals
The North City neighborhood is physically in the City of San Diego, but it's vibe is all North Country. The high-end community attracts active families and retirees because of its prime location, upscale homes and outdoor opportunities. There are a few excellent riding centers in the area like the Concord Equestrian Center, Del Mar Horsepark, Rancho El Camino Equestrian Center and the Ridgemar Equestrian Center.
For golf, the Fairbanks Country Club has three 9-hole courses – The Lakes, The Ocean and The Valley. Morgan Run Club & Resort has a 27-hole Championship course that is open to the public.
Plan Your San Diego Vacation
We have impressive vacation rentals scattered around San Diego in some of the coolest neighborhoods. Choose from homes and condos right on the beach or pick something a little closer to the bustling downtown. Whatever your flavor, you can't go wrong with a vacation rental over a traditional hotel.
Enjoy privacy, plenty of space and comforts you just can't get at a chain hotel. Stretch out, work on your putting, take a dip in a jetted tub, or fix a home-cooked meal for your loved ones. Laugh, play board games at the kitchen table, or gather in the living room for family movie time. At a vacation rental, you can maximize the overall experience in a variety of ways.
Browse our inventory or call us at (858) 531-3247 and let us recommend something special for your San Diego adventure.