Over the Line (OTL) is a fun outdoor game that you can play at Old Mission Beach Athletic Club at Mission Bay on Fiesta Island in San Diego. If you're coming to San Diego on vacation and enjoy trying new things, consider a day of OTL. Or get a team together and make a run at the OTL World Championship held every year at the club. We have vacation rentals available near the club, the beach and downtown that would be perfect for your team.
There are tons of activities at the beach, everything from surfing, swimming and snorkeling in the water to fun on the sand, like volleyball, Frisbee or building sandcastles. But there may not be a game more perfectly suited for the sun and sand than Over the Line. Ever heard of it? If you haven't, then you've been missing out on a lot of fun and excitement.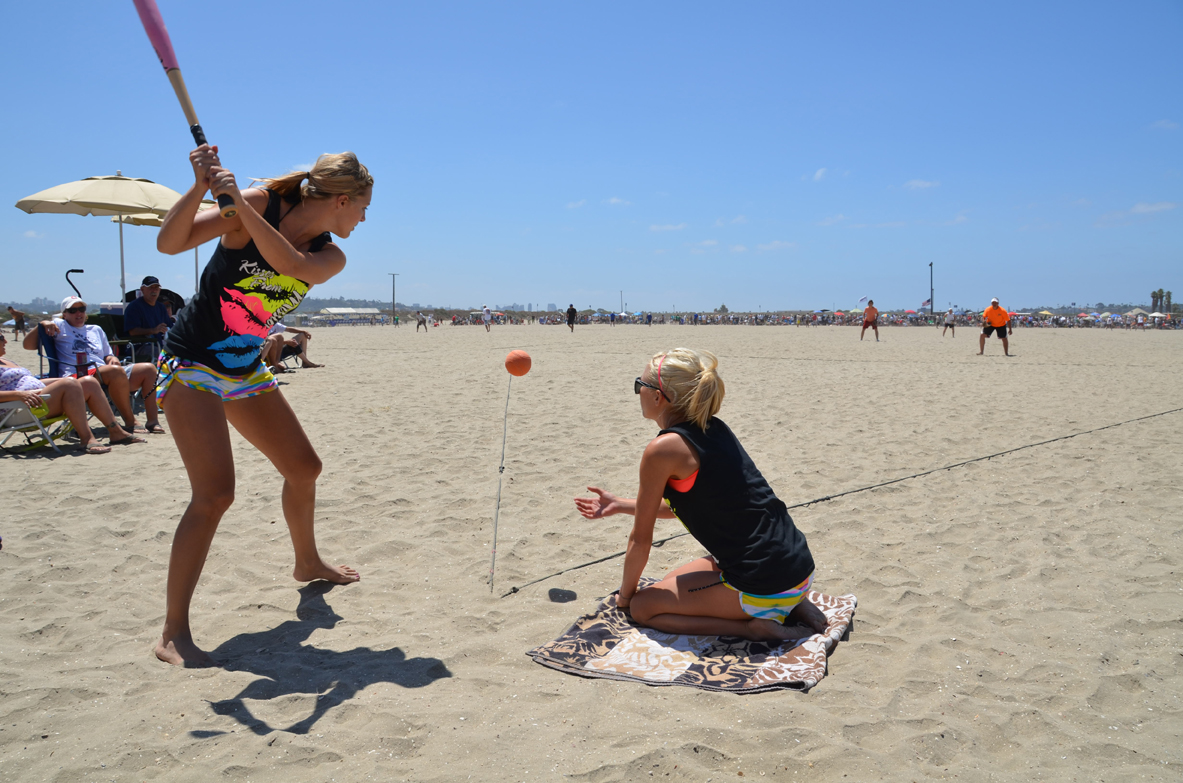 Over the Line is, well, a little difficult to explain. It's a sport that blends baseball with the beach, but without bases or a mitt. Over the Line has a reputation for getting a bit rowdy, but that might have something to do with the amount of beer consumption that typically takes place by the sport's adult competitors and spectators alike. Think of it like slow-pitch softball: The more you consume, the better you usually play. While that may or may not be true, either way you're in for a good time – even if you're not a drinker.
The Old Mission Beach Athletic Club has Over the Line fields at Mission Bay Park that host several tournaments throughout the year. The annual World Championship Over the Line Tournament occurs at the fields every July. It has been a staple of the OTL community for nearly 70 years; the first tournament took place in 1954.
If you've never seen OTL or played it, you should check it out – especially if you have an active family or are part of an active group coming to San Diego. OTL is an authentic sport with a rich history – and it's a blast to play. Want to know how? Let's examine the basics.
What Is Over The Line?
Like baseball, OTL has quite a few rules, so explaining all of them would take too long. So here are a few basics to help you understand the game. Like most games, the best way to learn is to play it! But, generally, if you understand the basics of baseball, that's a great start.
This court diagram is also useful.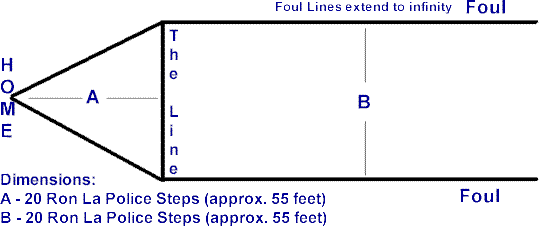 Here are the basics of Over the Line:
Two teams, each with three players.
Platers bat from home. A teammate pitches the ball from anywhere in front of "The Line." The Line is approximately 55 feet from home.
Fielders can play anywhere past The Line.
The field of play is more rectangular than diamond shaped.
Any ball hit into fair territory on the fly that isn't caught by fielders is a hit.
A ball touched and dropped by fielders is a hit.
Any ball hit past the last man in fair territory on the fly is a home run.
One strike is an out.
Two foul balls are an out.
Any fly ball that is caught is an out.
A ball that lands in the "pie" (before The Line) is an out. (i.e. ground balls)
Any ball landing outside of "pie" and "fair" territory is a foul ball.
A taken pitch is a foul ball.
Any false pitch or balk is a foul ball.
Three hits in an inning scores one run. Each additional hit scores on run.
Intentional throwing of the bat is a three-run penalty.
Games are either three or four innings.
No gloves are used for fielding.
Only wooden softball bats are legal.
Official OTL balls are used.
Those are the basics, but just like any game, you'll pick it up as you play – that's half the fun. Just like baseball, OTL is a leisurely, enjoyable game that can't et competitive at times. Many newbies get hooked, especially when you mix in the sun, fun, good friends and a great game.
Over the Line Events at Mission Beach Athletic Club
OTL events are something to behold. Many spectators attend the World Championships every year, and other tournaments throughout the year can also draw big crowds. There's lots of reasons why it's worth a try. First, there's the colorful team names that are always good for a laugh. Second, the City of San Diego allows visitors a BYOB option, which always takes the party up a notch. Third, the public events are open to all ages, but really, it's not the most appropriate setting for people under 18 years old. It can get a wee bit rowdy! But not too wild: The tournament is staffed with OMBAC staff, private security and officers from the San Diego Police Department to keep things in line.
During events, there's usually a good collection of stands open at the playing area with burgers, hot dogs, pizza, burritos and fish tacos available, along with cold drinks like soda, water and Gatorade (no alcohol is sold on site). You can BYOB, just make sure there's no glass bottles. They're prohibited.
Getting to the Fiesta Island
Getting to the club is easy from just about anywhere in the city. Take Interstate 5 to the Sea World Drive exit. Head west and turn right on East Mission Bay Drive (the first light). The entrance to Fiesta Island is on the left.
Parking is available in two spots. First, the Sunrunner lot on the northeast corner of Sea World Drive and Pacific Highway. The second location is the VIP and handicapped parking lot that is adjacent to the southwest corner of the OTL fields. The VIP parking pass allows you to park the closest to the fields.
Access to Fiesta Island is often closed (early to mid-morning) to motor vehicles each day of the OTL tournaments. You must show your parking pass to the designated traffic-flow enforcement agent to gain access to the island if it is closed to traffic. If you break the rules, your parking pass will be revoked.
The club does not guard or assume any responsibility for your vehicle or its contents, so keep your vehicle always locked.
Vacation Rentals on Fiesta Island
Lodging for the Over The Line Tournament: If you are participating in the tournament or heading to San Diego to check out this huge event, you're going to need a place to stay for the full week. Skip the expensive and crowded hotels and consider renting a classy condo or cozy cottage through San Diego Coast Rentals. We have plenty of vacation properties on or near the beach or within easy driving distance of the tournament.
Our properties are competitively priced and might even be cheaper than the expensive beachfront hotels that you might consider.
So, if you are hoping to stay in the lines and need a place to stay, check out our current list of available vacation rentals or give us a call at (858) 531-3247 for personalized suggestions that will fit you needs and budget.