Pacific Beach is where the party is at! San Diego has a beach for everyone, and Pacific Beach (or P.B. as we like to call it) is the beach with limitless energy. At Pacific Beach, you can surf all day and party all night next to a bonfire on the beach or at a stylish nightclub. To help you do it, San Diego Coast Rentals has several great vacation rentals in the neighborhood that will put you right in the heart of the action.
Pacific Beach is a 3-mile stretch between La Jolla and Mission Beach, and it serves as the vacation destination for college students and young professionals looking for that ideal combination of chill and exciting in California. Pacific Beach is best known for its sizzling beaches, scrumptious food and trendy nightclubs in the city. You're going to love it!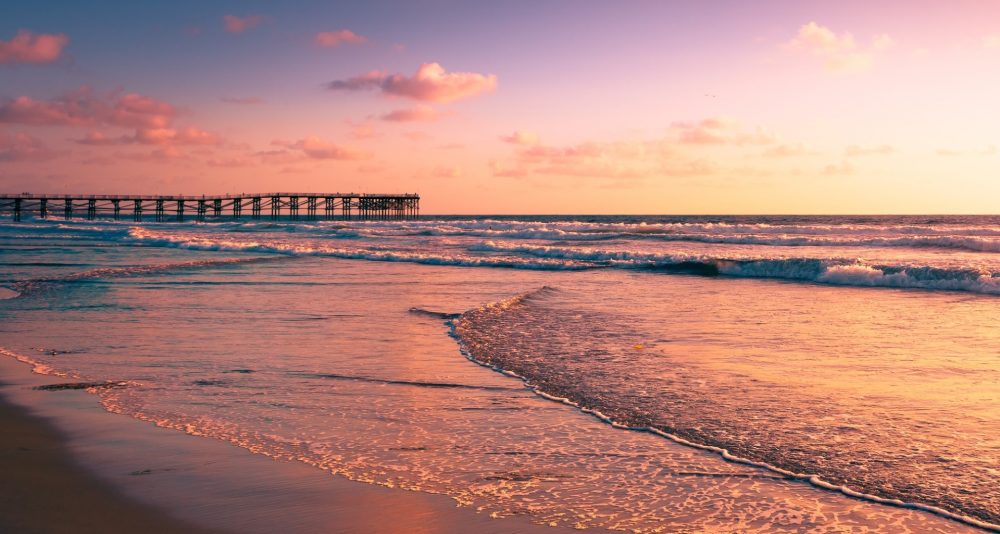 About Pacific Beach
When it comes to fun things to do in Pacific Beach, obviously you should start the day with some surfing. If you're new to the sport, head north. Tourmaline Surfing Park has the gentler waves, and you'll find more of your fellow newbies there. The surfing-only park is a perfect place to make friends while falling off your boards together. It's not bad for windsurfing and kiteboarding, too, but longboarding is still the best ride here. Tourmaline Surfing Park has a medium-sized parking lot with bathrooms and a small picnic area.
A little further south is North Pacific Beach, the area to the north of Crystal Pier. This spot is a little quieter and has lifeguard-supervised swimming that is safer for families. It's also a wonderful space for just relaxing on the sand. The area south of Crystal Pier is Pacific Beach itself, where all day you'll find lots of young people soaking up the sun, catching some well-times waves, setting up a game of volleyball, or taking a quick dip in the ocean to cool off.
History of Pacific Beach
Pacific Beach has a rich history that dates to the 19th Century. Once a prime spot for growing and packing lemons, the area started to become more developed in the 1920s. Crystal Pier opened in 1927 and several hotels began to emerge in the area in the late 1940s following World War II. By the 1950s, the population of Pacific Beach reached 30,000 residents. Iconic SeaWorld opened only a few miles from P.B. in 1964.
In 1972, Pacific Beach imposed a building-height restriction of 30 feet after high-rise buildings began to pop up in nearby Mission Beach. The 30-foot limit still exists today. In 1982, Ocean Avenue was closed to traffic and became a park and boardwalk.
During the late-1970s and 1980s, the beach became home to young residents, mostly college students, working professionals and new families. It was during this time that the beach became known for its unique vibe that pervades today. The restaurant and nightlife culture has grown extensively. There are unique restaurants, coffee shops, boutique stores, galleries and tasty takeout dining along every street in P.B.
Things to Do at Pacific Beach
At Pacific Beach, enjoy amazing eateries in the neighborhood or explore the cools shops while having a pre-party drink at one of the countless bars, taverns and pubs. When you're ready, either get yourself dressed up sharp for a night on the town, with dancing at the most happening clubs in San Diego, or stay in your swimsuit! Venues in Pacific Beach stay open late, and nights are always filled with adventure and excitement – no matter where you go.
The boardwalk is officially called Ocean Front Walk/Ocean Boulevard. It is a pedestrian walkway that runs for 3.2 miles along Pacific Beach from Law Street on the north end to Mission Beach at the south end. Along the boardwalk is where you'll find casual cafes and great spots for a drink.
Over on Mission Boulevard and the surrounding vicinity, you'll discover a myriad of women's fashion boutiques and yoga studios, and even more spots to eat and drink. Take a stroll along the boardwalk and you're sure to see lots of pedestrians, cyclists, rollerbladers and skateboarders. Electric-motor scooters are not allowed on the boardwalk.
The Pacific Beach nightlife in caters to a more youthful crowd than the nightlife in downtown San Diego. Garnet Avenue – between Mission Boulevard and Ingraham Street – is where the most popular bars and restaurants are located.
Spots for Kids at Pacific Beach
P.B. is fantastic for kids! Children love to make sandcastles and play in the spotless sand or frolic in the ocean. The area has some great places to relax with children and even a few playgrounds. Kate Sessions Park, a few blocks from the ocean, has a large lawn with views of the waters and a playground. The park has an unmaintained area that's fun for an easy hike or bike ride.
Families with infants and younger children may enjoy Fanuel Street Park. The park has toddler and school-age playground equipment like swings and a jungle gym, and is only steps from the ocean so kids can wander back and forth. (As they will tend to do!) There is a lifeguard stand at the park that is patrolled year-round.
If you packed the family pet, there's a great dog park on Soledad Mountain Road at the corner of Felspar Street. Capehart Park is for small dogs only, and features a fenced area with some grass and dirt sections that pooches love! There are covered spaces for owners to watch over their canines, and there are two water fountains – one that's adult height and one simply perfect for small dogs!
Facilities and Parking at Pacific Beach
Pacific Beach located off Interstate 5 at Garnet Avenue. From the exit, follow Garnet Avenue until it merges with Grand Avenue. Take Grand Avenue all the way to Mission Boulevard. Parking at Pacific Beach may be challenging, but it's not impossible. Your best options are either at the Tourmaline Beach parking lot or the side roads to the north of Crystal Pier.
If you're headed to one of the beaches, be aware that from North Pacific Beach down to Mission Beach there are lifeguards on duty all year. The main lifeguard tower is on the shore at the end of Grand Avenue. There are bathroom and shower facilities around the pier and near the main lifeguard tower.
Lodging at Pacific Beach
When you're ready to crash, instead of paying through the nose for a tiny-but-somehow-expensive hotel room, a Pacific Beach vacation rental home will offer space for you and your friends to stretch out with some style and comfort. Best of all, a vacation rental in Pacific Beach is super close to everything.
San Diego Coast Rentals can connect you with the perfect vacation spot in Pacific Beach, but also add in all the other little touches that will make your trip epic. Book your stay now before someone else claims your spot! Browse our available rentals or call us at (858) 531-3247.