On vacation in San Diego? Make sure to head over to Petco Pack to catch a Padres game!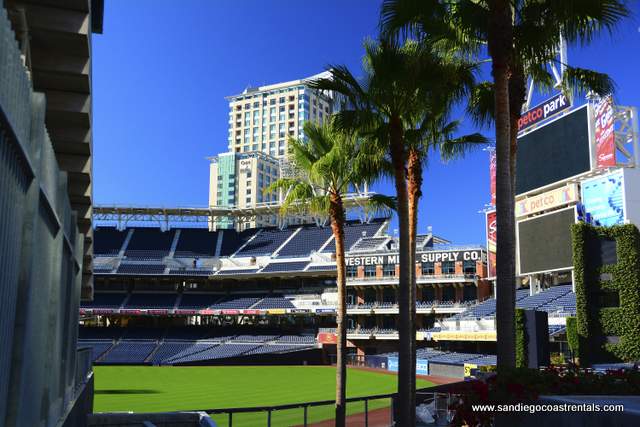 Petco Park is open for business as the Padres, San Diego's professional baseball team, start the 2014 season. This team may not have a World Series victory in its history, but it has a lot of heart, and Petco Park is so beautiful that even a losing game can be fun to watch.
The San Diego Padres started the season on a positive note, winning their opening series against the Tigers at home. They have since lost a little of that steam, but the season is still young, and the team looks to be still settling into its stride. The team recently announced that it signed their strongest hitter, Jeff Gyorko, for a 5-year contract extension, which has made Padres fans happy.
Watching a Padres game is a great way to enjoy the full San Diego experience. Petco Park is truly one of the most beautiful stadiums in the country, and it is situated right in the heart of downtown San Diego. You can take public transportation right to the stadium and walk to a restaurant, bar, or club after the game. Tickets are easy to come by for most games and reasonably priced.
The team also holds many special events, including Jackie Robinson Day and the popular Taco Tuesday. You'll also notice that the Padres occasionally wear special uniforms that feature the military fatigue design. This uniform is meant to pay tribute to the many military families that live here in San Diego. The team supports the military in many ways, often providing free or discounted tickets to soldiers and honoring wounded veterans. In fact, actor Gary Sinise and his Lt. Dan Band are schedule to perform at Petco Park on July 6th to raise money for his wounded veteran organization.
If you are still looking to fill your activity calendar while visiting San Diego, give the Padres a try. The weather is nearly always perfect for watching baseball all year round. Also, the San Diego Padres are the only team in Major League Baseball that has never pitched a no-hitter. Will this be the year? Perhaps you'll be sitting at the game where this major accomplishment is finally achieved by the Padres!
View the Padre's full schedule for 2014.
Need a vacation condo rental near Petco Park? San Diego Coast Rentals offers a full selection of lodging options in the area from studios to 5bdrm condominiums.