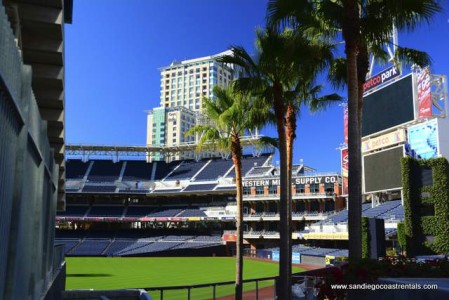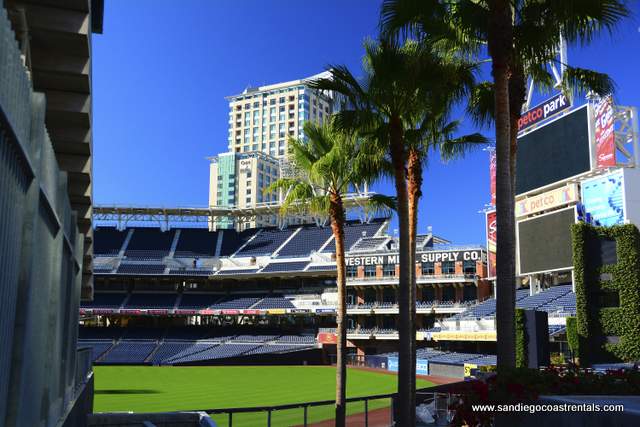 With ample sun and lots of warm weather, it's no wonder that attending a San Diego Padres game during the baseball season at Petco Park is a must-do. With a beautiful, innovative ballpark and a slew of fresh young talent on the diamond, the Padres are one of the most exciting teams in Major League Baseball.
San Diego is a baseball city. With the Chargers departure to Los Angeles in 2017, the Padres are the only MLB team to not share its market with another franchise in the four major American sports leagues. The stadium is named after the San Diego-based pet supplies retailer Petco. The company owns the naming rights of the stadium until at least 2026.
During the offseason and away games, Petco Park is used as a venue for converts, soccer, rugby and even golf.
Petco Park opened in 2004, replacing Qualcomm Stadium, formerly known as San Diego Stadium and Jack Murphy Stadium. Qualcomm Stadium was home to both the Padres and the Chargers. Qualcomm Stadium hosted three Super Bowls and two MLB All-Star Games, along with a slew of notable concerts and events. It was located at the intersection of Interstate 8 and Interstate 15. It is currently under demolition and a new stadium for San Diego State University is planned for the space.
History of the San Diego Padres
The team's name, Spanish for "fathers," refers to the Spanish Franciscan friars who founded the city of San Diego in 1760. The team adopted its unique moniker from a Pacific Coast League team with the same name that played in San Diego during the 1930s. That minor league franchise, known as the Padres, captured a PCL title in 1937, led by a fresh-faced 18-year-old slugger named Ted Williams.
In 1969, the San Diego Padres joined Major League Baseball during an expansion season that saw four new teams: The Padres, Kansas City Royals, Montreal Expos and Seattle Pilots. (Today, the Expos are now the Washington Nationals and the Seattle Pilots have become the Milwaukee Brewers.)
Following some initial struggles, the Padres gradually improved. The team saw success in the 1980s and 1990s under the leadership of future Hall of Famer Tony Gwynn. During his career, Gwynn won five Gold Glove Awards, seven Silver Slugger Awards, eight NL Batting Championships, and was elected to 15 All-Star Games.
The San Diego Padres play in the National League's highly competitive five-team Western Division (with the Los Angeles Dodgers, Arizona Diamondbacks, Colorado Rockies and San Francisco Giants). The Padres have won the NL pennant twice – in 1984 and 1998 – but are still looking for their first World Series championship. In two World Series appearances, the Padres lost to the Detroit Tigers in 1984 and fell short against the powerhouse New York Yankees in 1998.
Today, the Padres have one of the youngest, most electrifying teams in the league. The team is led by All-Star first baseman Eric Hosmer, superstar third baseman Manny Machado and second-generation sensation Fernando Tatis, Jr., the son of a former Major Leaguer.
Getting to Petco Park
The San Diego Padres play all their home games at Petco Park. Petco Park is in downtown San Diego between 7th Avenue and 10th Avenue, south of J Street. Its physical address is 100 Park Blvd.
If you drive to the ballpark, there are four major thoroughfares that feed into and out of downtown: Interstate 5, Pacific Highway, California State Route 163 and California State Route 94/Martin Luther King Freeway. There is a total of eight freeway exits that service the stadium and the surrounding vicinity.
The southern side of Petco Park is bounded by light rail tracks from the San Diego Trolley along the north side of Harbor Drive. A portion of K Street from 7th Avenue to 10th Avenue is closed to automobiles and is used as a pedestrian promenade along the back of the left and center field outfield seating. It also provides access to the Park at the Park, located directly behind center field. The Harbor Drive footbridge makes it a quick walk from the Convention Center Parking facilities to the ballpark.
There are two stadium outfield entrances where K Street intersects with 7th Avenue and 10th Avenue.
The main entrance to the stadium is at the south end of Park Boulevard at Imperial and faces the San Diego Trolley transit center at 12th Avenue and Imperial. Petco Park is approximately 1 mile from the Santa Fe Depot station that is served by Amtrak and Coaster.
To gain entry to the ballpark, you will need to follow some standard security procedures, including walking through metal detectors at the entry gates and other access points. Stadium policy requires all fans be screened prior to entry. Express Entry lines are available at the main gates for fans without bags and season ticket holders.
Parking at Petco Park
If you plan on driving your own vehicle to the game, there are some convenient parking options. Petco Park and the surrounding area has more than 27,000 parking spaces – some 9,000 of which are dedicated solely for Petco Park. Preferred parking is located adjacent to Petco Park and costs in the $20-$40 range. Guests should expect high traffic and parking delays when coming to the ballpark.
Guests are encouraged to pre-purchase parking in advance of the game to make sure you get a spot, as space is limited and may fill up for big weekend games or holidays. If you buy your parking space online ahead of time, you can get it at a discounted price. During weekends, specials events and other high-demand days, guests are encouraged to utilize the amazing public transportation near the ballpark.
Public Transportation to and from Petco Park
Petco Park is perfectly located at the hub of San Diego County's public transportation network, so there's plenty of ways to get to the stadium without taking a car. Here are a few of the more popular options:
Ride the Trolley: There are three trolley stations that service Petco Park: 12th and Imperial; Park (12th Avenue) and Market; and the Gaslamp Quarter Station at 5th Avenue and Harbor Drive. All three trolleys provide advance service after night games. One-way tickets cost $2.50 and an all-day pass costs $6.
Park-and-Ride: There are more than 5,000 parking spaces along the trolley lines. There are also another 5,000 parking spaces at SDCCU Stadium that are free of charge (except during major events at SDCCU Stadium). So, it's easy to park on the outskirts and catch a fun trolley ride to Petco Park.
Coaster Train: The Coaster Train comes from North County to Petco Park during every Padres home game. If you're coming to the stadium from Interstate 5, you can take the Coaster Train and skip all the traffic! Coaster day passes run about $15 for adults and $7.50 for children 6-12. Children under age 5 ride for free.
Take the Amtrak: The Amtrak Pacific Surfliner stops at Santa Fe Depot in downtown San Diego 12 times a day. The train has big, reclining seats, free Wi-Fi and a cool café car with lots of tasty treats for pre-game and post-game, including local craft brews. From the Depot, it's about a 25-minute stroll to the ballpark, and only a 12-minute walk from the station at 12th and Imperial. Ticket prices vary depending on your departure location.
Bus it: MTS buses service Petco Park, including routes that stop right at the ballpark's front gate at Park & 10th Other buses pick up and drop off only a few blocks away.
The Ferry: The San Diego Bay Ferry leaves Coronado Ferry Landing Shopping Center to 5th Avenue Landing beginning at 9:10 a.m. daily. The ferry departs every half-hour until 9:40 p.m. The return ferry from 5th Avenue Landing to Coronado starts at 9:25 a.m. and departs every half hour until 9:55 p.m. Ferry tickets are around $5 per person, each way. Children age 3 and under are free.
Bike Share: Decobike cycle sharing stations are positioned around downtown San Diego, including near Petco Park at L Street, J Street, K Street, Imperial Avenue and 10th Bikes can be rented by the hour or on a yearly basis.
Free Ride Downtown Shuttle: "The FRED" is an eco-friendly shuttle that operates in downtown San Diego. Rides are free and the shuttle operates seven days a week. You can wave down the shuttle when you see it, or link up via a mobile phone app.
How to Get Padres Tickets
If you need a ticket to the Padres game, there are a few places you can look. First, the San Diego Padres website has the team's up-to-date schedule and any current team news. It is part of the Major League Baseball website, so it's easy to navigate between teams and get all the information you need.
Another good resource is a secondary ticket seller like StubHub, Vivid Seats or Seat Geek. The Padres also have a link to purchase tickets through the City of San Diego's website. It also highlights events and happenings in the downtown area that may be of interest.
Find a ticket that fits your budget. If you're savvy, you may be able to score a ticket for $10 or less. Premium seats at Petco Park can go for hundreds or thousands of dollars, depending on the event and the demand.
The easiest way to score a Padres ticket might be to just walk up to the ticket booth at the stadium on game day. There, a ticket agent can assist you in finding the perfect seat. They can also advise you on future games and season tickets. Around the park, agents and ballpark staff can answer any additional questions.
Where to Stay for Padres Games
We have amazing vacation rentals that are available during the baseball season that are near the bus lines, trolley, or within walking distance to Petco Park. Vacation rentals offer more than a traditional hotel room. Choose from smaller condos that are ideal for single travelers or romantic couples or browse our inventory of larger townhouses and private homes for the entire family or a group of baseball fans.
Our vacation rentals are contemporary, clean and convenient, and provide way more space to spread out and relax on your vacation. Enjoy premium amenities that you won't find at every hotel, like a Jacuzzi tub, dedicated covered parking space, full kitchen and a private deck, patio or lanai. Some residences have immediate beach access or are only a short walk from a pristine San Diego beach!