The San Diego County Fair is a massive event that takes place at the Del Mar Fairgrounds, about 20 miles north of San Diego, from mid-June through early July every year. The fair is one of the largest in the United States, attracting more than 1 million visitors each year.
If you are planning on vacationing in San Diego with your family in June or July, make sure to visit the fair. You'll find top-tier entertainment, contests, rides, livestock, exhibits and more. Bring your walking shoes, sunscreen and energy – you'll need it all!
San Diego Coast Vacation Rentals offers some of the best vacation rental properties in San Diego and the surrounding beach communities.  Make sure to check out our lodging availability to reserve the perfect condo or home for your stay in San Diego.  If you do not see what you need please call.  We have new vacation rentals in Mission Beach that are not listed on the website.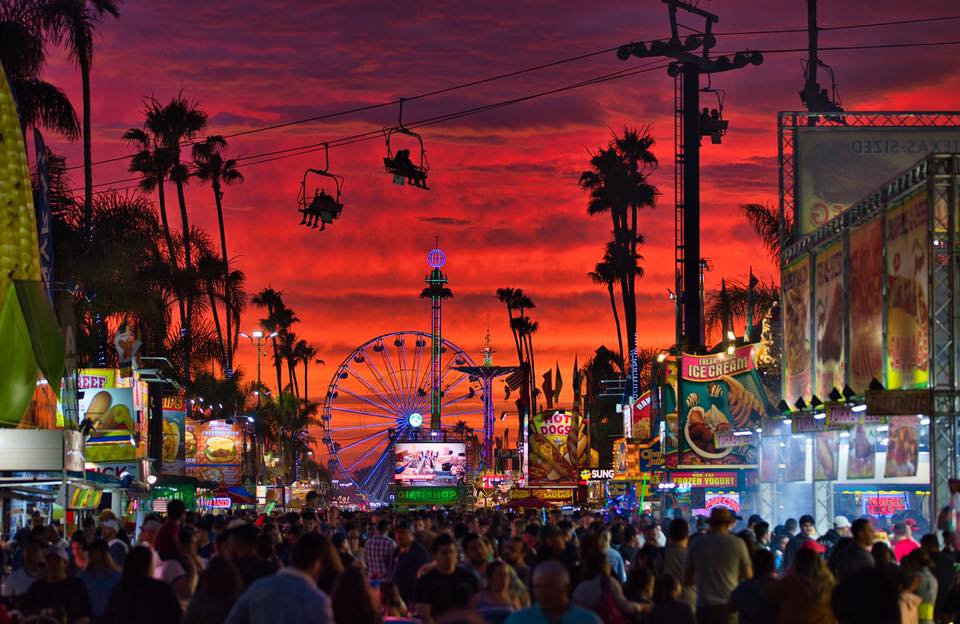 History of the San Diego County Fair
The San Diego County Fair has roots dating to 1880, and has been engaging visitors at the Del Mar Fairgrounds since it opened in 1936. Over the years, it has gone by a couple different names, including the Southern California Exposition and the Del Mar Fair.
The fair has changed its theme every year since 1998. Some of the more popular themes over the years have been "Baseball" (1999), "Elvis Presley" (2002), "American Veterans" (2007), "Taste the Fun" (2010), "Mad About the Fair" (2016) and "Home Grown Fun" (2021).
Exhibits, Rides and Games
It's nearly impossible to try and list the myriad of activities and events hosted by the San Diego County Fair. To start with, the fair attracts a variety of musical performances, including well-known Pop, Alternative, Country and Gospel bands and singers. In addition, many emerging Indie and up-and-coming bands also introduce their sound to patrons. A night of comedy is usually scheduled each year as well.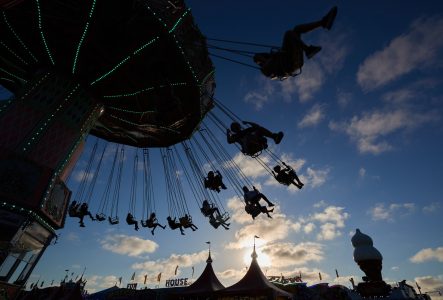 Kids will appreciate the many rides and games at the fair. The rides change out each year, but usually include all the favorites you'd expect at most classic carnivals. Over the years, the Happy Days Pony Rides experience has introduced a generation of San Diegans to the joys of equestrian athletics at the fairgrounds, which is also the home of legendary Del Mar Racetrack.
The San Diego County Fair also includes a wide variety of exhibits, including exhibits of rare stones, photography, hobbies, wood design, and student art showcases from local children. Livestock, garden and car shows are also common inclusions.
Top Fair Attractions
Here are a few of the more popular attractions at the San Diego County Fair:
Ferris Wheel: Take in the views of the whole fair from the top of the Ferris Wheel. A fair tradition, the big wheel sweeps riders around and around, and is a hit with kids and romantic couples.
Carousel: Another carnival staple, the vibrant, whimsical merry-go-round has horses and exotic animals to ride up, down and all around. The fun ride is guaranteed to delight children of all ages.
Swifty Swine Pig Races: A family favorite brings America's fastest swine to the track, all racing to the finish line for a coveted Oreo cookie.
Extreme Dock Dogs: Pooches compete in athletic competitions like big air wave, extreme vertical and speed retrieve. Watch these daredevil dogs leap their way into your heart!
Make and Takes: Participate in daily activities where guests not only create – but take home – keepsake items that are beautiful and hand-made. It's a perfect way to tap into your creative side and have an exceptional souvenir to take with you.
Food at the Fair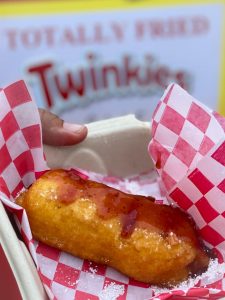 It wouldn't be a fair without shopping and eating. Over 100 booths sell their treats and wares each year at the fair. Some offer beautiful handmade crafts, while others offer traditional fair food like kettle corn and funnel cake. However, there are always whacky new heart-stopping snacks to try, including past favorites like beef sundaes, chocolate bacon and fried butter.
Fun contests are a well-loved tradition at the San Diego County Fair. Adults and children can participate in dance competitions, oratory, singing, pie-eating, potato sack racing, hula hoop, and much more.
Getting to Del Mar Fairgrounds
Getting to the San Diego County Fair from downtown San Diego should take you about 30 minutes by car if the traffic is average. Keep in mind that it can get busy on the San Diego interstates, so please make sure you check the current traffic patterns before you head out, if you're on a tight timeframe. You can get to the fairgrounds via two routes: Interstate 5 or Interstate 805. Taking the I-5 is usually quicker. Take it to Via De La Valley (Exit 36) and turn left. Follow Via De La Valley until you cross the interstate and see Jimmy Durante Boulevard. The fairgrounds are located at 2260 Jimmy Durante Blvd.
To take the 805, either hop directly on it or connect with CA-163 North. Once on the 805, take Exit 36 and follow Via De La Valley to Jimmy Durante Blvd.
Parking at the Fairgrounds
Parking at the San Diego County Fair is easy if you've purchased your parking in advance online. If not, be sure to bring cash to pay for parking. If you want to catch a ride to the fair, you can use a rideshare like Lyft or Uber. You can rent a limousine through Skye Limo Services, or charter a bus with Epic Limo Bus if you have a sizeable group of fairgoers.
San Diego has public transportation options that are convenient. Amtrak and Coaster trains make stops at the nearby Solana Beach station. There are double-decker buses at Solana Beach, too.
How to Get Tickets to the San Diego Fair
To learn more about the fair or to purchase tickets, visit the San Diego County Fair tickets page. Tickets for the upcoming fair usually go on sale on or around May 1 of that year. Admission for children aged 5 and younger is free. There is only one ticket price for all people over age 6. You can also purchase parking online in advance of your visit through the website.
Where to Stay for the San Diego Fair
If you need a great place to stay during the fair, San Diego Coast Rentals has plenty of vacation property rentals available within easy driving distance. Browse our vacation rentals and see which one of our premier residences is perfect for you.
Vacation rentals stand above traditional hotel rooms when it comes to comfort, amenities and room to move. At one of our exclusive rentals, you'll have your own home or condo to call your own for your vacation. No hassles, no strangers, and no maids knocking on your door at 7 a.m. Most of our rentals are in quiet neighborhoods with immediate access to the many highways and interstates that can take you anywhere in the city. We have rentals near the Del Mar Fairgrounds, so it's easy to make it to the fair for a day or two.
Our vacation rentals feature top-tier amenities like a dedicated parking space, covered parking or a garage. Many of the kitchens and bathrooms have been updated to include luxury finishes like steam showers and stainless-steel appliances. Ask about rentals with hot tubs, patios with sunset views, or residences only a short walk or drive from the ocean. We even have homes and condos with immediate beach access.
Browse our current vacation rentals in Del Mar, or contact us and let us know what you're looking for. If you'd rather speak on the phone and or need a recommendation, call us (858) 531-3247.