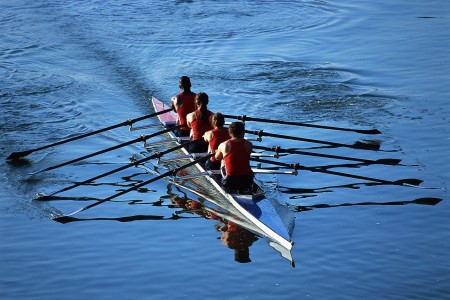 The best rowers in the United States line Crown Point Shores every April for the largest exclusively eight-oared regatta in the world – the San Diego Crew Classic. The annual event draws top amateur rowers from premier university rowing programs and draws thousands of spectators and alumni to the sandy beaches and sparkling waters of Mission Bay in San Diego for two days of competitive races and related events.
The San Diego Crew Classic includes junior-varsity and varsity collegiate divisions as well as junior, club and masters' races. In each event, eight rowers and a coxswain (who steers) work in unison to race their shell through 2,000 meters of water as quickly as possible. To win, crew members must work together to sync their motions and maintain balance, speed and a consistent and smooth forward motion. Even though the rowing may seem simple on the surface, crew involves complex, full-body movements that requires maximum effort and precise skill.
The Crew Classic is more than just a rowing regatta. The event is heralded as one of the top races in the sport, and the beautiful setting along the San Diego shoreline only enhances the experience. Couple that with perfect weather, sunny skies, stunning sunsets, awesome food trucks, craft brews and plenty of smiles and it's easy to see why the San Diego Crew Classic is a must-do each spring.
About the San Diego Crew Classic
The San Diego Crew Classic celebrates the sport of rowing. It's a place where young athletes and individuals can mature into socially responsible adults who will pass on the lessons learned on the waters of Mission Bay to future generations. The West Coast's premier spring rowing regatta is typically held every April on the beautiful shores of Mission Bay in San Diego. The physical address of Crown Point Shores is 3804 Ingraham Street.
The Crew Classic is known as a place for rowers to cut their teeth and learn the ins and outs of the oldest collegiate sport in the United States. It brings together everyone from novice rowers to Olympic champions and retired legends. Many athletes first attend the Crew Classic as part of their high school team while others are exposed to the event for the first time while in college. The spring races often give athletes the chance to size up the competition and provides the opportunity for rowers to improve their rankings heading into the rowing season.
For alumni, the San Diego Crew Classic provides a wonderful opportunity for former athletes to reconnect with past teammates, colleagues and coaches. Alumni and Masters' Club events are often the most attended and exciting races of the weekend!
History of the San Diego Crew Classic
The history of the San Diego Crew Classic dates to 1973, when a group of civic-minded San Diegans first had the idea of bringing the nation's top collegiate crews to Mission Bay for a springtime West Coast regatta. Initially, some of the best crew programs in the nation attended the inaugural event, including the U.S. Naval Academy and the University of Washington.
That first event lasted three hours and featured about 300 competitors spread across 12 races. The winner-take-all event was fast-moving and fun from the start, with exciting races between traditional and up-and-coming rowing powers.
The Copley Cup was established in 1975 and quickly became a top prize for winning the premier men's collegiate invitational race in the nation.
By the 1980s, the regatta had grown to become one of the top crew events in the West Coast, adding juniors and masters' races. The regatta continued to influence the sport at the collegiate level as well, shifting the balance of power from the classic powerhouse crew programs of the East Coast to include a few top programs in the West.
Some 45 years later, the Copley Cup now includes a long list of prestigious universities – including Harvard, Penn, UCLA, Washington and Stanford.
The regatta has also grown considerably over the years. Today, the regatta is a two-day, nationally acclaimed event with more than 100 races involving over 4,000 athletes and thousands of spectators watching live in person of via a live streaming webcast.
Getting to the San Diego Crew Classic
If you're heading out the San Diego Crew Classic, there are a few ways to get there. If you are driving, you can reach Mission Bay from Interstate 5 or Interstate 8.
From Interstate I-5: If you're in downtown San Diego, it will take you about 15 minutes to get to Mission Bay. Merge on to I-5 South, then take Exit 16 and merge onto CA-163 North toward Escondido. Take Exit 3B and merge onto I-8 West. Keep left and stay on I-8 until Exit 1 (Mission Bay Dr./Sports Arena Blvd.). Turn right onto West Mission Bay Dr. and continue to Ingraham Street. Stay left and turn right onto Crown Point Dr. Turn right onto Corona Oriente Rd. and follow the signs.
From Interstate I-8: From downtown San Diego, merge onto Interstate I-5 North toward Los Angeles. Take Exit 18A and merge onto Pacific Hwy. In about 3.5 miles, turn left onto Sea World Dr. Merge onto West Mission Bay Drive via the ramp to Ingraham St. Once you are on Ingraham St., keep left and turn right onto Crown Point Dr. Turn right onto Corona Oriente Rd. and follow the signs.
Parking & Rules at the Crew Classic
There is paid parking available. Parking at Crown Point is free on weekdays and $20 on the weekend. A limited number of parking spaces are available to purchase. Spaces are a first-come, first-served basis and not guaranteed.
There is free parking at Ski Beach. A free shuttle runs from Ski Beach at Vacation Isle. Shuttles run Saturday and Sunday from 6 a.m. to 6 p.m.
Here are a few other important rules that attendees must abide by:
No glass containers allowed.
The City of San Diego has a ban on alcohol at city beaches and adjacent parks. Alcohol is available on-site within specified areas. Alcohol consumption must take place in the same designated area. Outside alcohol is prohibited.
If you ride a bike, you can lock it to the outside fence. No bikes are allowed inside the fence.
No skates inside the fence. You can carry them with you if you have other shoes.
No pets allowed in city parks (including parking lots) unless it is a certified service dog.
No balloons allowed.
No large umbrellas allowed.
There is no smoking allowed in any San Diego parks, including parking lots.
How to Get Tickets to the Crew Classic
You can secure tickets to the San Diego Crew Classic through the organization's website. You can purchase tickets directly online so there's no waiting at the ticket window when you arrive at the event.
In addition to General Admission tickets, the organization offers a few different packages with varying perks. Here are a few of the favorites:
Friday Night Welcome Party. Kick off the weekend's festivities with the fun Welcome Party at the Champions Pavilion on Friday night. Mingle with rowers, friends and enthusiasts from around the world while enjoying tasty bites and creative cocktails. Must be 21 years or older to attend.
Champions Pavilion. Enjoy a tasty gourmet brunch with freshly brewed espresso at the finish line in the Champions Pavilion. A classic brunch by the bay is available on Sunday during the event for attendees over the age of 21.
Beer Garden. The Beer Garden at the Champions Pavilion is the ideal spot to catch a cold one and see all the action. Watch the races from the shore and enjoy one of San Diego's hearty craft brews. The Beer Garden is open Friday from 2 -7 p.m. and Saturday and Sunday from 10 a.m. to 7 p.m. Must be 21 to enter Beer Garden.
Where to Stay for the San Diego Crew Classic
If you are competing in the San Diego Crew Classic or are planning to come from out of town to watch the races, consider lodging in a local condo or house to enjoy for the weekend. A vacation rental will be much more comfortable than a crowded hotel room and will allow you to really enjoy all that beautiful San Diego has to offer – especially if you are staying for an extended period.
At San Diego Coast Rentals, we have plenty of vacation properties available for individuals, couples and families at a variety of budgets and within easy driving distance to the Crew Classic. Our vacation rentals are clean, well-cared for and located in some of the best areas in and around San Diego. Best of all, we are generally able to match or even beat the price of similarly sized hotel rooms.
If you need lodging during the Crew Classic in San Diego, consider San Diego Vacation Rentals. See a list of all our available rentals or give us a call at (858) 531-3247 and we can make suggestions based on your preferences and budget.