There's lots to do in San Diego over the holidays. Things reach a crescendo on the last day of the year – New Year's Eve. While most of the country needs to bundle up for an outdoor celebration, that's not the case in San Diego. The weather is perfect, the events are hot, and the champagne is bubbly. If you're coming to San Diego for a New Year's Eve vacation, we know where to party – and where to stay. Our beautiful vacation rentals around the city can put you in an ideal spot to party on the beach, on the water, or downtown. On New Year's Eve, the world is your oyster.
New Year's Eve parties in San Diego vary a bit from year to year, but there are a few favorites that come back year after year. This affords you the opportunity to try something new every year, or start an annual tradition and do the same thing, with the same people, every year. Here are five hot parties in San Diego that are worth a closer look when you're making you plans for New Year's Eve.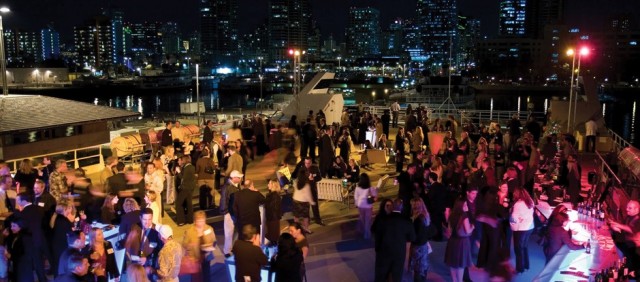 Party at the Gaslamp Quarter
The Gaslamp Quarter in downtown San Diego is usually the biggest party in town. Every bar, tavern, pub and restaurant in the area will have specials and extras for the big night. For 13 years, the place to be when the clock strikes midnight is the Hard Rock rooftop. The Float Rooftop Lounge sit atop the Hard Rock Café building and entertainment terrace with lots of glitz and glamour, and a spectacular view of the city, skyline and the stars. There will be plenty of champagne, and a roster of the city's best DJs will keep the party popping on the 1s and 2s. Tickets are required for the event.
Celebrate at the Beach
Looking for an all-inclusive, top-level party with drinks, hors d'oeuvres, local entertainment and a luxury vibe, check out New Year's Eve at the Catamaran Resort on Sail Bay. There are four room of entertainment, beer tubs, expanded bar service, top-tier entertainment, DJs, photo booths and more. At the resort, located at 3999 Mission Boulevard, you can party in comfort without your heels sinking into the sand,. Or, you can ring in the new year with a VIP party boat upgrade. Festivities kick off at 8 p.m., and VIP party boat cruises are at 8:30, 10:30 and 10:45-12:30 – the midnight cruise. Tickets are required for the event and VIP upgrades, and they sell out fast!
Ring in the New Year on a Yacht
Imagine ringing in the new year on a $25-million yacht on a moonlight cruise. Hop on board the Inspiration Hornblower yacht at Grape Street Pier for an evening you won't forget. The night starts with drinks and music (think charcuterie board and top-shelf liquor). There are three lively dance floors on the yacht. The music and ambiance changes from room to room, and there are 12 bars on the yacht. When it's time for the big countdown, head to the deck for a champagne toast under the stars with a light breeze flowing off the easy waters of San Diego Bay. An interactive photo booth on board lets you commemorate the unforgettable night. Tickets are required.
Enjoy a New Year's Eve Pub Crawl
If you don't want to be stuck in one spot all evening, consider the all-inclusive New Year's Eve Pub Crawl at the Hilton San Diego Bayfront. With numerous party areas, more than 10 acts and 5,000 revelers ringing in the New Year, this is one party you won't want to miss. The 18th annual party includes drinks, a buffet, multiple party zones and all the entertainment for one flat fee. You must be 21 or older to attend. Enjoy 10 party areas, eight dance floors, party bands and DJs playing the hottest music and old favorites, first-class cuisine party favors, and all drinks included. Tickets are required.
Get Your Partying Done Early This Year
Are you not a late-night person? Don't want to be out and about with all the loonies after midnight? Looking for something family friendly and early? We got you, fam. Get your partying done early in the day, while everyone is bright-eyed and bushy tailed. Load up the gang and head to San Diego's iconic Belmont Park for its annual Noon Years Eve celebration. The family fun includes a balloon drop and bubble blast to ring in the new year – at noon instead of midnight. Festivities kick off at the park around 10 a.m. While you're at the historic park, check out its signature rides like the Giant Dipper roller coaster and the Plunge swimming pool.
Catch a Concert at Belly Up 
Want to catch a major headliner on New Year's Eve. See who's playing at the Belly Up at Solana Beach. The cozy night club always brings in a big-time act for New Year's Eve. The venue opened in 1974 and has seen a who's who of music legends grace its stage over the years. Names like Etta James, BB King, No Doubt, Mumford and Sons, Jimmy Buffet and Willie Nelson. The club is also known to book the hottest up-and-comers in music, as well as top-shelf comedy acts. Tickets are pricey and sell out quick, but how often can you see your favorite act at an intimate, 500-seat venue?
Watch Heroes and Villains Battle in the Ring
Want something totally different? Head to OB Rassle House, 4861 Newport Avenue, in Ocean Beach for an evening of professional wrestling action. The family friendly show allows you to cheer the heroes and boo the villains as they battle it out in the ring. Enjoy singles matches, tag-team bouts and specialty attractions from legendary stars of the rings and a few future stars of wrestling that you may see on TV on day. The New Year's Eve show runs from 9 p.m. to midnight. There are snacks, drinks and a champagne toast at midnight. You might even be able to score an autograph or two.
New Year's Eve Lodging in San Diego
It's important to find a great party to attend for New Year's Eve. But just as important to book the right type of vacation rental accommodation for you. If you want a private, spacious place that will feel like your home-away-from-home, consider a condo or home vacation rental. Visit San Diego Coast Rentals to see our list of available homes and condos that will keep you close to the action in San Diego this New Year's Eve. Happy New Year!