San Diego is one of the best destinations in the United States for a getaway – it doesn't matter if it's for business or leisure. The city is a fantastic vacation spot because of its variety and a vast selection of activities, points of interest, and things to do. San Diego is also an excellent option for business planners who want to inspire or reward their team with a memorable retreat. So it's no wonder that San Diego usually tops the list of destinations in the United States for large group gatherings.
A large group is usually eight or more people traveling together. It doesn't take much to get a group of that size together in today's world. Many families, especially those with grown children, have more than that. It's also a good number for friends looking for a fun group vacation. Or it could be four couples taking a hiatus from their kids, work, and everyday responsibilities. Here are some vacation rental ideas for family groups and family reunions or any other type of group travel.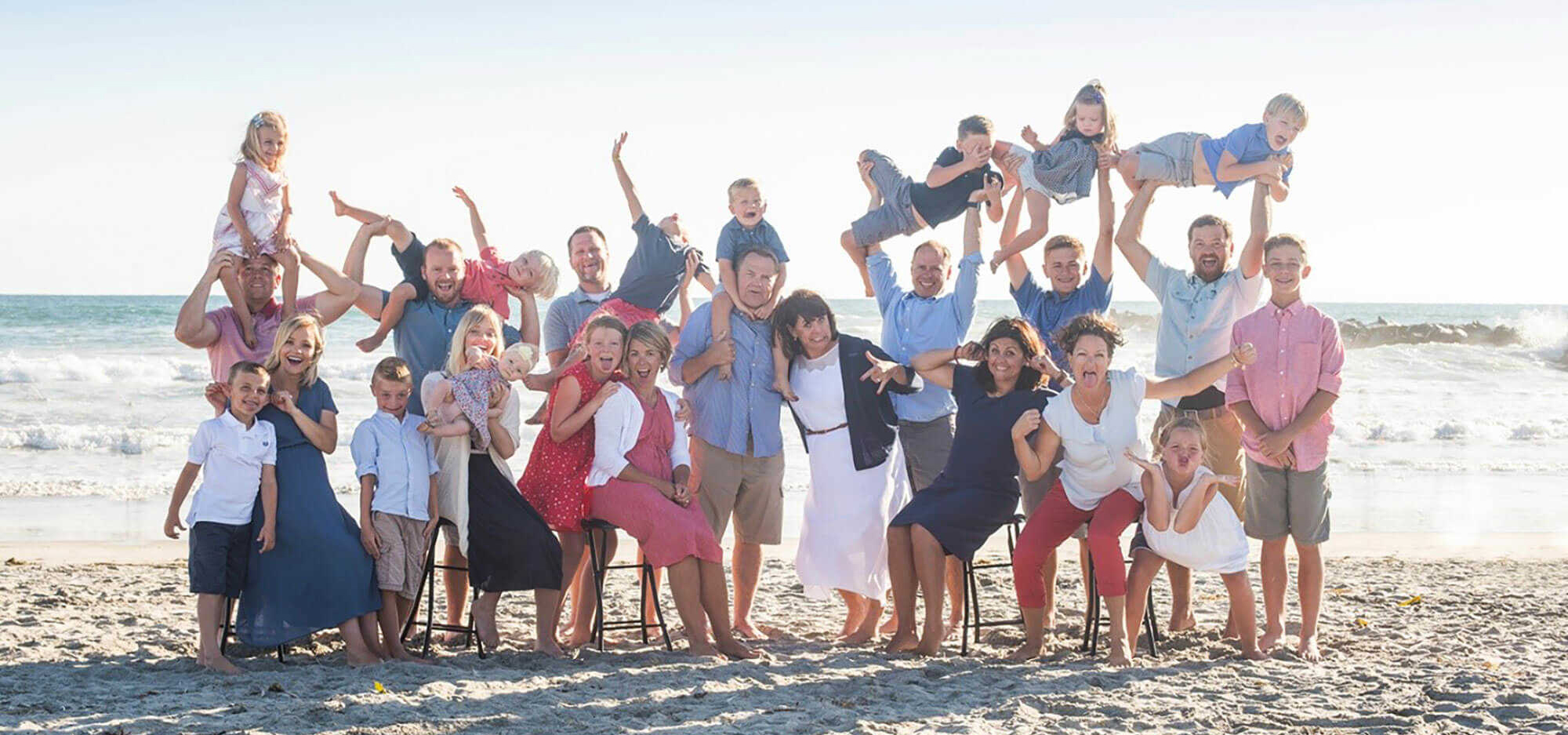 Large Home Rentals in San Diego
No matter the makeup of your group, it's always a fun idea to get everyone under the same roof. What's the point of taking a group vacation anyway if you can't maximize your time together? If everyone retreats to private accommodations, it can eat up a lot of valuable bonding time. Sometimes hotel rooms or rentals can be found close to each other, so a tremendous amount of time is spent traveling between sites. And who wants to spend their whole vacation in the car, shuffling between one place and another?
San Diego Golf Course Homes for Rent
There are also homes for rent on or near the best golf courses in San Diego. If golf is your game, we can get your foursome (or foursome pair) set up right on the fairway or just off the green at your favorite San Diego club. Choose from immaculate homes near Torrey Pines, Coronado Golf Course, Barona Creek Golf Club, Aviara Golf Club, and Maderas Golf Club. Golf course homes in San Diego come stocked to the nines with top-shelf amenities and high-end touches at every turn. Residences often have lovely gathering spaces for outdoor get-togethers and formal dinners, and many have a relaxing hot tub to unwind if things don't go your way on the links.
Rental Homes for Larger Groups Near Downtown
San Diego has a trendy downtown area called the Gaslamp District. It has bars, restaurants, nightclubs, boutiques, retail shops, luxury stores, and Petco Park – home of the San Diego Padres baseball team. Balboa Park, one of the most iconic parks in the Western U.S., is in the city's heart and has countless sites to explore, like the San Diego Museum of Art and the world-famous San Diego Zoo. Many larger families and groups enjoy staying near the city core, so everything is close.
Large Group Vacation Rentals on the Beach
The best option to get everyone under one roof is to rent a private home for your San Diego vacation. There are homes for rent in San Diego in all shapes and sizes and all over town. You can find extraordinary beachfront homes up and down the coast. Vacation rentals on the beach are available at famous beaches like Del Mar Beach, La Jolla Shores, Windansea, Pacific Beach, and Mission Beach on the north end, to beaches further south like Ocean Beach, Coronado Beach, and Imperial Beach.
Vacation Rentals Vs. Traditional Hotels
There are many reasons people choose a vacation rental over a traditional hotel, but mostly it comes down to added value. Vacation rentals offer a lot more perks than a regular hotel. When you rent a vacation rental, you're renting an actual home – so it comes fully stocked with everything you need. There are dishes, towels, a coffee maker, and a microwave, like a traditional hotel, but (in most cases) there's also:
A full kitchen (oven, stove, full-size refrigerator, pots and pans, silverware, stemware)
Bathrooms en-suite to each bedroom
A steam shower or soaking tub (or both!)
A washer/dryer in every residence
A private deck or patio
A private hot tub
Private multi-car garage or dedicated parking space
A private home rental is comparable to a standard hotel room in many cases. But the real benefit is privacy. You don't have to listen to other people yell and scream down the hallways at 3 a.m., smell unwanted smoke, or wait in line for breakfast. At your private residence, you'll enjoy the utmost privacy and be able to come and go at your own pace and set your own schedule. For many, getting away from the hubbub and noise is the vacation!
Why Choose San Diego Coast Rentals Over Airbnb?
If you take that idea further, it's easy to explain why renters choose San Diego Coast Rentals over Airbnb. We're a professional property management company with years of experience dealing with various owners and numerous properties. We've seen it all over the years, and we're adept at handling anything that comes our way.
When you choose a vacation rental, especially an Airbnb, over a traditional hotel rental, you're putting a lot of faith in the property manager's ability (and willingness) to go the extra mile to make your vacation something special. Some property owners will break their backs to accommodate you, while others are hard to get ahold of if something goes wrong. Honestly, with Airbnb, it's a crapshoot. It's hard to know if you're going to contact a property owner that wants to help or if you're getting one that just wants to cash your check.
The sad thing is that a single aspect can make or break your vacation. So why risk it? At San Diego Coast Rentals, we're here to make your getaway the best. We're always available to give recommendations, make adjustments, or repair something if it comes up. And we check every property extensively before your arrival, so there shouldn't be any surprises. We also work with guests on special needs or requests. We love setting up firepits for our guests to have a romantic evening on the beach, and we're always a phone call away if you want to check out a couple of bikes for a ride along the boardwalk. In both instances, we'll come to you, give you the hookup, then come back and clean up afterward.
Browse our private home rentals here.