Finding a vacation condo or private home for your San Diego getaway can be easy if you're only planning to visit for a few days or a week. But if you're looking to stay longer, securing a monthly vacation rental in San Diego can require a little more effort. For stays longer than 30 days, the vacation rental market usually shrinks considerably. Thankfully, we have a few select vacation rental homes and condos available for a month or longer. Here are a few of the best ones: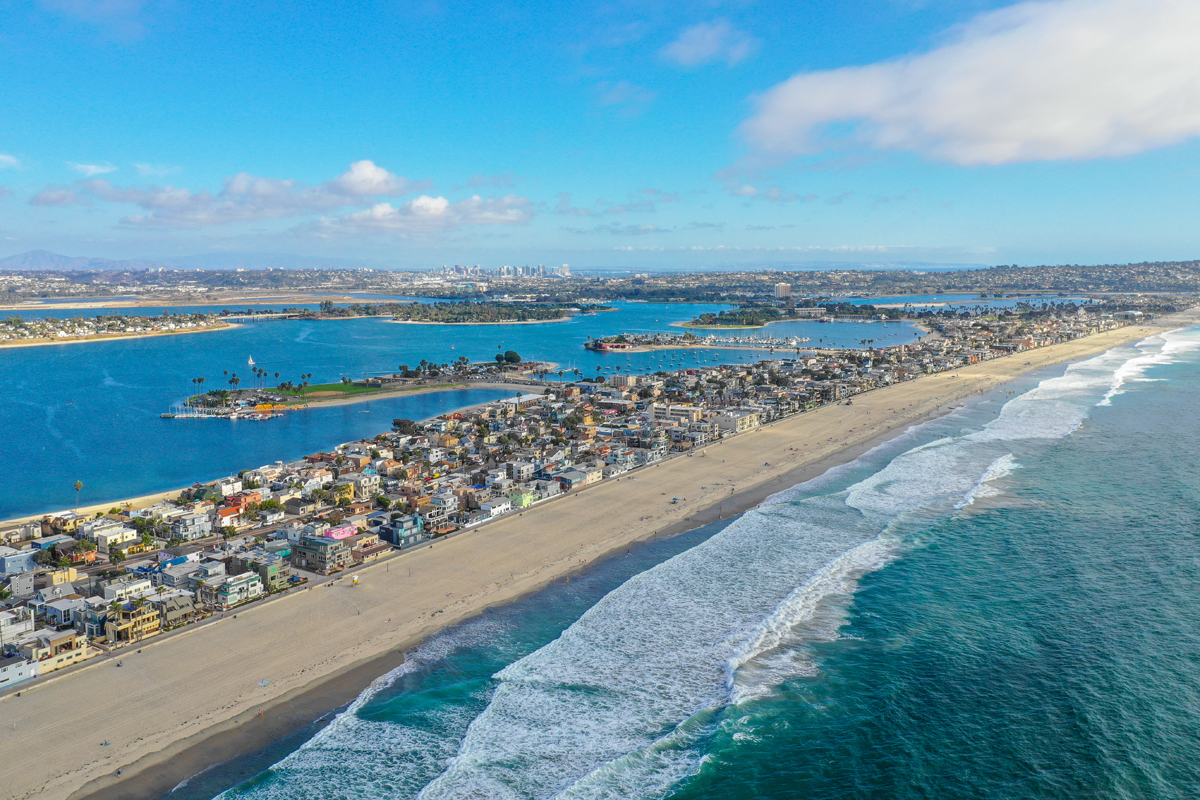 Ocean View Paradise
Beds 4, Baths 3, Sleeps 11
Our Ocean View Paradise comes fully furnished with four bedrooms and three bathrooms, situated on the third floor with pinnacle views of the Pacific Ocean. There are three balconies on the west side of the building to enjoy the pristine waters and picturesque Cali sunsets. The primary bedroom offers a plush King-size bed, a spacious master bathroom, and its own private balcony. The secondary bedrooms have queen, queen, and full beds, respectively, and a full-sized futon that you can convert into an extra sleeper. This unit can sleep a maximum of 11 guests.
The path to a long, sandy beach and the South Mission Jetty is just outside your front door. There are plenty of local surf shops where you can rent gear like bodyboards, paddleboards, and surfboards. There are numerous deep-sea fishing charters and sailing tours in the nearby marinas. The San Diego Zoo, downtown, Legoland, and Birch Aquarium are not far away.
Ocean Front Paradise #3211
Beds 3, Baths 3, Sleeps 8
Another gem of Mission Beach is Ocean Front Paradise #3211, a spacious three-bedroom, three-bathroom condo with a private balcony, outdoor seating, and a gas grill. The living room has floor-to-ceiling windows to absorb every ounce of that California sun and stunning ocean vistas. Outside your door is the beach and ocean, where you can swim, build sandcastles, and soak up the sun.
This property is dog-friendly and sleeps a maximum of six adults and two children. You must be 26 years old to rent this property. Situated right on the beach, you're never far away from the beach, fabulous eateries and coffee shops, and the boardwalk. Belmont Park is a historic amusement park not far from this plush condo.
Diamond Street Luxury
Beds 3, Baths 3, Sleeps 8
This multi-level, three-bedroom, three-bathroom Diamond Street Luxury townhome has 360-degree views of the Pacific Ocean, Mission Bay, and Mount Soledad from its rooftop deck. Relax, catch the sunset, or watch the nearby SeaWorld fireworks display during summer. There is a spacious studio with a kitchenette, bathroom, and a queen sleeper sofa on the ground floor. The second floor is home to the primary suite and a second bedroom. The primary suite has a king bed and its own private balcony. The third floor is home to the living area, kitchen, and a large patio with a gas grill and ocean views.
The residence also has air conditioning, a washer/dryer, and parking for two vehicles (one in the garage and one in the driveway.) Beach cruiser bikes, boogie boards, and beach chairs are just a few additional amenities that make this spot easy and enjoyable.
Oceanside Delight
Beds 3, Baths 2, Sleeps 8
This unique three-bedroom, two-bathroom Oceanside Delight vacation rental in Oceanside is just east of the 5 Freeway in North County. Oceanside is a terrific part of the San Diego metro area. Oceanside is an authentic SoCal beach town with a decidedly laid-back vibe. The city offers year-round mild weather, beautiful beaches, historic wooden piers, a quaint New England-style harbor, and a charming cottage district. The home sleeps six and has a private backyard. It sleeps up to six guests and is located near several beach communities and the city's tourist attractions like the marina, museums, parks, water parks, wineries, and the San Diego Zoo.
This vacation rental is ideal for families. The primary bedroom has a king bed and its own bathroom. The second guest bedroom has a queen bed. The third bedroom has two twin beds. The spacious yard has nightlights and ample seating. There is a gas grill and plenty of room for kids to play. The entire backyard is fenced. This relaxed home has a large palm tree in the front yard and a garage.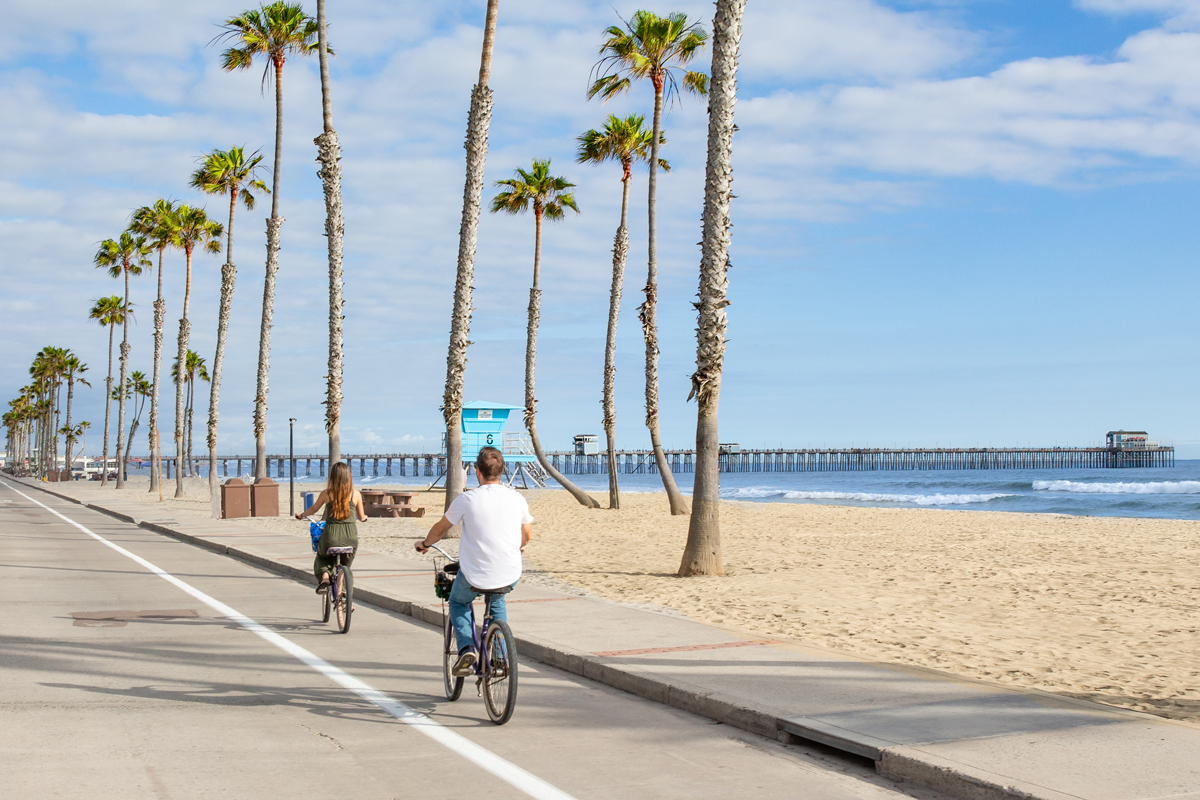 Punto di Vista
Beds 3, Baths 2.5, Sleeps 7
If Point Loma is where you want to be, consider this distinctive three-bedroom multi-level private home called Punto di Vista. Take in panoramic views of the ocean, SeaWorld, and Mission Bay, along with the hillside homes of Bay Park and La Jolla. This vacation rental is set up for indoor and outdoor fun. It's perfect for families who want to relax in America's Finest City and still be super close to all of San Diego's best attractions. The property sleeps seven, with a maximum of six adults.
Outdoors, enjoy a good-sized family pool with a water slide. There is plenty of space around the pool deck and patio area to catch a killer Cali tan. The pool and the patio overlook several homes in the hills beneath this fantastic vacation rental. Indoors, enjoy a baby Grand piano and plush furnishings. Sweeping windows give a broad view of the city and skyline. The primary bedroom has a king-size bed, flat screen TV, an on-suite primary bathroom with an oversized shower, and deck access. The guest bedrooms have a king bed and a set of bunks (queen/twin).
Point Loma Oasis
Beds 2, Baths, 1.5, Sleeps 5
Point Loma is a beautiful part of the city and home to this recently remodeled two-bedroom Point Loma Oasis vacation rental. This property is best suited for couples or families of 4-5 with children. The residence has manicured outdoor spaces, stunning views from 400 feet above sea level, and luxury amenities that make it feel like a home away from home. Enjoy an open living space with stunning panoramic views of Mission Bay, the ocean, and SeaWorld. You can kick back on the expansive sofa, catch up on your favorite TV show, or cuddle by the fireplace with your favorite beverage or loved one.
This home is set along a hillside halfway between Ocean Beach and Liberty Station. One car fits ideally in the driveway, and restriction-free parking is available, too. The luxurious primary bedroom has a king-size bed and a flat-screen TV. The guest bedroom has a bunk bed that's queen/twin. There is also an entertainment and rec room off the garage for added fun.