SeaWorld San Diego is one of the city's most impressive and popular attractions. The enormous downtown theme park houses a huge collection of sea creatures, incredible animal snows and a variety of thrilling rides that appeal to children and adults alike.
At SeaWorld San Diego, visitors can experience the amazing marine life that populates the waters just beyond the California shoreline. There are also prime examples of species from around the world, many of which are on the endangered list. Enjoy gentle penguins, sea turtles, dolphins and manta rays, or set your sights on more dangerous ocean creatures like sharks, sea snakes and killer whales.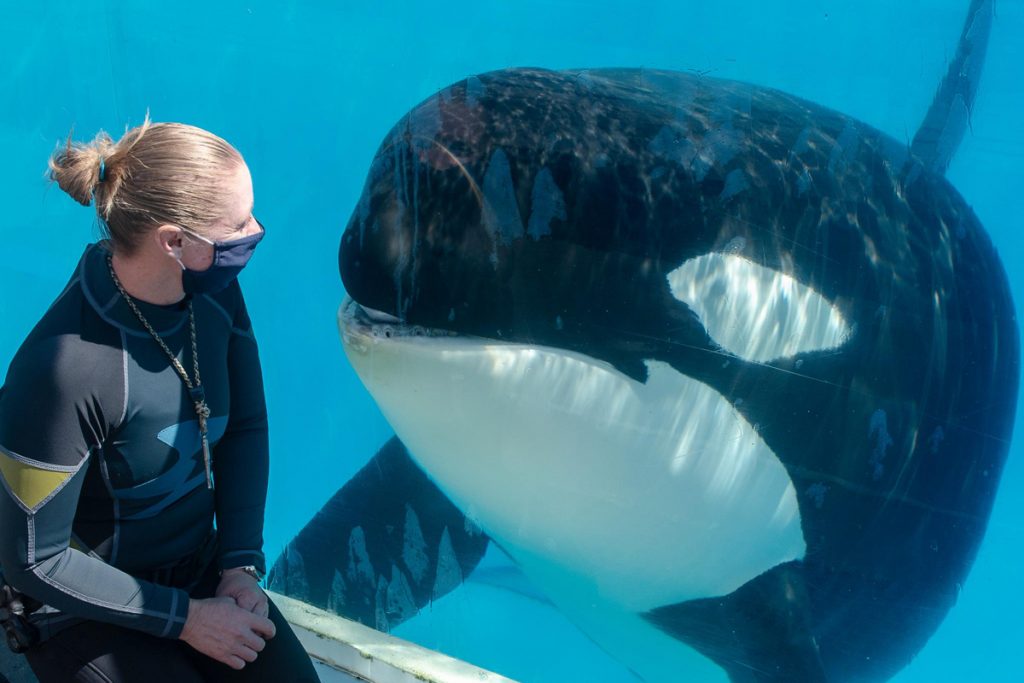 SeaWorld San Diego Attractions
SeaWorld San Diego has a diverse lineup of attractions and exhibits that rotate throughout the year. The park ended its traditional killer whale shows in 2017. The current Orca Encounter is a more educational presentation that gives insight into various aspects of a killer whale's life. Presently, 10 killer whales are housed at the park's 7-million-gallon whale habitat.
Dolphins are some of the smartest, friendliest, and most playful creatures on earth. Come meet these amazing animals at Dolphin Encounter, a park attraction that lets you touch and feed bottlenose dolphins.
Exhibits at SeaWorld San Diego
Animal exhibits at SeaWorld San Diego showcase sea creatures in their natural aquatic habitat. SeaWorld's Wild Arctic has numerous species of cold-water beings, including beluga whales, seals and walruses.
At World of Fishes, there are freshwater and saltwater aquariums with piranhas, sea turtles, leopard sharks and alligator gar. The Octopus Aquarium houses various specious of octopus, cuttlefish and nautilus, and the Ray Aquarium has both beautiful and deadly rays. At
Rides at SeaWorld San Diego
In addition to engaging animal exhibits and live attractions, SeaWorld San Diego has thrilling rides around the park that will get your adrenaline pumping and more leisurely rides for younger visitors. The Bayside Skyride in the northwest corner of the park is a fun gondola ride over the park. The Ocean Explorer area has four rides for young kids and Sesame Street's Bay of Play has three additional rides for youngsters.
Riptide Rescue outside of Turtle Reef is a dizzying ride for children and Shipwreck Rapids is a river-themed shipwreck ride on a deserted island. Skytower is a 320-foot Gyro tower that gives passengers an unparalleled six-minute view of the park and the city. Tidal Twister reaches a top speed of 30 miles per with a height of 22 feet and a track length of 320 feet.
SeaWorld San Diego has added a few excellent roller coasters over the years. The Electric Eel arrived in 2018 and is the city's tallest and fastest roller coaster. The Journey to Atlantic water coaster was one of the park's first coasters, but is still a favorite with a big drop.
The Manta is a mega-attraction that starts with a 270-degree media experience that rocks forward and backward in synchronization with the projected film of a coral reef and school of rays. The two-minute, 2,800-foot ride features a drop of 54 feet with multiple turns and short, but sudden, drops.
The new Emperor coaster will debut in 2021. With a height of 153 feet, the new coaster will be the tallest, fastest and longest dive coaster in the state.
History of SeaWorld San Diego
SeaWorld San Diego opened in 1964 on 22 acres along the shore of Mission Bay. In the early years, the park had about 45 employees and welcomes about 400,000 visitors each year. The park's most popular resident during the late 1960s was a killer whale named Shamu, who performed at the park for many years. Over the years, there have been a few Shamus, and today the iconic whale is used primarily as the park's cartoon mascot.
The park closed in March 2020 during the COVID-19 pandemic, as ordered by the State of California. It reopened to the public in April 2021. Currently, the park greets 3-4 million visitors every year.
When to Visit SeaWorld San Diego
The park is open all year, but it's especially fun in the fall and winter when crowds and lines are at a minimum. Temperatures for a visit in October, November, December and January are ideal for walking around SeaWorld San Diego in jeans, shorts, a t-shirt or a comfy dress. During the week is the best time to snag a good seat for one of the many exciting and unique shows. Lines are short and considerably less crowded!
SeaWorld San Diego has special events during Halloween week and holds a holiday extravaganza every year from mid-November to early January.
Getting to SeaWorld San Diego
SeaWorld San Diego is easy to get to since its located right off Interstate 5 in Mission Bay. From Los Angeles, take Interstate 5 south to San Diego and take Exit 21, Sea World Drive/Tecolote Road. The trek from downtown L.A. should take you about an hour and 45 minutes, depending on traffic.
If you're headed in from the east (like Phoenix), take Interstate 8 west to West Mission Bay Drive (Exit 1) in San Diego. From Phoenix, it's about 350 miles to SeaWorld San Diego. You should be able to make it in less than six hours, depending on traffic.
Parking at SeaWorld San Diego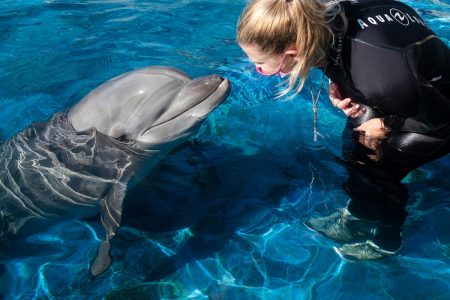 There is paid parking near the entrance of SeaWorld San Diego. General parking is $25 per vehicle and can be purchased at the park or online prior to your visit. For admission, present your parking ticket and photo ID at any toll booth as you enter the parking lot. Park admission is not included with parking purchase.
Up-Close Parking is reserved parking in the first six rows near the entrance to SeaWorld San Diego. It can be purchased for $30 per vehicle at the toll booth or online before you arrive.
The closest parking section to the entrance is VIP Parking. You can park in the VIP section for the day for $35 per vehicle. VIP Parking is limited, so it's best to purchase it online in advance of your visit.
Public Transportation to SeaWorld San Diego
The Metropolitan Transit System has daily bus service from Old Town Transit Center to SeaWorld San Diego via Route 8 and Route 9. The four-mile trip will take about 15 minutes. Old Town Transit Center has connections to Amtrak, Coaster and other local bus services.
How to Get Tickets to SeaWorld San Diego
You can walk up to the toll booth at the park and pay at the window, or you can purchase your tickets online in advance of your visit. Single-day tickets can be purchased online, and there are Dine & Drink bundle packages that come with food and drink items.
Gate price at the park is currently about $95.99 per person. Parking, taxes and service fees for the park are not included in the price. SeaWorld San Diego regularly runs promotions that can save you money off full ticket prices. There are also family packages and other ways to save. Browse ticket options online and find what's best for you. There are Fun Card and Season Pass choices that can save you money on multiple visits.
Reservations are required prior to each visit and can be made after your purchase is complete and confirmed via email. Subject to park capacity. Children under 3 do not require a reservation or ticket for entry.
Vacation Rentals Near SeaWorld San Diego
If you are bringing your family for vacation, SeaWorld San Diego is an absolute must for your schedule. Where else will your children get to pet dolphins, watch killer whales swim just inches away and get splashed during exciting live shows?
SeaWorld San Diego is within close driving distance of many of the vacation rentals that we have available. Check our availability to see which rental houses, cottages and condos are open during your vacation days. Give your family the joy of and fun of a day spent at SeaWorld San Diego during your next vacation.