SeaWorld San Diego turned the Big 5-0 back in 2014, and has continued to prosper with new exhibits and attractions as the timeless tourist attraction marches toward its diamond celebration (60 years) in 2024. Is SeaWorld on your San Diego vacation hit list? If not, it certainly should be! San Diego Coast Rentals offers vacation rentals nearby – from studio apartments and bungalows to five-bedroom private homes and townhomes.
SeaWorld opened in 1964 and was the first aquatic theme park of its kind in the United States, presenting dolphin shows, rides, educational programs and other attractions. The park was anchored by its one-of-a-kind whale exhibition featuring Shamu, a killer whale. (Additional parks would later open in Orlando and San Antonio.) Over the years, the park established itself as a leader in marine research, rescues and recuperations, and educating visitors about the importance of the oceans.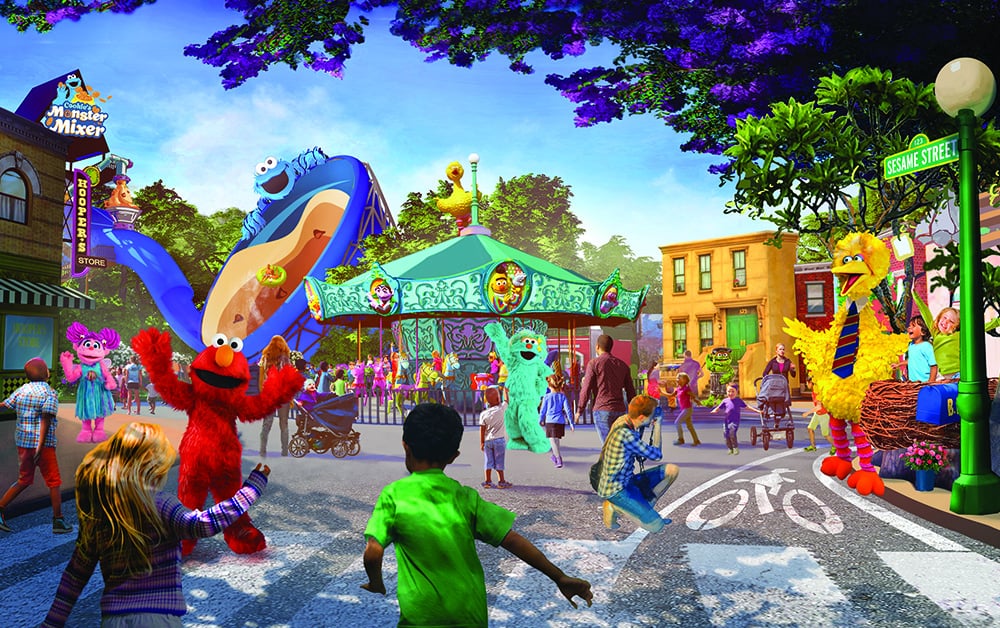 Every year, SeaWorld San Diego unveils new rides and events to keep things fresh – even if you've been to the park recently. Here are a few new attractions and events that you shouldn't miss, including the tallest and fastest roller coasters in North America, and one all-new park with lots of familiar faces.
New Rides and Attractions at SeaWorld San Diego
Ready to get your adrenaline pumping? SeaWorld has some thrilling new rides you shouldn't miss. Want something a little milder or a fun time for the entire family? We have you covered there, too! Check out these new rides and attractions at SeaWorld – there's something for everyone.
Sesame Place San Diego
Sunny day, sweeping the clouds away. On my way, to where the air is sweet. Can you tell me how to get, how to get to Sesame Street? The brand-new Sesame Place San Diego theme park opens in March 2022 with seven themed rides from the beloved children's show, along with 11 water attractions, including a half-million-gallon wave pool – the largest in Southern California. The 17-acre park will also open as a Certified Autism Center to allow parents to plan a fun-filled theme park day that will satisfy their children's needs.
The Emperor
Let's kick it up a notch. Hold onto your hats, thrill seekers. SeaWorld's all-new dive coaster – The Emperor – is slated to open on March 12, 2022. The coaster will be the tallest, fastest and longest floorless dive coaster in the state. Riders will dive 90 degrees and race through loops at up to 60 miles per hour.
SeaWorld San Diego Events
If you're in San Diego during one of these key SeaWorld events, you should mark your calendar and try to attend. Every gathering at SeaWorld is a party-like atmosphere for revelers of all ages!
SeaWorld Mardi Gras
You don't have to go all the way to New Orleans to get a taste of Mardi Gras during the month of February. Get your Fat Tuesday on in style at this carnival-style get-together and enjoy live music, wild costumes, and tasty Cajun and Creole bites that will make you say, "Laissez le bon temps rouler!"
Seven Seas Food Festival
Take a culinary trip around the world on Fridays, Saturdays and Sundays at SeaWorld from March through May. Enjoy a wide variety of international tastes from around the globe, including craft beers and wines, while listening to live music performances along the route.
Viva La Music
Celebrate the Latin culture on weekends during the month of May at Viva La Music. The festive, family-oriented Latin celebration lets you boogie to the hottest tunes, sample fiery flavors, shop for authentic souvenirs, and lots more.
Electric Ocean Summer Event
Think you've seen all there is to enjoy at SeaWorld? Think again. The Electric Ocean summer event lets you stay late during select dates from May 28 through August 14 to engage yourself in exotic worlds of music and light. Experience your favorite attractions in an entirely different way!
Craft Beer Festival
SeaWorld's Craft Beer Festival takes place on weekends from August 19 through September 11 and features an unparalleled mix of domestic, international and local craft beers. Pour yourself a hearty brew, sample new favorites, and enjoy chef-created culinary bites from the area's best cooks.
Howl-O-Scream and Spooktacular
SeaWorld San Diego is a fantastic destination on Halloween, especially those with kids who want to trick or treat. In addition to plenty to treats, make time for a few tricks and scares along the way. There's a new terror in town with a killer smile at the Howl-O-Scream exhibit. Brave terror after dark with haunted houses, scare zones, monstrous coasters, and lots more. From September 17 until October 31, enjoy Halloween festivities with plenty of candy and lots of spooky surprises.
Red, White & Blue Salute
During the early part of November, we honor the men and women that have served in our Armed Forces. From November 1-13, we are honored to host them at our park as our guests.
Christmas Celebration
Spread Yuletide cheer during the season of giving with a daily Christmas Celebration from November 12 through New Year's Day. It's where holiday traditions are made – with delectable food, fabulous live shows, delightful holiday shopping and joyous entertainment.
SeaWorld San Diego Vacation Rentals
No matter the time of year you decide to visit, you should make time to visit SeaWorld. It's one of the most educational and interesting destinations in San Diego. Plan on at least one day at the park, but really you could spend two or three days there to see it all.
San Diego Coast Rentals has vacation condos and homes that are near SeaWorld and all downtown San Diego's attractions like Petco Park and the Gaslamp District. Downtown vacation rentals are affordable, offer plenty of amenities and room to stretch out, and are still not far from the ocean and all of San Diego's awesome beaches. Give us a call and tell us your preferences, and we'd be happy to recommend something. Browse our vacation rentals, or give us a call at (858) 531-3247. We're always happy to recommend one of our properties that fits your needs and budget.