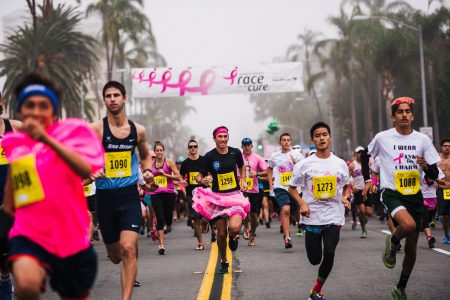 San Diego hosts two premier events each year that support the Susan G. Komen Foundation, which uses proceeds from the events to fund breast cancer research, screenings and awareness. The hugely popular Race for the Cure is a 5K walk/run through downtown San Diego that takes place in early November each year and attracts a big crowd of pink-clad participants. Many of the runners, joggers and walks are motivated to complete the 3.1 miles in support of a family member or close friend who has been diagnosed with breast cancer or because they themselves have suffered from it.
While the Race for the Cure is great way to support the Susan G. Komen Foundation, those who want to make an even bigger splash sign up for the 3-Day. The Susan G. Komen 3-Day is a 60-mile trek through San Diego that is spread over three consecutive days. Participants are tasked with raising $2,300 for the foundation to earn the privilege of walking an average of 20 miles a day from the start on Friday until the finish line on Sunday.
Consider staying after the event or arrive early! San Diego Coast Vacation Rentals offers some of the best properties in San Diego.  Make sure to check out our availability to reserve the perfect condo or home for your stay.  If you do not see what you need please call.  We have new vacation rentals in Mission Beach that are not listed on the website.
Komen San Diego Race for the Cure
The Susan G. Komen Race for the Cure takes place in iconic Balboa Park in downtown San Diego. It brings thousands of walker, joggers and runners together for a memorable day that celebrates the fortitude of breast cancer survivors and thrivers, and honors those lost to the terrible disease. The event is fan friendly and participant friendly, with lots of vendors, live entertainment and tasty food trucks!
The event helps local San Diegans by providing critical services like mammograms, ultrasounds and biopsies, research and education.
Among the highlights of the race is the rare opportunity to walk or run on a historic stretch of 163 Highway – including Cabrillo Bridge, a landmark structure built in 1915. Other fun perks include Pups for the Cure, where you register your pooch to walk with you. There's plenty of spots to pick up your Komen merch, too. We recommend pink!
San Diego 3-Day Walk
The Susan G. Komen 3-Day is an all-in approach to fighting breast cancer. The 60-mile trek through San Diego is spread over three days (20 miles a day) with the goal of raising $2,300 for the foundation. Your 3‑Day coaches will support you as you train and fundraise. Your commitment pays off through hard work and determination. The distance may seem long, but participants, who can sign up as individuals or teams of any number, have describe the experience as transcendent.
The 3-Day begins with an opening ceremony and the first leg through the city's chic surfside neighborhoods. The route takes you along the famed Pacific Coast Highway, through beautiful Del Mar, lush Torrey Pines and pristine Mission Bay. For three days and two nights, you will camp outdoors, share stories, eat with your group, and make plenty of new friends. A fantastic closing ceremony celebrates you and your team's achievements, and pays resect to those who are in the fight of their lives.
Team Lodging for Susan G. Komen in San Diego
If you're headed to San Diego for the Susan G. Komen Race for the Cure or the Susan G. Komen 3-Day, consider treating yourself or your team during and afterward for a job well done. Skip the expensive hotel room for your time in San Diego and opt for a reasonably priced vacation rental on the beach from San Diego Coast Rentals. We offer a variety of condos and housed available for rent throughout San Diego – many are on or near the beach! Our rentals are clean and well-maintained vacation properties that are competitively priced and, in some cases, are less expensive that a big chain hotel.
The main difference between a vacation rental and a traditional hotel is three-fold. First, a vacation rental is more private. Most residences are unattached, meaning you don't share a wall with other vacationers, compared to being packed in like sardines at a hotel.
Second, vacation rentals have more space than a stuffy hotel. Why pay through the nose for a single room when you can have an entire residence for just a little more?
Third is amenities. Vacation rentals have more bang for your buck than a hotel. At a vacation rental, you can have your own hot tub. Who wants to share with complete strangers, anyway? In addition to a possible hot tub, our vacation rentals offer a slew of amenities like private parking, stainless steel appliances, steam showers, patios or decks, and garage parking or an assigned covered space. Not to mention awesome immediate beach access at some of our top rentals!
We hope that if you take the trip to San Diego to support such a great cause. Please try to stay a couple of extra days in San Diego to enjoy our beautiful city. If so, browse our vacation rentals, or give us a call at (858) 531-3247 and we can recommend a vacation rental based on your preferences and budget.
Komen San Diego Celebrates 25 Years
The Susan G. Komen Foundation has been fighting breast cancer in San Diego since 1995 when the affiliate was established. Over the years, the organization has been a part of several landmark achievements.
1998: Funded in part by Komen, a biotechnology breakthrough in cancer research wins FDA approval. It's a game-changer for HER2+ breast cancers.
2007: The first grant is awarded for the Komen Tissue Bank, the first biorepository of its kind to collect normal breast tissue to study the causes and prevention of breast cancer.
2010: Komen San Diego pays for the first patient navigation program at Sharp Grossmont. The initiative grows to a sustainable program offered at all Sharp locations. Today, every medical institution in San Diego County has a patient navigation system.
2011-12: The Komen Affiliates of California spearheads a law that requires health care providers to inform women if they have breast dense tissue. It encourages further conversation between the patient and her doctor.
2013: In Partnership with Komen San Diego, The San Diego Chargers are the first NFL team in the nation to support Breast Cancer Awareness Month with a unique campaign to underwrite the cost of providing more than 700 women access to free mammograms.
2017: The San Diego Padres underwrite free mammograms for San Diegan women, in partnership with Komen San Diego.
2019: Susan G. Komen reaches $1 billion mark for research- with focused projects locally on metastatic breast cancer and new treatments.