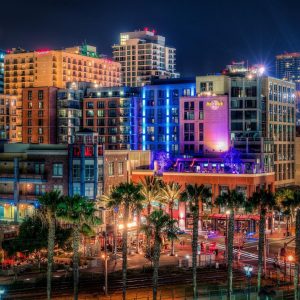 To experience the true essence of San Diego, there's nothing better than spending a day in the Gaslamp Quarter. This is the heart of San Diego – where you can find some of the finest dining experiences, betst bars, most energetic night clubs and a slew of San Diego's most popular tourist attractions like iconic Balboa Park, Seaport Village, San Diego Convention Center and U.S.S. Midway Museum.
San Diego's historic Gaslamp Quarter (also called the Gaslamp District), sprawls more than 16 blocks in the downtown core. The area has roots daring back to the city's early days and there are more than 90 historic buildings in the Gaslamp Quarter – many of which are still in active use. Today, vintage movie theaters, trendy retail shops and elegant fine-dining restaurants have found a home in the magnificent Victorian structures.
On you next vacation to San Diego, find time to explore the Gaslamp Quarter. It's perfect for a family outing on a bluebird day to catch a baseball game, browse the many eclectic shops and enjoy a fun, filling meal. The Gaslamp is also a hit with romantic couples seeking an evening to remember or a group of revelers looking for an enjoyable night on the town. From early morning strolls and breakfast on the promenade to late-night cocktails and dancing, the fun rarely ceases at the Gaslamp (unless it's closing time).