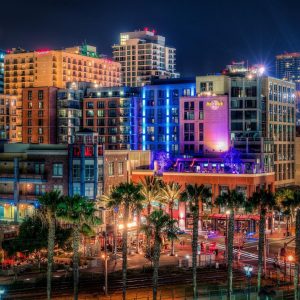 To experience the true essence of San Diego, there's nothing better than spending a day in the Gaslamp Quarter. This is the heart of San Diego – where you can find some of the finest dining experiences, betst bars, most energetic night clubs and a slew of San Diego's most popular tourist attractions like iconic Balboa Park, Seaport Village, San Diego Convention Center and U.S.S. Midway Museum.
San Diego's historic Gaslamp Quarter (also called the Gaslamp District), sprawls more than 16 blocks in the downtown core. The area has roots daring back to the city's early days and there are more than 90 historic buildings in the Gaslamp Quarter – many of which are still in active use. Today, vintage movie theaters, trendy retail shops and elegant fine-dining restaurants have found a home in the magnificent Victorian structures.
On you next vacation to San Diego, find time to explore the Gaslamp Quarter. It's perfect for a family outing on a bluebird day to catch a baseball game, browse the many eclectic shops and enjoy a fun, filling meal. The Gaslamp is also a hit with romantic couples seeking an evening to remember or a group of revelers looking for an enjoyable night on the town. From early morning strolls and breakfast on the promenade to late-night cocktails and dancing, the fun rarely ceases at the Gaslamp (unless it's closing time).
Here are some of the most popular attractions in the Gaslamp Quarter that you won't want to miss:
Balboa Park and San Diego Zoo
Massive Balboa Park spreads across 1,200 acres and is the largest urban cultural park in the United States. It has more than 15 major museums and is home to the world-famous San Diego Zoo. You can easily spend an entire day just wandering through the park, admiring its impressive Spanish architecture and artistic delights.
Some of the most popular attractions at Balboa Park include the Centro Cultural de la Raza, Japanese Friendship Garden, Fleet Science Center, Marston House, Museum of Photographic Arts, Timken Museum of Art and the Veterans Museum of Balboa Park. There's also an air and space museum, automotive museum, art institute, history center, model railroad museum and a natural history museum – just to name a few.
The prestigious San Diego Zoo presents more than 12,000 animals across more than 650 species and subspecies. It's one of the largest zoos in the world and has dedicated exhibits for polar bears, moneys, pandas, elephants, gorillas, tigers, leopards and countless birds.
San Diego Convention Center
The San Diego Convention Center is always busy – hosting big trade shows, events, conferences and exhibits for a variety of endeavors and causes. Situated on beautiful San Diego Bay, the convention center has front-row views of the water and only steps from the city's premier attractions and the distinctive vibe of the Gaslamp Quarter. The centralized location near great restaurants and bars is a big attraction to both business travelers and vacationers.
The convention center has more than a half-million feet of exhibit hall space and over 200,000 square feet of additional meeting room space. It is home to the wildly popular Comic-Con: San Diego event held each year. Each July, you'll see the entire city transform into a superhero and media Mecca during Comic-Con. The costumed citizens are a sight to behold!
Seaport Village
Seaport Village in the Gaslamp Quarter is where tourists and San Diegans alike flock to witness gorgeous ocean views, soak up copious amount of sunshine, enjoy top-notch retail shopping, and dine on wonderful cuisine that includes some of the tastiest bites in the city. The waterfront complex covers 14 acres.
There are more than 50 boutique shops and a nice selection of casual and fine-dining establishments. At Seaport Village, you'll always see runners and joggers taking advantage of the more than 4 miles of spotless cobblestone pathways at the complex.
U.S.S. Midway Museum
If you have an interest in America's military past, plan a trip to the U.S.S. Midway Museum at Navy Pier. Patriots and fans of U.S. history will enjoy the self-guided tour through the massive aircraft carrier that saw military action in several decades before being decommissioned in the 1990s. Today, the U.S.S. Midway aircraft carrier has been brilliantly preserved as a museum with more than 60 exhibits and a hangar deck with around 30 unique aircraft.
Along the tour, you can walk the ship's galleys, see the crew's tight sleeping quarters, and view the cafeteria, control tower, flight deck and captain's quarters. Volunteer military veterans are available most days to answer questions and provide more information about the many exhibits. A trip to the U.S.S. Midway Museum is an ideal walk down memory lane for seniors or veterans, and it's a remarkably entertaining and educational experience for students and history buffs.
Petco Park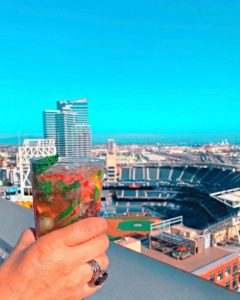 Petco Park is the home to the San Diego Padres, one of the hottest young teams in Major League Baseball. The open-air ballpark in the southeast corner of the Gaslamp Quarter is widely considered one of the finest fan-friendly stadiums in the Big Leagues. As San Diego's only major league sport, the Padres are loved by the local fans, and attending a game in person is an exciting experience for fans of all ages. Petco Park and the Padres regularly run promotions for kids, veterans, seniors and even dog owners and their pooches.
Tickets to games are very affordable, and can be purchased online through Major League Baseball or third-party ticket vendors like StubHub. You can also walk right up to the ticket window at the stadium and buy tickets for today's game or for future games.
From Petco Park, you are within easy walking distance to a bevy of restaurants, bars, taverns and clubs. Many nearby hotels have rooftop bars that allow you to look down into the stadium. It can be an incredible experience to sip drinks on a picture-perfect evening and listen to the stadium crowd roar from a distance.
Dining and Restaurants in the Gaslamp Quarter
San Diego's Gaslamp Quarter is home to many incredible restaurants. Whatever you are in the mood for, you can likely find exactly it within a short walk of the Gaslamp Quarter. Here's just a sampling of the many types of cuisine served up in the historic San Diego district:
American
Italian
Mediterranean
Mexican
Pizza
Seafood
Steakhouse
Sushi
There are several bars, pubs, night clubs and lounges worth a closer look. The Gaslamp Quarter is home to a live music, comedy and theater. If you want to make it a memorable evening, visit an elegant wine bar, or throw back at one of the Gaslamp's eclectic hole-in-the wall taverns. There's plenty of both – along with hot and feisty clubs where you can drink, enjoy cool music, and dance the night away.
Vacation Rentals Near the Gaslamp Quarter
The Gaslamp Quarter is within a short drive of many of our rental houses, cottages, and condos. San Diego has multiple public transportation options, including the San Diego trolley. It's easy to find public transportation into the Gaslamp. From there, most destinations are walkable if you wear a pair of comfortable sneakers. If you happen to be in heels, try out one of the ubiquitous bicycle taxies. Browse our inventory of San Diego vacation rentals or give us a call at (838) 531-3247.