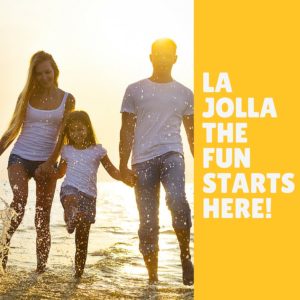 La Jolla is a jewel of Southern California, and one visit will make you never want to leave. Home to stunningly gorgeous cliffside parks and beaches, the natural beauty of La Jolla has enticed some of the most brilliant scientists, artists and intellectuals from around the world. The coastal destination has become synonymous with luxury and refinement; one visit here will give you a taste of the sweet life.
Our La Jolla beach vacation rentals might be the ideals vacation rental for you. No matter whether you are visiting for business or pleasure, you'll experience true convenience and the ultimate in relaxation and leisure. San Diego Coast Rentals can make it happen for you!
There's lots to enjoy on your La Jolla vacation. La Jolla Cove offers guided and self-guided snorkeling that's some of the best on the West Coast. You can access the cove at Scripps Park, which is also a great place for a picnic while enjoying panoramic ocean views. Or even you can rent a kayak and explore the vast marine life, beautiful caves and rugged coastline.