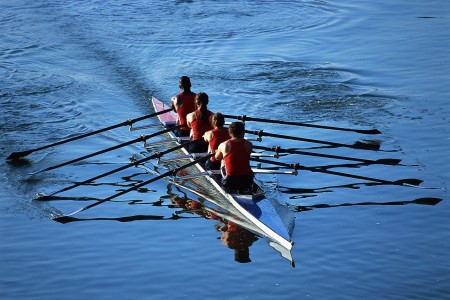 The best rowers in the United States line Crown Point Shores every April for the largest exclusively eight-oared regatta in the world – the San Diego Crew Classic. The annual event draws top amateur rowers from premier university rowing programs and draws thousands of spectators and alumni to the sandy beaches and sparkling waters of Mission Bay in San Diego for two days of competitive races and related events.
The San Diego Crew Classic includes junior-varsity and varsity collegiate divisions as well as junior, club and masters' races. In each event, eight rowers and a coxswain (who steers) work in unison to race their shell through 2,000 meters of water as quickly as possible. To win, crew members must work together to sync their motions and maintain balance, speed and a consistent and smooth forward motion. Even though the rowing may seem simple on the surface, crew involves complex, full-body movements that requires maximum effort and precise skill.
The Crew Classic is more than just a rowing regatta. The event is heralded as one of the top races in the sport, and the beautiful setting along the San Diego shoreline only enhances the experience. Couple that with perfect weather, sunny skies, stunning sunsets, awesome food trucks, craft brews and plenty of smiles and it's easy to see why the San Diego Crew Classic is a must-do each spring.