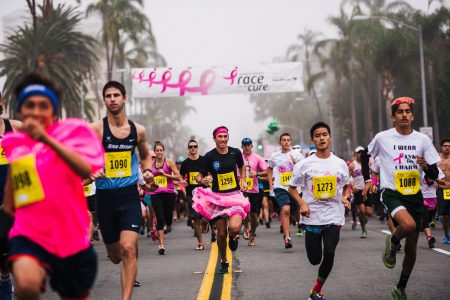 San Diego hosts two premier events each year that support the Susan G. Komen Foundation, which uses proceeds from the events to fund breast cancer research, screenings and awareness. The hugely popular Race for the Cure is a 5K walk/run through downtown San Diego that takes place in early November each year and attracts a big crowd of pink-clad participants. Many of the runners, joggers and walks are motivated to complete the 3.1 miles in support of a family member or close friend who has been diagnosed with breast cancer or because they themselves have suffered from it.
While the Race for the Cure is great way to support the Susan G. Komen Foundation, those who want to make an even bigger splash sign up for the 3-Day. The Susan G. Komen 3-Day is a 60-mile trek through San Diego that is spread over three consecutive days. Participants are tasked with raising $2,300 for the foundation to earn the privilege of walking an average of 20 miles a day from the start on Friday until the finish line on Sunday.
Consider staying after the event or arrive early! San Diego Coast Vacation Rentals offers some of the best properties in San Diego.  Make sure to check out our availability to reserve the perfect condo or home for your stay.  If you do not see what you need please call.  We have new vacation rentals in Mission Beach that are not listed on the website.