If you're a passionate gardener or love the smell of a fresh-cut bouquet of flowers in your home, then the Flower Fields of Carlsbad can't be missed. Every year from early March until Mother's Day in mid-May, Carlsbad is awash in color as the Flower Fields open its doors to the public, allowing visitors the opportunity to admire more than 50 acres of vibrant giant Tecolote ranunculus flowers. The ranunculus bulbs blossom into large and impressive designs, including long-colored rows in lemon yellows, ruby red, pristine whites and more.
If you're heading to San Diego for a vacation, don't pass up the opportunity to visit the Flower Fields if it's in season (typically March 1 through Mother's Day). Carlsbad is about 35 miles up the Pacific coast from San Diego on Interstate 5. We have vacation rentals available that are not far from the I-5, downtown San Diego and the beach. Take your pick! We offer smaller condos with one or two bedrooms, and we have larger, sprawling residences with four or more bedrooms that are chock-full of amenities and high-end luxury touches.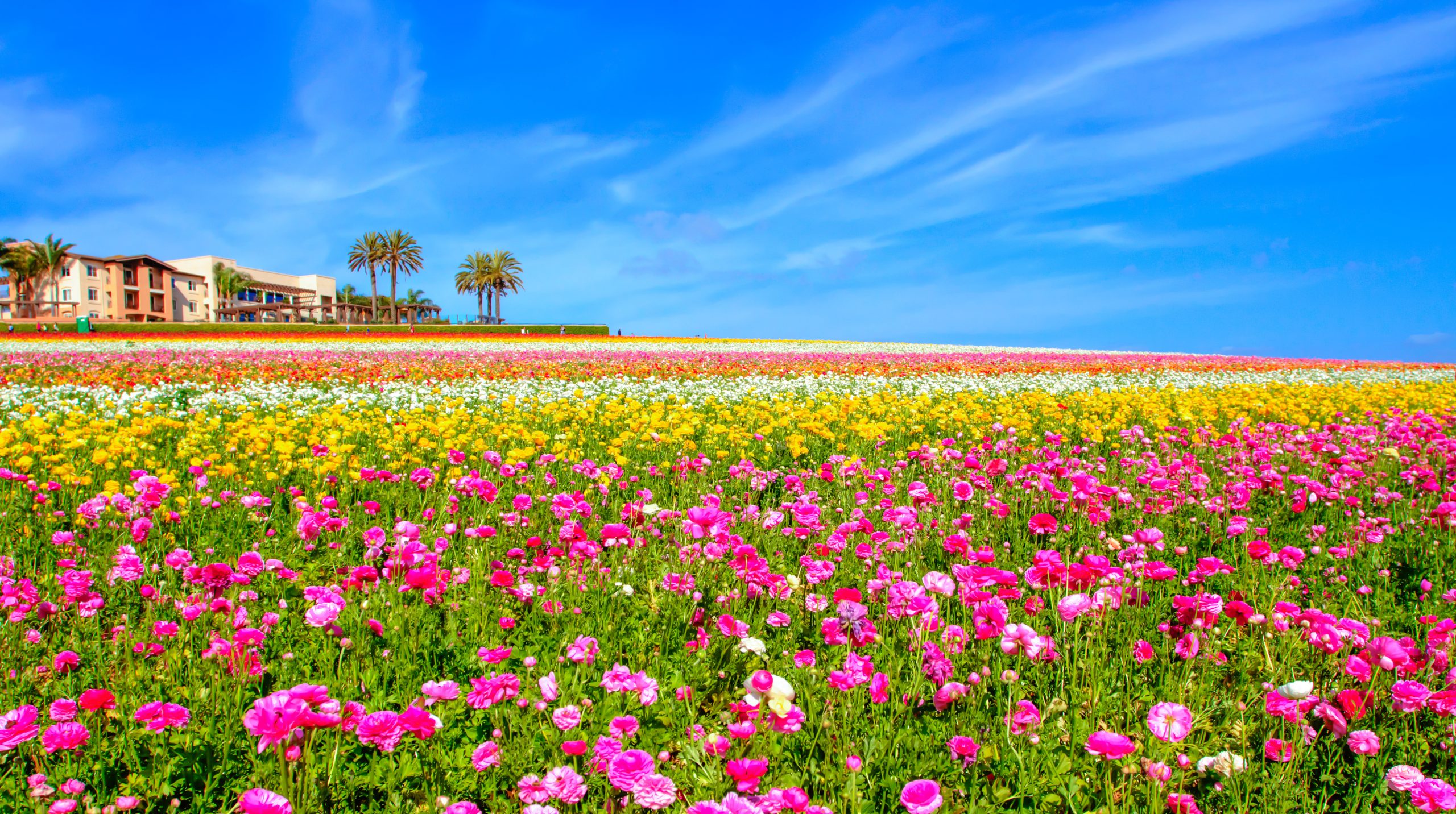 About the Flower Fields of Carlsbad
The Flower Fields of Carlsbad was created more than 85 years ago, when Luther Gage settled in the area and panted some ranunculus seeds. Gage and his neighbor Frank Frezee named the bulbs "Tecolote ranunculus bulbs" after the owls that nested on their property. ("Tecolote" is one of several Spanish-language words that means owl.)
Frank's son, Edwin, later took over the flower operation, working year after year to breed different colors of ranunculus flowers. The fruit of all his work and dedication is the Flower Fields of Carlsbad, a wonderful attraction for those with a passion for horticulture.
The most popular and well-known flower design is a 300-by-170-foot American flag made up entirely of red, white and blue petunias. You really must see it to believe it.
Thanks to the City of Carlsbad, the Carlsbad Agricultural Improvement Fund, the California Coastal Conservancy, the grower and the land's owner, the colorful hillside has been preserved to future generations to enjoy.
When to Visit the Flower Fields of Carlsbad
More than 100,000 visitors tour the Flower Fields of Carlsbad every year from all over the world. From March 1 to mid-May, guests can wander the easy-to-traverse paths along the fields. Guests can take a wagon ride around the grounds to view the scenery. Children can enjoy an antique tractor ride through the fields, a sweet pea maze and Santa's Playground. This is a trip for the entire family.
No vehicles are allowed in the fields other than farming and service equipment. A tractor wagon tour is available for anyone who doesn't want to explore the fields on foot. Wagon tours are wheelchair accessible. The wagon tour is a passenger wagon pulled by an antique tractor boarded by ramp and can accommodate wheelchairs and walkers. It takes you out to the furthest blooming areas, up to the top of the hill and back to the boarding ramp near the front entrance. It also includes an audio recording of the field's history.
The spring is a terrific time to visit San Diego. While the rest of the country during that time can fluctuate between mild weather and a cold snap, San Diego is more consistent, with temps in the mid-60s and 70s, with peaks in the 80s on some days.
The Flower Fields of Carlsbad specializes in ranunculus bulbs. Ranunculi are cool-season flowers that grow best in spring-like temperatures around 55 degrees Fahrenheit. Once temperatures reach 80 degrees, the plants will start to go dormant.
In warmer climate zones, the corms are planted in the fall, so they can bloom in late winter or early spring. (A corm, or bulbotuber, is an underground plant stem that plants use to survive winter or other adverse conditions such as summer drought and heat.) The flowers live about three or four weeks after cutting, if kept in water in a floral cooler.
After the season ends, the flowers die back and produce seeds that are used to replant the field for next season. The idea is that the flowers complete their life cycle, which helps produce a more superior bulb crop.
Machines are used to harvest the bulbs, which are actually tuberous roots, corms or rhizomes. The bulbs available for purchase at the Armstrong Garden Center at the fields are the same bulbs harvested on site. Bulbs are also sold at local nurseries and garden centers across the United States. You can even purchase bulbs online at EasytoGrowBulbs.com.
Planning a Visit to the Flower Fields of Carlsbad
If you are staying in San Diego during the spring, add the Flower Fields to your activities list. It's a fantastic experience for the whole family. And don't forget to stop by the gift shop to take home some ranunculus bulbs so you can take a bit of the color and joy of the fields home with you. Fresh-cut ranunculus flowers are available to purchase, as well as potted plants, bulbs and a variety of other items at the Armstrong Garden Center Gift Shop.
If you're planning a day at the fields, bring a sweater or a light jacket. It can get breezy in the hills. It's also advisable to wear comfortable shoes, sunglasses, sunscreen and a hat are recommended. And don't forget your camera or smart phone. Your Instagram account will thank you later!
For more information about the Flower Fields of Carlsbad, visit their website, or call (760) 461-0352.
To find your accommodations, visit our website and enter your stay dates on our homepage. Select arrival date, number of nights, location, and number of bedrooms. You can fill out some fields, or all of them. (For more accurate results, enter as much info as you can.) Hit the "Check Availability" button and you will be taken to a results page with condos and homes listed.
From there, you can read complete property descriptions and see several photos of potential properties for rent. There are icons that display the number of bedrooms, location and other info to help you make your decision. Click "Learn More" to read info and see photos, or select "Book Now' if you're ready to reserve your accommodations.
You can reserve your accommodations online in minutes. Just enter your info and you'll be sent a confirmation e-mail – and you're all set! If you'd rather talk one-on-one with a real person, call us toll-free at (858) 531-3247. We'll be happy to run through the options with you.
Don't get stuck at a stuffy hotel on your San Diego dream vacation. Our vacation rentals offer more space, privacy, and a step up from a traditional hotel. Give us an opportunity to take your vacation to the next level. You won't be disappointed.