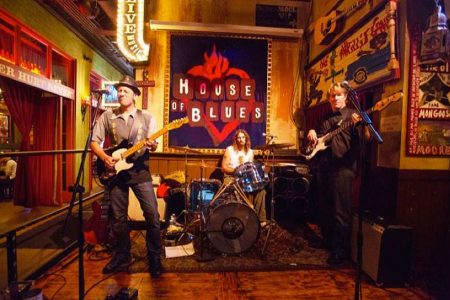 When you're in San Diego, don't miss a live music performance at one of the city's best venues. San Diego is known as "America's Finest City" because of its vibrant culture, exciting events, never-ending sunshine and perfect weather. The music scene in the city falls right in step, offers everything from large music stages like the Sleep Train Amphitheater and Humphrey's Concerts by the Bay, to cozy, intimate music houses like the Belly Up Tavern, Casbah and the House of Blues.
One of the benefits of hosting entertainment in a city with a climate like San Diego's is that it's much easier to hold outdoor events. From spring through late fall, the evenings are balmy and comfortable, and on the rare night that temperatures drop below 65, getting cozy under a blanket is half the fun.
While we can't possibly list all the amazing San Diego music destinations in a single short blog post, but below we highlighted 12 of our favorites around the city. If you plan on visiting San Diego soon, be sure to check the calendar for each of these establishments and snag tickets for your favorite artist, band or show before it sells out.
From up-and-coming artists to major industry headliners, San Diego has concerts across all genres of music: jazz, hip hop, rock, country, R&B and more! Here are the 11 top music venues in San Diego to catch a memorable live performance.
#11. Observatory North Park
The Observatory was built in the 1920s in the business district in North Park. The classic art-deco theater was purchased and revitalized in 2014, but the historic charm of the venue still exists today. The beautiful facility was built for opera and drama performances, but the acoustics are ideal for a touring rock band or pop group. The spacious venue can seat more than 1,100 concertgoers with plenty of room to move.
Who you might see there: Dinosaur Jr., Umphrey McGee's, alt-rock A-listers Tame Impala, filmmaker John Waters, experimental pop group Japanese Breakfast.
Address: 2891 University Ave., San Diego, CA 92101
#10. Del Mar Fairgrounds
The San Diego County Fair takes place during the summer (typically in June) at the Del Mar Fairgrounds. It's one of the largest fairs in the United States, with numerous exhibits, farm animals, tasty fair food and cool concerts. The Toyota Summer Concert Series during the fair brings in huge names every year.
Who you might see there: Train, Melissa Ethridge, Goo Goo Dolls, Cheap Trick, the Isley Brothers, TLC.
Address: 2260 Jimmy Durante Blvd., Del Mar, CA 92014
#9. Copley Symphony Hall
A historic venue in downtown San Diego, Copley Symphony Hall opened in 1924 as the Fox Theatre. But the change in its name to Copley Symphony Hall lets you know you're getting top-flight orchestral concerts. The performance calendar is diverse, however, and a lot of notable artists in pop have graced its stage.
Copley Symphony Hall is one of the most architecturally interesting venues in San Diego, which makes it a visual treat as well as a musical one. And if that's not enough, it houses a gigantic pipe organ, built into five walled chambers. That's a feature you're not likely to find in any other venue.
Who you might see there: San Diego Symphony, Sufjan Stevens, Ryan Adams, Harry Connick Jr.
Address: 1245 7th Ave., San Diego, CA 92101
#8. Brick by Brick
Brick by Brick is a stylish hole in the wall that's a great place to catch a show. Thanks to decent acoustics and a good sound system, the age 21+ club has been one of the better spots for a live performance in San Diego for many years. The owners book a bit of virtually everything, so you can expect local and regional bands with music styles including punk, indie, ska, reggae, singer songwriters, metal bands, prog rock, rockabilly, thrash, hip hop and even San Diego DJs.
Who you might see there: Cat Power, Suzanne Vega, Henry Rollins, System of a Down, Godsmack and DJ Koala.
Address: 1130 Buenos Ave., San Diego, CA 92110
#7. North Island Credit Union Amphitheater
For that quintessential concert experience, head over to Chula Vista to the North Island Credit Union Amphitheater (formerly the Sleep Train Amphitheater and Cricket Wireless Amphitheatre). This 10,500-seat venue brings some of the biggest names in music down to San Diego. Rock out under the stars with the stars of today's music scene. Tickets often go fast, so check the calendar far in advance of your San Diego trip.
Who you might see there: Maroon 5, Luke Bryan, Black Crowes, Backstreet Boys, Kiss, Hall & Oates, Doobie Brothers.
Address: 2050 Entertainment Cir, Chula Vista, CA 91911
#6. Cal Coast Credit Union Open Air Theatre
Located on the San Diego State University campus, the CCCU-Open Air Theatre offers concertgoers a chance to have the open-air amphitheater experience without losing the ambiance or intimacy. It has a capacity of about 4,600 compared to the sports arena's 16,000. It's big, but not so huge that you will have to squint or rely on the Jumbotron to see the main act.
Who you might see there: John Legend, Alicia Keyes, Matchbox Twenty, Primus.
Address: 5500 Campanile Dr, San Diego, CA 92182
#5. Casbah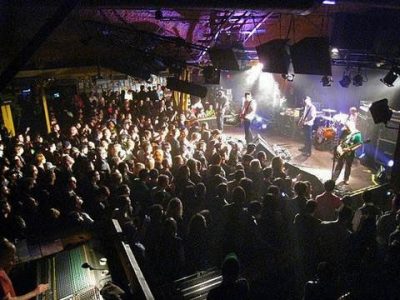 If underground alternative rock is your vibe, head to the nightclub Casbah. It's the prime spot to hear up-and-coming bands perform before they're a who's who. The Casbah showcases up-and-coming names that occasionally hit it big. Think names like Smashing Pumpkins, Nirvana and Alanis Morissette at the dawn of their careers. In addition to listening to great music, you can also relax with a game of pool or pinball. The space is small (but you'll be close to the stage and musicians) and it is considered a dive bar, so drinks are cheap. Parking is available on the street, though you may need to search a bit for it. Be sure to get on the mailing list to snare tickets as soon as they're announced.
Who you might see there: Agent Orange, Fu Manchu, Tommy Cash, Iceage.
Address: 2501 Kettner Blvd., San Diego, CA 92101
#4. Humphrey's Concerts by the Bay
One of the most wonderful ways to spend a night in San Diego is attending Humphrey's Concerts by the Bay. Humphrey's Restaurant and Humphrey's Half Moon Inn sponsor the concerts, which take place outdoors in a 1,400-seat theater on San Diego Bay. You can turn around between music sets and see the moonlight on the water or sailboats floating in the harbor. Humphrey's Concerts by the Bay generally run from May through October and attract many well-known headliners. The performances scale the spectrum, from jazz to rock, blues, comedy, folk, and more.
Who you might see there: Boz Scaggs, Michael Franti & Spearhead, Jason Bonham's Led Zeppelin Evening, They Might Be Giants.
Address: 2241 Shelter Island Dr, San Diego, CA 92106
#3. Balboa Theatre
Elegant Balboa Theater in the heart of downtown San Diego has a lot of historical cache (it was built in 1924) and attracts some of the best performers in the business. The theatre was closed for over two decades until San Diego's Redevelopment Agency invested $26.5 million to renovate it. The theater is now a state-of-the-art music venue that seats over 1,300, and has received numerous awards, including being named one of the "World's Most Spectacular Theatres" by CNN Travel.
Who you might see there: Cream, Patton Oswalt, George Lopez, San Diego Opera, Daniel Tiger's Neighborhood Live!
Address: 868 Fourth Ave, San Diego, CA 92101
#2. Belly Up Tavern
If you like to get so close to your favorite bands to possibly that you get hit by famous sweat, then Belly Up is the right place for you. This small, intimate venue has a lot of character and regularly brings in a great selection of talent. No assigned seating means you can worm your way to the front, hang out at the back of the pack or even grab a table or bench seating in the back (sitting spaces tends to disappear quickly, so come early). The bar at the back keeps you plenty lubricated as you rock out to your favorite current artists and legends from the past.
Who you might see there: Red Hot Chili Peppers, The Marshall Tucker Band, Slightly Stoopid, Buddy Guy, Samantha Fish.
Address: 143 S. Cedros Ave, Solana Beach, CA 92075
#1. House of Blues San Diego
The House of Blues in the downtown Gaslamp District of San Diego serves amazing soul food and amazing music as well. This intimate venue includes a restaurant and concert area. The restaurant provides a mix of American and international cuisine created by celebrity chef Aaron Sanchez. The concert venue includes standing room for dancing and squirming to the front. Those who have put their moshing days behind them can pay a little extra to sit in the balcony. It still provides great views, but with less risk of having a drink spilled over you. Bars on the bottom floor and balcony provide refreshments.
Who you might see there: Sum 41, Dua Lipa, Shinedown, Pepper, The Used, Danzig.
Address: 1055 Fifth Ave., San Diego, CA 92101