Simply put, San Diego is a cool spot for a family vacation – both literally and figuratively. Yes, the fantastic ocean weather offers a bluebird backdrop with lots of sun almost every day of the year, and the city presents an endless list of family-friendly activities for parents and kids alike. Rarely do you find a destination that has things to do that both parents and kids of all ages enjoy doing.
San Diego Coast has a great selection of family vacation rentals near the beach and close to all the family hot spots.  We have a great selection of 4 bedroom condos that are the perfect backdrop for your stay.  Consider this 4 Bedroom Pacific Beach Property!
It's not too difficult to fill your vacation itinerary with impressive sights and fun outings in San Diego. Looking to put together the ultimate San Diego family vacation? We have you covered, from thought-provoking museums and points of interest to thrilling amusement parks that will have you riding on the edge of your seat. Here are a few of the best San Diego attractions that you shouldn't miss when you bring the fam to America's Finest City.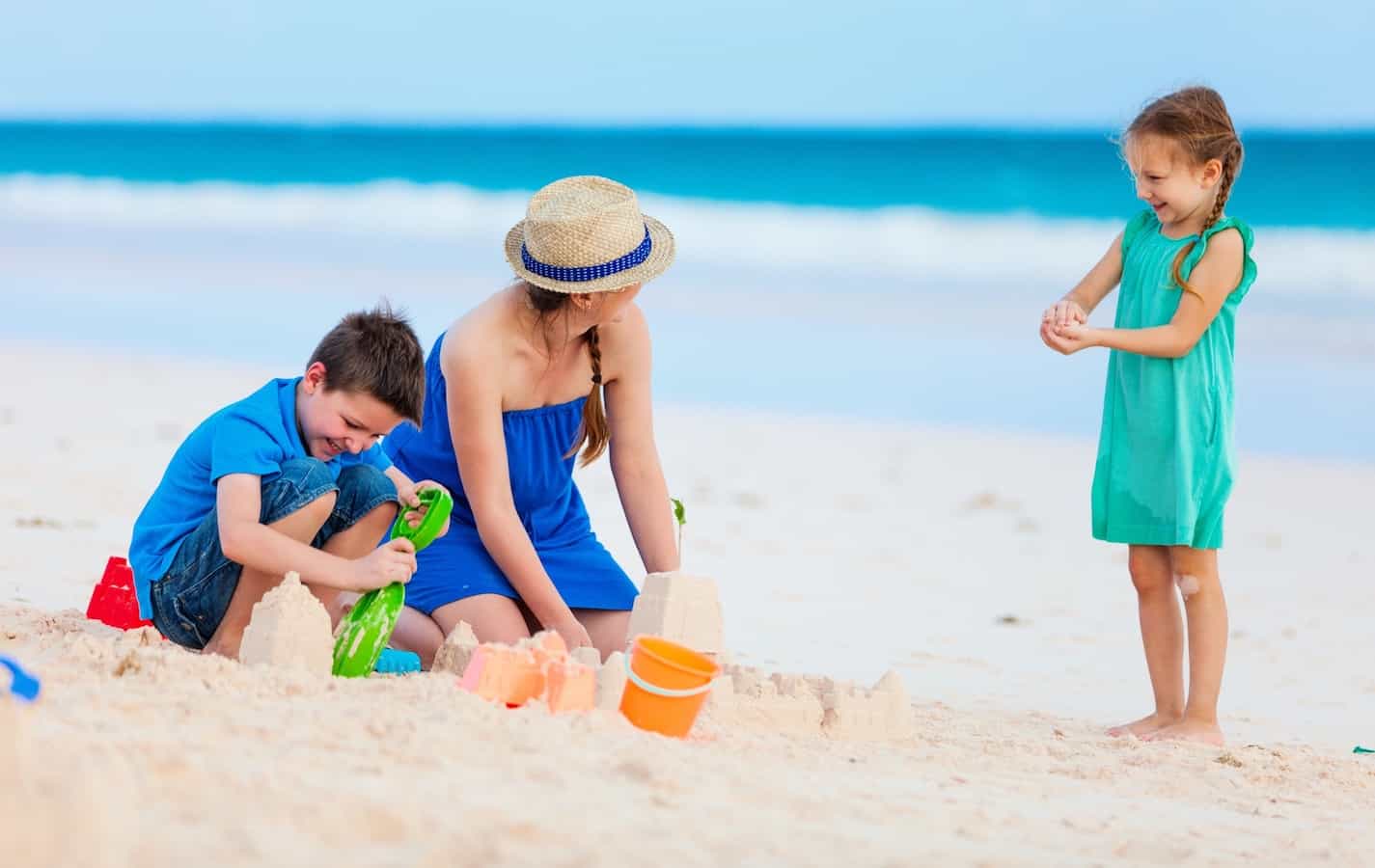 Planning a Family Vacation to San Diego
There's potentially a lot to see and do in San Diego, so your first step when planning a vacation there is to do a little research. Initially, browse the internet and see what intrigues you. The number of kids you have, their ages, and their likes and dislikes will need to be considered when you're planning what to do. Luckily, many of the attractions in San Diego are appealing to all ages and offer something for everyone.
Because of San Diego's temperate climate, most of the attractions in the city are open almost every day of the year. You can plan you vacation whenever you like and still be able to do everything. Keep in mind that some restaurants and stores may be closed on key holidays.
How much you want to see and do in San Diego will also help determine how long your vacation lasts. We recommend at least three or four days, but ideally, you'd have a week or more to explore the city. There's so much to do, and many of the parks and attractions can't be appreciated completely in a single day. Plus, if you stay a little longer, there's added time for "down days" where you don't have anything planned except a relaxing visit to the beach.
In this blog, we'll highlight a few of San Diego's top attractions. These are the most popular things to do in the city. Many of them are world-famous. If we listed everything there was to do in San Diego, this would be an incredibly long post. So, we just picked the best of the best – the Top 6. Not only are there way more museums, galleries, and points of interest to explore, but there are countless beaches, trails, paths, parks and open spaces for an active day on two or four wheels, or on foot. Here are our selections for the ultimate San Diego family vacation.
SeaWorld San Diego
SeaWorld is the spot to explore the world's precious marine life. The park is educational, and has example of species from all over the planet, including endangered species. Anyone who loves the mysteries and wonders of the ocean will have the time of their life at SeaWorld. The current lineup includes dolphins, sharks, whales, penguins, sea turtles and sharks – just to name a few.
Many parents (and grandparents) may remember SeaWorld from their youth, like the famous killer whale Shamu who lived and performed for many years. While the traditional killer whale shows ended in 2017, the new Orca encounter is a more informative presentation that brings awareness to the many different facets of a whale's life. Currently, 10 whales live at SeaWorld's 7-million-gallon whale habitat.
San Diego Zoo
You simply cannot bring the family to the City of Motion without making a stop at the world-famous San Diego Zoo. It's one of the premier – if not the best – zoo in the world. It is regarded as the best zoo in the United States, and has been for years. The zoo is in beautiful Balboa Park in the heart of the city and is home to thousands of land, water and air animals from all over the planet.
At the park, you can experience all kinds of animals, such as alligators, baboons, camels, elephants, giraffes, gorillas, hippos, lions, polar bears, rhinos, tigers and zebras – just to name a few.
The zoo is walkable via large, paved paths, and is split into different-themed areas. Each section has restaurants and shops, along with an array of exhibits. The zoo is a big circle, so it's easily maneuverable and not hard to find your way around. The park is well-marked with maps and signage to help you.
San Diego Zoo Safari Park
It may sound similar, but the San Diego Zoo Safari Park is different from the San Diego Zoo. They are two separate places (32 miles apart), but wonderful companions for any family who loves animals. Originally called the San Diego Wild Animal Park, the safari park is an 1,800-acre facility in the San Pasqual Valley near Escondido that is visited by more than 2 million tourists annually. The park is home to a variety of wild and endangered animals from around the world; more than 2,600 animals representing 300-plus species. The park also has more than 3,500 species of plants.
The animals – like antelopes, buffalo, cranes, giraffes and rhinos – live in free-range enclosures. The San Diego Zoo Safari Park has the world's largest veterinary hospitals, and is known for its breeding success with the California condor.
U.S.S. Midway Museum
Patriots and fans of military history will love the U.S.S. Midway Museum at Navy Pier. The massive aircraft carrier is one of the most popular tourist destinations in downtown San Diego. Decommissioned from active duty in 1992, the ship has been meticulously restored and now provides a unique glimpse into America's naval history.
With 47 years of active service, the U.S.S. Midway is one of the longest-serving aircraft carriers in the Navy. You can take an audio guided tour or just walk the vessel yourself, exploring its many parts. Tours include the sleeping quarters of soldiers, officers' quarters, engine room, the mess hall, the brig, chapel, and even the laundry room. There are more than 60 exhibits on the ships, including 29 restored aircraft on display on the ship's deck. Visitors get an audio device that plays an explanation of each exhibit ass part of the self-paced tour.
Belmont Park
Belmont Park is a classic oceanfront amusement park that opened in Mission Bay in 1925. The vintage park has some of its original rides, along with several new rides and attractions. Belmont Park has neat eateries and eclectic beach-themed shops, too. Open daily, it's always a fun daytrip for an old-fashioned good time. (Psst … It's also affordable.)
Belmont Park has a vintage wooden rollercoaster, the Giant Dipper, and an indoor swimming pool that has recently been revitalized, called the Plunge. Other rides include the Beach Blaster, a 60-foot swing ride; the Octotron, an eight-armed spinning ride; the Vertical Plunge, a three-story drop tower; a classic Tilt-a-Whirl ride; bumper cars; and a carousel.
The fun at doesn't stop with rides. The park has attractions like adventure golf, a climbing wall, an arcade, a 7D theater, laser tag and an obstacle course. Each attraction charges its own fee for participation.
Legoland
Legoland opened in 1999, and a 5.5-acre water park was added in 2010. The theme park based on the popular toy brand has about 60 rides and attractions, including rides for small children and larger amusements for older kids and adults. There are also various shows and activities around the park, along with shopping and restaurant options. There's a lot to do!
The water park has a "not-so-lazy" river, big slides, fun tubes, a wave pool and raft rides. There are options where you can visit both Legoland and the water park in the same day, or purchase tickets for just one or the other. There is also a wonderful aquarium – Sea Life Aquarium – that has hands-on learning activities with educational talks and one-on-one encounters with sea life like sharks, rays and octopi.
Legoland is newer than any other place on this list – and it keeps growing! It topped 3 million visitors a few years back and shows no signs of slowing down as the Lego brand continues to grow in popularity.