There's always a lot going on at San Diego State University (SDSU), the largest college or university in the San Diego area. From headlining speakers and academic events to top-flight college sporting events, SDSU has it all. If you're heading to campus for an event, you may be wondering where you should stay. There are numerous hotels near the university that range in quality and price. But, if you're looking for more space and serenity on your San Diego getaway, you should consider a quality vacation rental not too far from the campus. Vacation rentals near SDSU are ideal for parents visiting their kids at school, attending a school event or function, or attending one of the school's premier athletic events.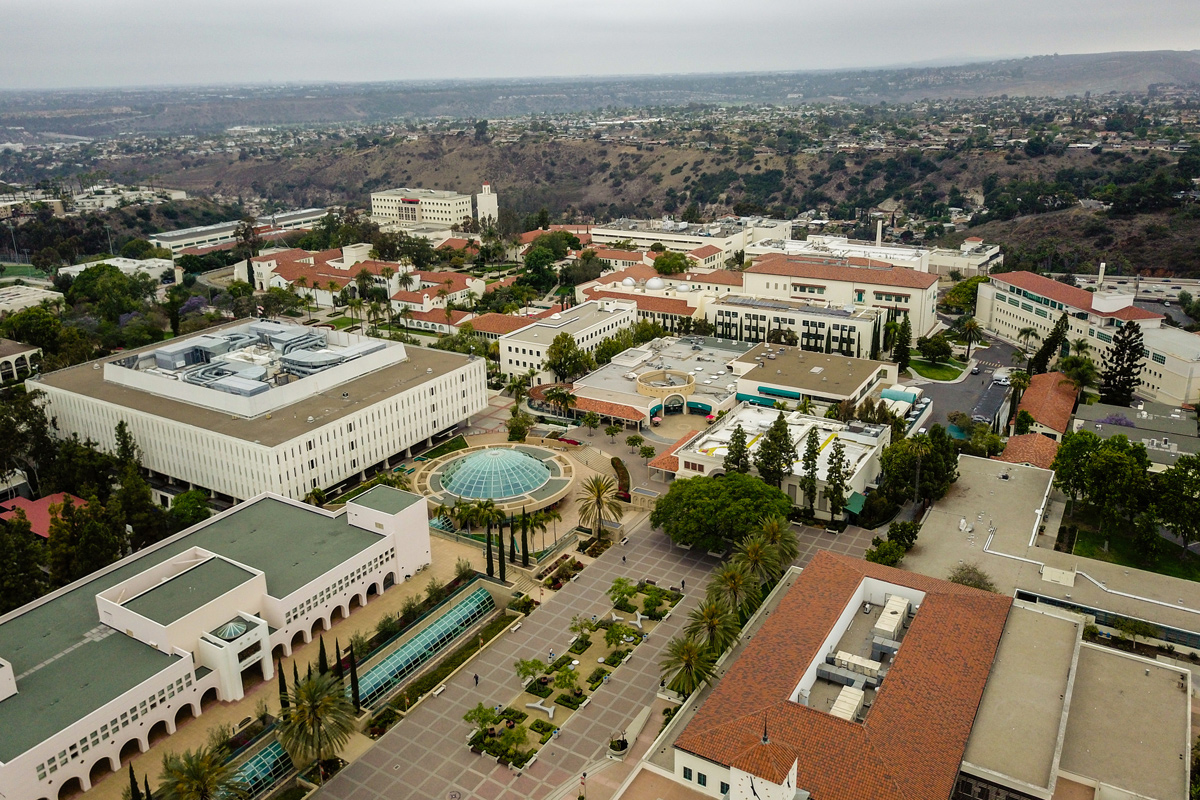 SDSU Overview
With near-perfect weather, fabulous beaches, and a vibrant social scene, it's no wonder many students choose to attend a college or university in San Diego. San Diego State University, located near the city's heart, is consistently one of the most applied-to universities in the United States. The school gets more than 60,000 applicants yearly, including transfer and incoming first-year students. About 35,000 students attend SDSU each year.
The school's mascot and intercollegiate athletic teams are called the Aztecs. The university colors are scarlet (red) and black, and its mascot is the Aztec Warrior, formerly known as "Monty Montezuma." The SDSU campus is called the "Montezuma Mesa." This is because the university is situated on a mesa overlooking Mission Valley and sits at Montezuma Road and College Avenue intersection.
A public research university, SDSU was founded in 1897 as the San Diego Normal School. It has changed names a few times over the years:
San Diego Normal School (1897–1923)
San Diego State Teachers College (1923–1935)
San Diego State College (1935–1972)
California State University, San Diego (1972–1974)
San Diego State University (1975-present)
SDSU is one of the largest research universities in California and routinely has the highest amount of students seeking a doctorate. The school boasts more than 300,000 alums, with one of the 10 most ethnically and racially diverse student bodies among universities nationwide, with large numbers of Hispanics, Asian Americans, and Native American Pacific Islanders enrolled. SDSU generates more than $2.4 billion annually for the local economy, and nearly 60 percent of graduates stay in the San Diego area to work and live.
San Diego State Aztecs Athletic Programs
SDSU's robust athletics program currently sponsors six men's and 11 women's sports at the varsity level. The Aztecs compete in NCAA Division I (FBS for football) and are part of the Mountain West Conference. However, the men's soccer and women's lacrosse teams compete in the Pac-12 Conference, and women's water polo competes in the Golden Coast Conference. Other key sports at the university include:
Football
Basketball
Baseball
Softball
Golf
Cross Country
Lacrosse
Soccer
Tennis
Track and Field (indoor and outdoor)
Volleyball
Water Polo
Swimming and Diving
Baseball teams play on the SDSU campus at Tony Gwynn Stadium, which opened in 1997 and is named after SDSU baseball and basketball legend (and first-ballot MLB Hall of Famer) Tony Gwynn. The softball team plays at the SDSU Softball Stadium adjacent to Tony Gwynn Stadium.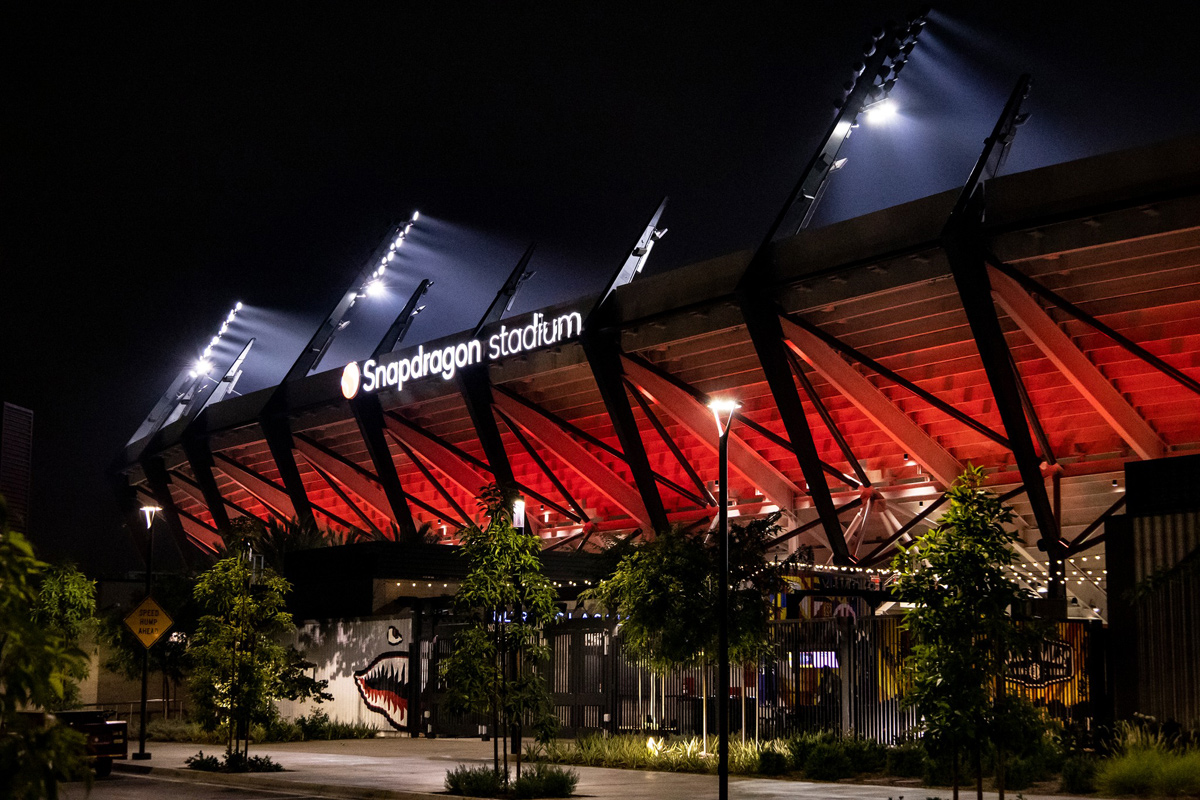 Viejas Arena at SDSU
The men's and women's basketball teams play at Viejas Arena, which opened in 1997 on the SDSU campus. Viejas Arena is used for the Aztec basketball games, speeches, conferences, and concerts. The court is called Steve Fisher Court. It named after longtime SDSU basketball head coach Steve Fisher. Both teams practice at the Jeff Jacobs JAM Center.
The football team trains on the main campus and plays at Snapdragon Stadium in Mission Valley. The men's and women's soccer teams play on campus at SDSU Recreation Field, a facility also home to the women's track and field teams. The girls' volleyball team plays at Peterson Gym on the SDSU campus.
The SDSU Sports Deck is home to both the men's and women's soccer teams and the women's track & field teams. The facility sits atop a two-story university parking structure. It includes a natural grass soccer field with a built-in automatic drainage system, surrounded by a track (often dubbed the "Aztrack").
The women's swimming, diving, and water polo teams are based at the on-campus aquatic sports complex known as the Aztec Aquaplex. The facility includes an Olympic-size swimming pool with a moveable bulkhead, a separate recreational pool, and a hydrotherapy spa. This facility serves as a recreational pool for SDSU students and community members.
The men's and women's tennis teams play at the Aztec Tennis Center, a 12-court facility on the western edge of the main campus. Other non-varsity aquatic sports are based out of the Mission Bay Aquatic Center (MBAC), just a few miles west of the main campus.
Lodging Near San Diego State University
If you're planning to attend an event at San Diego State University, you might think there's no high-end lodging near the school – but you'd be mistaken. You can stay at quite a few fantastic vacation rentals while in town. Many are not far from the beach, downtown, and the university. Let's look at the best places to stay in San Diego for an SDSU event. There are quite a few options less than 15 minutes from campus:
Bay Park to San Diego State University (13 minutes)
San Diego Coast Rentals has a Bay Park Dream condo, perfect for a beach vacation. This newly remodeled 3-bedroom, 2-bath private home sits in the Bay Park hills and has panoramic views of SeaWorld and Mission Bay out to the Pacific Ocean. Enjoy a large private deck with a gas grill and a fire pit. It's perfect for families seeking privacy while still being close to all the sites and attractions of San Diego, including SDSU. This beautiful two-level home sleeps 11 guests!
Ocean Beach to San Diego State University (14 minutes)
There are several spectacular lodging options if you're looking to stay in idyllic Ocean Beach. First, couples visiting their kid at SDSU will love our La Casa Del Pomelo, a stunning 2-bedroom, 1-bath oceanside home on the south end of the beach near Sunset Cliffs. Enjoy a private front yard and deck of the living room area, a private outdoor grill, and outside dining for up to six guests. Relax in the backyard hammock, or take the short walk to Ocean Beach's main drag. If you need more space, rent the La Casita studio that shares the property.
Crown Point to San Diego State University (14 minutes)
Take in the beautiful Crown Point sunset from the balcony of your luxury 2-bedroom, 2 ½-bath Crown Point Bayside Beach Retreat just one block from Sail Bay in Pacific Beach. With three levels of living space, there's plenty of room to kick back and relax. Enjoy a secure gated entry, full-size washer and dryer, vaulted ceilings, barbecue grill, and blazing Wi-Fi throughout the home. The condo includes off-street parking for two vehicles in the alley behind the residence.
Are you looking for something else? We have many options in Mission Beach, Pacific Beach, and La Jolla. Most are less than 25 minutes from SDSU. Browse our vacation rentals now or call us at (858) 531-3247, and we'll be happy to recommend something based on your needs. You can also contact us via message and tell us what you're looking for, and we'll get right back to you.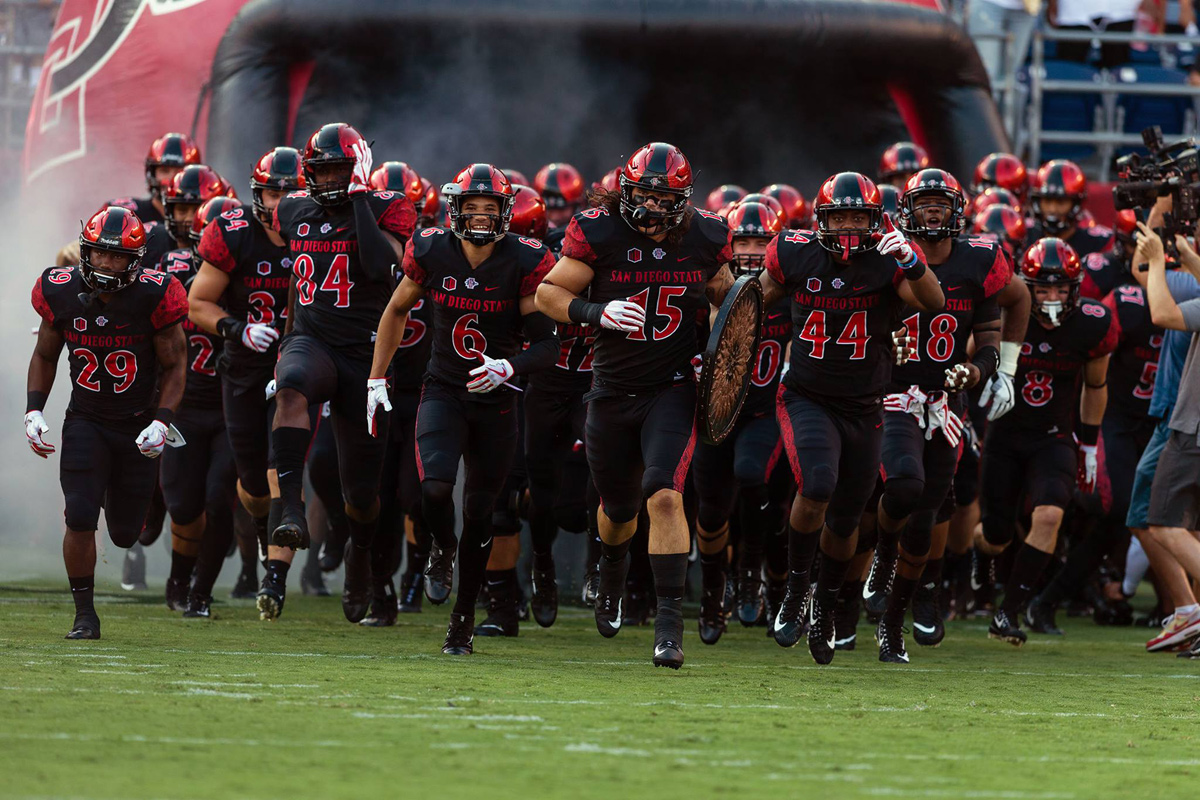 Other Colleges and Universities in San Diego
San Diego isn't just home to one college or university. The San Diego area boasts quite a few schools. Some of which are the finest on the West Coast. Be sure to check our vacation rentals if you're coming to San Diego for an event at one of these top schools: