San Diego is one of the best spots on Earth for whale watching. You can see various species of whales in the waters around San Diego year-round. It is their natural habitat. For vacationers, whale watching offers a one-of-a-kind memorable experience that is both fascinating and breathtaking. You should definitely make time for a guided whale tour during your San Diego vacation, especially if you love activities on the water or have children. Here's everything you need to know about the best whale watching in San Diego.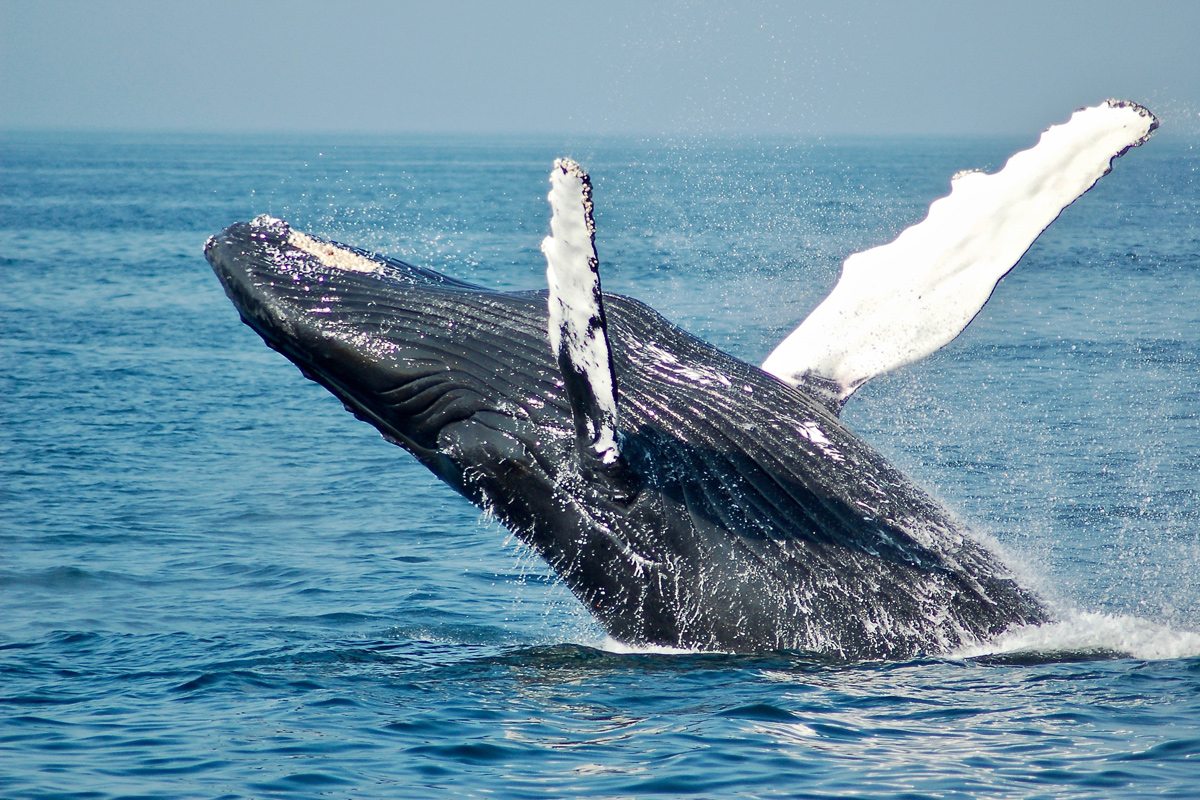 How to See Whales in San Diego
Whale watching is one of San Diego's most popular outdoor adventures. While it is possible to view whales from the shore, the most convenient whale watching in San Diego is through one of the many whale-watching tours offered around the city. San Diego has nearly 70 miles of coastline, so there are plenty of spots to view whales. Tour operators know all the best places in the ocean to see the whales, including where they feed, socialize and play. Most guided whale tours around San Diego take about two hours from start to finish.
In addition to whales, you will likely see several types of dolphins on a guided tour. The waters around San Diego typically have bottlenose, Risso's, Pacific white-sided, and common dolphins. You may also encounter harbor seals and sea lions on your journey. Overhead, you may see flocks of gulls and pelicans.
What Kinds of Whales Can I See in San Diego?
San Diego has one of the largest protected marine sanctuaries on the West Coast and is along the migration path for various species of whales. The most common types of whales in San Diego include gray whales, humpbacks, fin whales, minke whales and pilot whales. Orca whales are also in the region, but their sightings can be rare unless you get lucky on a guided tour.
You can see whales all year in San Diego, but the best time to go is mid-December through April. This time of year is when approximately 20,000 gray whales migrate nearly 6,000 miles from Alaska to Mexico. The whales migrate from cold water to warmer areas to give birth. If you plan a whale-watching trip later in the season, like late April, you may catch a momma whale with her new calves.
Fin whales are common during most of the year. However, the best time to see them is from November to March. Fin whales are massive and quite a sight!
When is the Best Time to View Whales in San Diego?
The wintertime isn't the only time of year you can see whales in San Diego. Since there are so many types of whales in the region, there are actually two primary seasons for viewing them. Another great time for whale watching is during the summer and fall when the blue whale passes through on its way to warmer waters. Blue whales are the largest animals on the planet and are found in the ocean a little further offshore than other whales. Therefore, planning a guided whale tour to see them up close is best.
You can view humpback whales around San Diego for most of the year. Most humpback whales spend their winters near Hawaii, but about 3,000 regularly migrate from Alaska to Southern California. Humpbacks are one of the best types of whales to view because of their famous breaching maneuver. Breaching is when a whale launches out of the water and splashes down. Whales often do this to remove parasites. Humpbacks tend to breach more than other species of whales, although many types do it.
On average, the best time for whale watching is in the morning. Keep in mind that the weather can affect your whale-watching adventure. While San Diego is routinely warm with clear skies, tour operators may cancel an excursion if it's raining or the waters are unsafe.
What to Wear on a Whale-Watching Tour
If you're headed out on a whale-watching tour, there are a few essential items you should bring. Here's a list of what you should pack for your adventure.
Sunscreen
The sun can be unforgiving on the water, so pack sunscreen. If it's sunny, apply it on the shore before you get on the boat. You should be fine if your tour is only a couple of hours. You may need to reapply it if the sun is intense or you plan on staying out longer than a few hours. Always opt for waterproof sunscreen, so it doesn't get washed off from the ocean spray.
Hat or Visor
For added protection from the sun, pack a hat or visor. This will help keep the overhead sun from bearing down on your face. But remember, the sun's reflection in the water can also cause damage to your skin!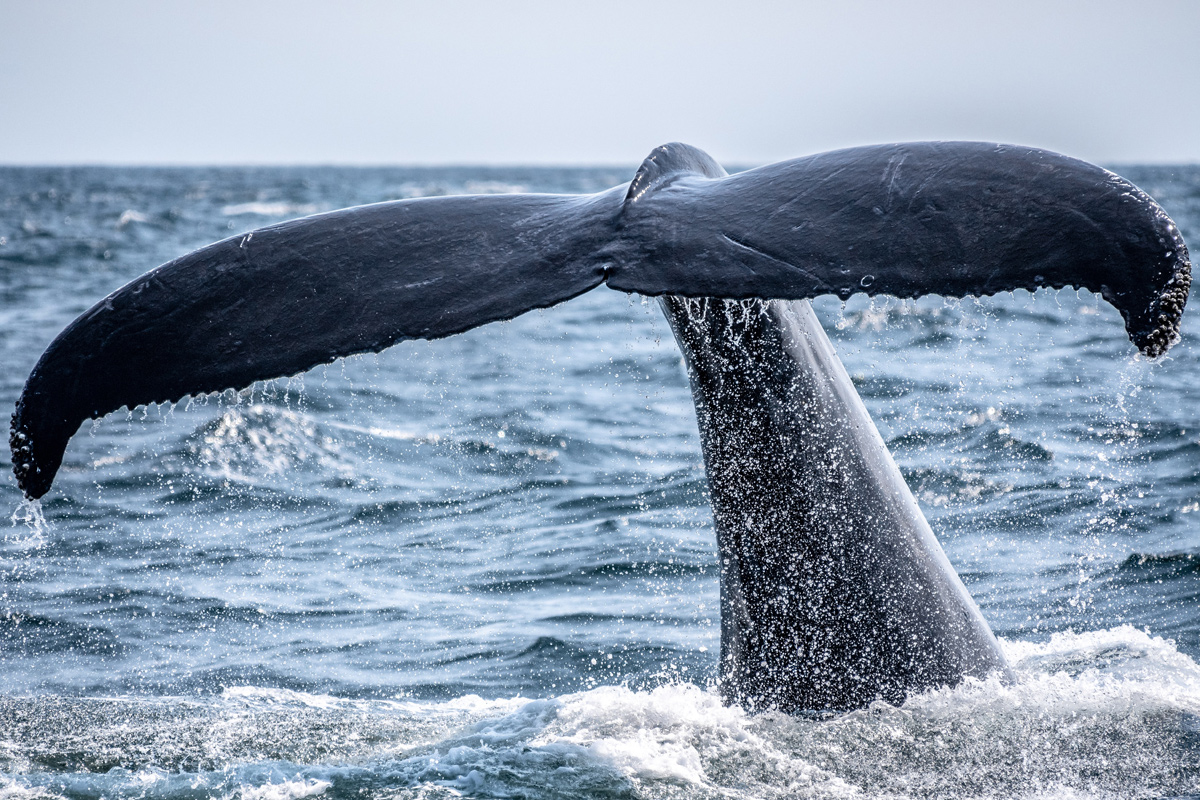 Sunglasses
Pack your favorite sunglasses to protect yourself from the sun's glare and its reflection on the water. This will increase your visibility on the water and protect your eyes.
Binoculars
For the best views, bring a pair of binoculars. This way, you can zoom in on the action further away from the boat. If you're lucky, you'll get front-row views and not need them, but it's best to be prepared.
Camera
Of course, bring your camera! Keep it safe from water, and don't drop it in the ocean. Cell phone cameras work fine, but if you have a camera with a zoom lens, you're likely to get some fantastic shots. Don't forget extra batteries or your battery charger.
Bottled Water and Snacks
You never know what your tour operator will provide, so it's best to pack some bottled water and light snacks. You shouldn't have to bring much if you're only going out for a few hours, but staying hydrated is best, especially when you're on the water and far from shore. Many tour operators do offer water or snacks for sale on the boat.
Closed-Toes Shoes
Wear closed-toed shoes with rubber soles that provide a good grip. The boat deck can get slippery, so protecting your feet is best. Footwear like flip-flops or Crocs don't offer enough protection.
Backpack or Bag
Put all your stuff in a bag or backpack to keep it secure. This makes keeping everything together easier and carrying it on and off the boat.
Outerwear
Temperatures on the water can be about 10-15 degrees cooler than on land. Depending on the weather, consider dressing in layers to peel off or add layers as needed. Pack a light jacket or sweatshirt if you're not wearing one. The wind and ocean spray can be cool, especially if you head out early. You can also pack gloves, a scarf or a stocking hat for warmth.
Seasickness Meds
If you're prone to seasickness (or don't know if you are), then pack some aids in case you start to feel ill while on the water. Popular medications you can get over the counter include dimenhydrinate (Dramamine, etc.) and meclizine (Dramamine Less Drowsy and Travel-Ease). Dimenhydrinate is safe for children aged two and older. Take these medicines about 30-60 minutes before getting on the boat. Remember, drowsiness can be a side effect.