Visitors to the San Diego area looking for funky beach towns full of character will find it all in San Diego's legendary surf breaks and bohemian ocean beaches. Just minutes from Mission Beach, Sunset Cliffs, and downtown San Diego, this picturesque location overlooking the azure waters of the Pacific Ocean is much more than just a SoCal beach town.
Ocean Beach reigns supreme for those looking for a true getaway populated chiefly by locals rather than tourists. The quirky neighborhood of Ocean Beach feels more appealing because it's a beach town with fewer tourists than its San Diego neighborhood. Ocean Beach offers many activities, such as fishing at the Ocean Beach Pier, skateboarding, strolling the famous farmers market, hiking cliff-top trails, surfing legendary waves, or watching the sunset at an oceanfront happy hour spot.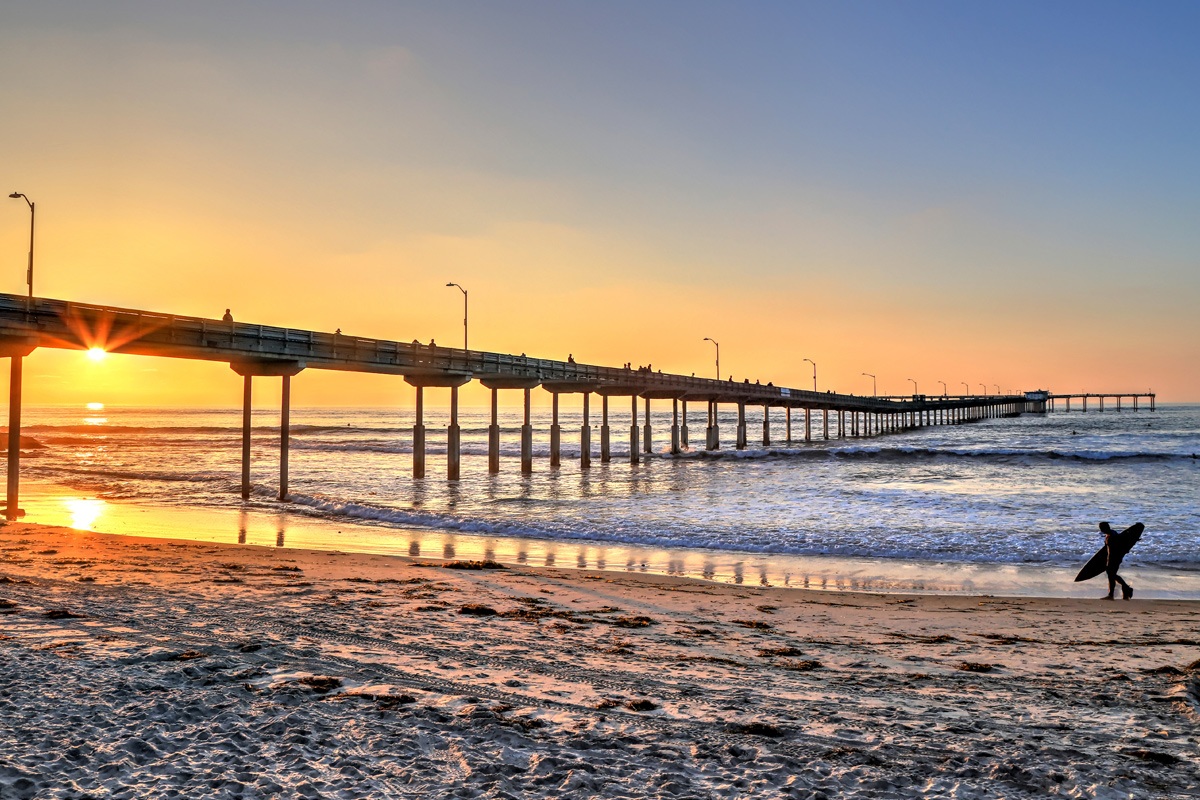 The Ocean Beach Vibe
The first thing to love about Ocean Beach is the atmosphere. It has the feel of a quiet hippie beach town that only locals know while offering visitors a more intimate seaside experience. Ocean Beach ticks all the boxes for a beach that provides visitors with nearly all their favorite surf and sand activities. While there are other beaches nearby, such as Pacific Beach, Ocean Beach is an excellent choice for travelers looking for a unique atmosphere and lots of activities.
A Great Family Spot
Ocean Beach events cater to a diverse audience of locals and tourists. Families especially love Ocean Beach's quiet, friendly atmosphere. For families with young children, Ocean Beach's beachfront views are ideal.
Ocean Beach is also a good option for travelers looking for a less crowded and less-commercialized experience. Although there are fewer crowds, there's a different type of beach here for just about everyone. Furry, four-legged friends can splash in the waves at Ocean Beach's Dog Beach while their owners watch the fun on the sand.
The Neighborhood
Downtown Ocean Beach is where the locals rule, and the few tourists who flock here feel more like part of the community. There are only a handful of quiet, sleepy motels and hotels in town, no high-rises or impersonal corporate resorts.
Local Attractions
Attractions and activities abound close to Ocean Beach and its neighboring town of Pacific Beach. Ocean Beach is even closer to popular attractions like Sunset Cliffs, Mission Beach, and downtown San Diego. Also, to the north, nearby Pacific Beach is close to beautiful La Jolla and the area's bays.
The world-famous Belmont Park Amusement Park in Mission Beach is just minutes away and offers families and people of all ages a fun way to spend an afternoon away from the sand overlooking the Pacific Ocean.
The Pier
Ocean Beach City Beach is south of Dog Beach and extends to the Ocean Beach Pier. This famous pier is the longest of its kind on the West Coast. It dips into the waves in a signature T shape. It's also an excellent spot for fishing, watching the waves, and surfing the water.
Ocean Beach History
Those interested in history and culture will get their money's worth around the city. Ocean Beach offers a self-guided history walk, giving visitors a glimpse of what the resort was like in the early 1900s. Then, they can check out Ocean Beach's murals for edgy street art. A self-guided mural trail takes visitors throughout the city and into the world of murals.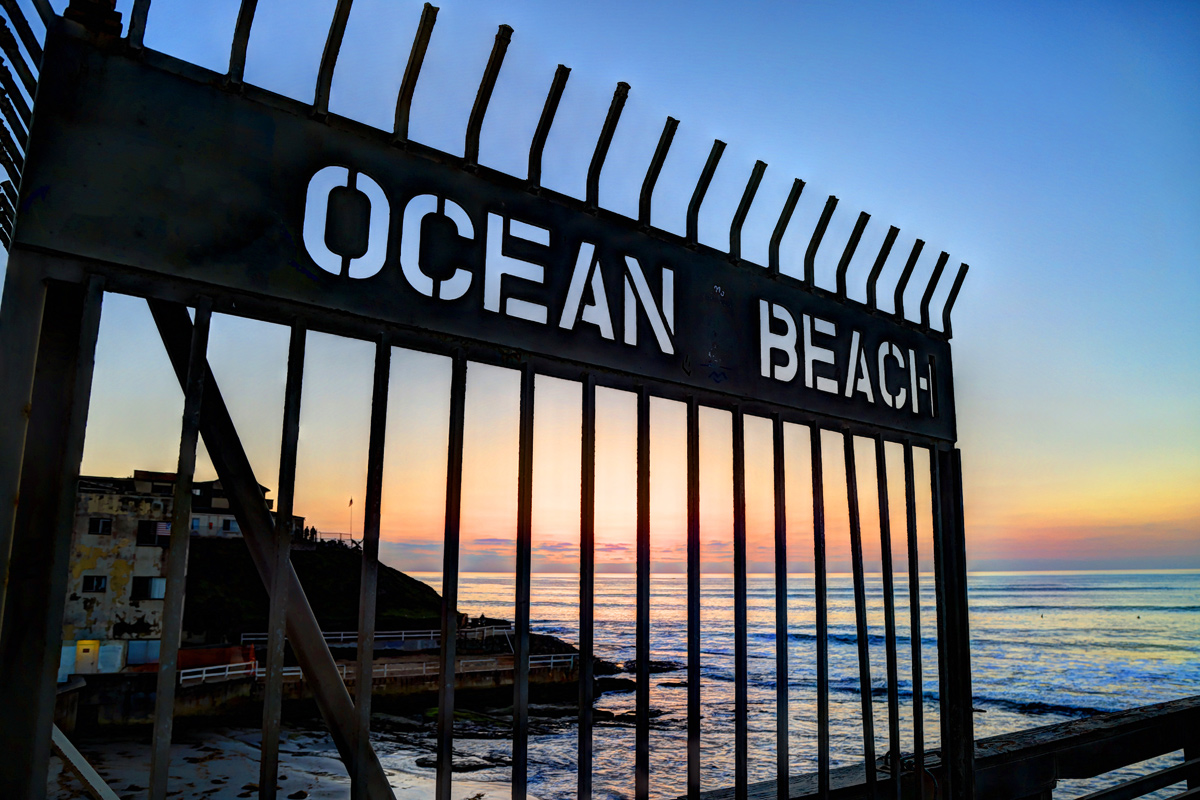 Surf's Up
Surfers can surf at the designated surfers-only beach just off Ocean Beach Pier and City Beach down Newport Avenue. There are also surf spots at various points along Ocean Beach. Next to the pier is Ocean Beach Pier Break, and the waves on both sides of the wooden structure are excellent. A bit further north of the pier is Avalanche Break, where the waves are sound. Dog Beach is fronted by Ocean Beach Jetty and has bigger waves for experienced surfers.
Swimming
Beachgoers who want to swim and play in the water should head to the swimming beach at Santa Monica Boulevard Beach. Cape May Avenue Beach is a quieter, more secluded part of Ocean Beach, perfect for a calm day at the beach.
Farmers' Market
Another major attraction of the Ocean Beach area is the legendary farmers' market. The market is open from 4- 8 p.m. every Wednesday year-round. Farmers' markets offer visitors the perfect activity to spend a weeknight. The weekly farmers' market is steps away from the Ocean Beach Pier and the Pacific Ocean. It is located at 4900 Newport Avenue between Cable Street and Bacon Street. Shoppers can find teriyaki, paella, pizza, and other festive dining options along Main Street.
Visitors can sample local delicacies, shop for fresh fruits and vegetables, and experience live music while browsing the market stalls. Those who come here will discover why this is one of SoCal's most popular farmers' markets.
The market features art stalls selling handicrafts and other decorative items. Visitors can shop for plants, cut flowers, baked goods, clothing, and other market items. Guests can listen to a variety of music and other live performances from all over San Diego while they shop. This market brings a lively street festival atmosphere to Ocean Beach every week.
Top Attractions
The attractions in and around San Diego Ocean Beach are top-notch. There are many unique attractions nearby, and San Diego's most popular attractions are just a short drive away. What attracts tourists most is Ocean Beach's pristine shoreline and all the Pacific Ocean waters have to offer.
Visitors can experience adventure, culture, food, history, and nature in and around the city. The San Diego and Ocean Beach areas have mild temperatures year-round, making visiting a great time. Sightseeing is best in spring and fall when there are fewer crowds.
Sunset Cliffs
Ocean Beach's most popular attractions offer visitors interesting stops to add to their itinerary. Sunset Cliffs is a secluded beach town perched on the cliffside in San Diego. Here, you can enjoy the California sunset while taking a short hike.
Point Loma
Next, visitors can drive south along Point Loma to visit Cabrillo National Monument and Park. The site features tide pools, tours, and historical exhibits. Shelter Island is a top attraction on the other side of Point Loma. This small tourist area features a marina for day trips and fishing trips, restaurants, and art and cultural exhibits.