Finding the best San Diego vacation rental can be daunting. But, with the right approach, you can easily find a rental that meets your needs and exceeds your expectations. Here's how you can find the perfect vacation rental in San Diego: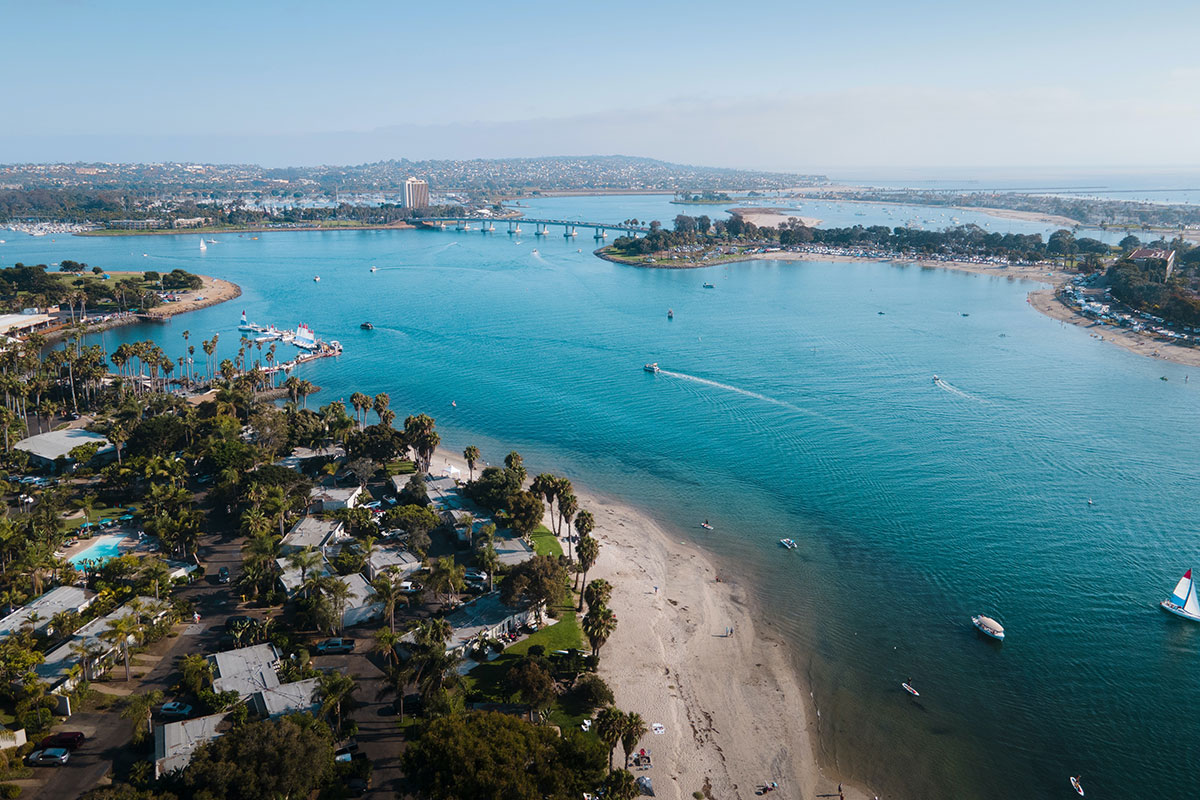 Determine Your Budget
Start by determining your budget for the vacation rental. San Diego has a wide range of vacation rentals, from budget-friendly options to high-end luxury homes. Knowing your budget will help you narrow your options and find a rental that fits your price range. Determining your budget for a vacation rental is an important first step in finding the right rental. Below are some tips to help you determine your budget:
Start by considering your overall travel budget, including transportation, food, and activities. Determine how much you're willing to spend on a vacation rental based on what's left after accounting for these other expenses.
Research the average rental prices for the area you plan to visit. Researching will give you an idea of what to expect and help you set a realistic budget.
Rental prices can vary depending on the time of year, with peak travel times often being more expensive. Consider when you're planning to travel and adjust your budget accordingly.
Be sure to factor in any additional fees, such as cleaning, booking, or taxes, when determining your budget.
The size of the vacation rental is another essential factor to consider. Make sure the rental is the right size for your group. A smaller rental may be more appropriate if you're traveling alone or as a couple. Families or groups of friends may want a rental with multiple bedrooms and bathrooms to ensure everyone has enough space and privacy.
Vacation rentals in San Diego vary in price, so make sure the rental you choose fits within your budget. Be sure to factor in additional fees, such as cleaning or security deposits. Some rentals may offer discounts for more extended or last-minute stays, so be sure to inquire about any special offers.
Research Different Neighborhoods
San Diego has many different neighborhoods, each with its own unique attractions and vibe. Do your research to find the area that best suits your needs. For example, consider rentals in La Jolla, Pacific Beach, or Mission Beach if you're looking for a beach vacation. If you're looking for nightlife and entertainment, the Gaslamp Quarter or downtown may be more appealing.
When choosing a location, consider what type of vacation you want to have. If you're looking for a calming beach vacation, a rental in one of the coastal communities may be the best choice. If you want to be close to nightlife and entertainment, downtown or the Gaslamp Quarter may be more appealing. Families with children may prefer a rental in a more residential area with easy access to attractions like the San Diego Zoo or Legoland.
Here are five popular neighborhoods in San Diego to get you started:
La Jolla
La Jolla is a luxurious neighborhood that boasts stunning views of the Pacific Ocean. It's known for its upscale shopping and dining options and its beautiful beaches.
Pacific Beach
Pacific Beach is a lively neighborhood that offers a more affordable option for vacationers. It's known for its beach scene, with a boardwalk and plenty of bars and restaurants.
Mission Beach
Mission Beach is another popular neighborhood for vacationers, known for its classic boardwalk and amusement park. It's an excellent option for families or anyone looking for a fun, laid-back beach vacation.
Gaslamp Quarter
The Gaslamp Quarter is the heart of downtown San Diego and is known for its nightlife and entertainment. It's a popular option for those seeking a more urban vacation experience.
Coronado
Coronado is a charming, upscale neighborhood across the bay from downtown San Diego. It's known for its beautiful beaches and the historic Hotel del Coronado.
Amenities
Another important consideration when choosing a vacation rental is amenities. Different rentals offer varying amenities, so it's important to identify which ones are most important to you. Some standard amenities to look for include:
Outdoor space: Do you want a rental with a patio, balcony, or backyard? A space to grill or dine al fresco?
Pool or hot tub: A pool or hot tub can be a great way to cool off and relax if you're traveling during the warmer months.
Fully equipped kitchen: If you plan to cook during your stay, ensure the rental has a fully equipped kitchen with all the needed appliances and utensils.
Electronics: Do you want a rental with a TV, sound system, or other electronics? If so, make sure the rental has what you need.
Laundry: If you're traveling for an extended period, a rental with laundry facilities can be a big help.
Parking: Parking in SoCal can be challenging at times. If you're renting a car during your stay, make sure the rental has convenient and secure parking.
Read Reviews
When finding the perfect vacation rental, reading reviews can be incredibly beneficial. Here are five benefits of reading reviews before making your final decision:
Get an idea of what to expect: Reviews can give you a sense of what to expect from the vacation rental, including its cleanliness, amenities, and overall condition.
Learn from the experiences of others: Reviews can help you learn from the experiences of others who have stayed at the rental before you. You may discover any issues to be aware of, or if there are any particular features that people loved.
Understand the neighborhood: Reviews can provide insight into the community and surrounding area, including nearby attractions, restaurants, and activities.
Build trust: Reading positive reviews can help build confidence that the vacation rental is a good choice for your trip.
Avoid surprises: Reviews can help you avoid unpleasant surprises during your stay, such as noisy neighbors or a lack of necessary amenities.
Reading reviews can help you make an informed decision about whether a vacation rental is right for you. It can save you time, money, and potential frustration by giving you a clear picture of what to expect.
Availability and Booking
Once you've found a few rentals that meet your criteria, check the availability for the dates you plan to travel. Some rentals may have minimum stay requirements or may not be available during peak travel times, so checking availability before making a reservation is essential.
San Diego is a popular travel destination, so booking your vacation rental early is important to ensure that you get the best selection and pricing. Some rentals may offer discounts for early booking, so ask about any special offers.
Access to Attractions
Consider the proximity of your rental to any attractions you want to visit. San Diego has countless attractions, from world-class museums to theme parks and outdoor activities. Make sure the rental is close enough to the attractions you want to visit to make getting there convenient. You may also want to consider whether you'll need a car or if you can walk or take public transportation to the places you want to go.
San Diego is a beautiful city with many attractions to offer. Here are five of the top attractions in San Diego that are worth your time:
Balboa Park
Balboa Park is an urban cultural park covering 1,200 acres in the heart of San Diego. It's home to over 15 museums, gardens, and other cultural institutions, as well as the San Diego Zoo.
San Diego Zoo
The San Diego Zoo is widely considered one of the best zoos in North America. It is known for its extensive collection of animals and its commitment to conservation efforts.
USS Midway Museum
The USS Midway Museum is a maritime museum on the retired aircraft carrier USS Midway. Visitors can explore the ship and learn about its history and the history of the US Navy.
Coronado Beach
Coronado Beach is a stunning beach located on the island of Coronado. It's known for its vast expanse of soft sand and its iconic Hotel del Coronado.
La Jolla Cove
La Jolla Cove is a picturesque cove in the upscale neighborhood of La Jolla. It's known for its crystal-clear waters, rocky cliffs, and abundant marine life, making it a popular spot for snorkeling and scuba diving.
Summary
In summary, finding the best San Diego vacation rental involves researching, using reputable rental websites, reading reviews, considering amenities, checking availability, and booking early. With these tips in mind, you'll be able to find a vacation rental that meets your needs and makes your trip to San Diego unforgettable.