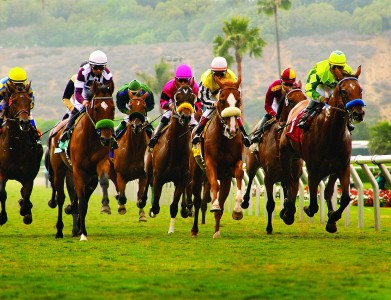 The snowflakes may be falling in your part of the country, but here in San Diego the sun keeps shining, and the horses keep running. Del Mar, one of the premiere horse racetracks in the world is throwing its gates open for a brief winter season.
The Bing Crosby Season started October 29th and finishes November 29th with dark Mondays, Tuesdays, and Wednesdays. That gives you 20 days to place your bets and feel the adrenaline as your horse pounds down the track toward glory. Go for the fun and maybe walk away with a little extra cash that will make the holiday season even merrier for you! At San Diego Cost Rentals we have your vacation condo lodging near the race track covered!
Planning Your Trip to Del Mar Racetrack
Del Mar is a beautiful track where the energy crackles and the crowds cheer at the start of each new race. Most race days host between 7 – 10 races, which take place approximately 30 minutes apart. If you want to try betting for the first time, consider showing up an hour early to sit in on the "Newcomer's Seminar" taught by a professional handicapper. You can also learn some important Handicapping Tips Here.
You'll also need to decide where you want to sit. Del Mar offers general admission, reserved seating, track-side dining, and special box seating.If your stomach starts grumbling when at the races, you have several excellent dining options. If you opted for the track-side dining seats, then you can simply order right at your table as you enjoy the races. The track also offers various concessions that sell sandwiches, burgers, pizza, ice cream and more. For a more elegant dining experience, you can eat at one of a handful of cafes and restaurants on the premises, including the Veranda Café in the Clubhouse, the Paddock Tavern, Blue Moon Celebrity Grill, II Palio, and more. Some of the restaurants require reservations, so check here to learn more and view menus.
Special Events During the Bing Crosby Series
Watching the races is a great way to spend the day, but you can add even more fun into the mix. Del Mar will host special events throughout November, including:
* Gourmet Food Truck Festival – November 7th
* Morning workouts and breakfast in the Clubhouse Terrace Restaurant – Every Sunday
* Bing + Bubbles + Brunch – Every Sunday
* Fleece Pullover Giveaway – November 14th
* $100,000 Handicapping Challenge – November 14th & 15th
* Reggae Fest with Iration – November 21st
* College Day – November 21st
* Family Mile Fun Run – November 26th
* Thanksgiving Brunch – November 26th
* Sublime with Rome – November 28th
* Craft Beer & Cider Fest – November 28th
To Find the Del Mar Race Track Schedule, Tickets, Dining Options and Event visit DMTC.COM
Add the Del Mar Racetrack to Your San Diego Vacation Schedule
If you are heading to San Diego to spend Thanksgiving with your family, the Del Mar Racetrack is a great all-family outing, especially if some of your family members have never been before. Make sure you also take care of getting good accommodations during this busy travel season! If you don't want to burden your family by taking up their guest room or spending a few uncomfortable nights on the couch, visit our lodging selection to find a wide array of gorgeous, well-priced vacation homes rentals within easy driving distance to the racetrack.