The Bing Crosby Season is a brief season of thoroughbred horse racing that usually takes place during the month of November at the Del Mar Thoroughbred Club. If you're planning to vacation in San Diego during that time, or if you're in town on business, you should make time to attend a day of races at the Del Mar Fairgrounds in the oceanside city of Del Mar. A day at the racetrack is a fun, family friendly experience. Witness the beauty and grace of magnificent thoroughbred horses in a heart-pounding sprint to the finish line! You can even pick your favorites before the race starts and place a wager … if you're feeling lucky.
Located about 20 miles north of downtown San Diego, the Del Mar Thoroughbred Club is one of the nation's best horse racing tracks. Not only is the club well known for its majestic equines, but it's also a chic spot for celebrities and SoCal's social elite. Much like the annual Kentucky Derby at Churchill Downs, a weekend at Del Mar frequently produces throngs of spectators with colorful suits, bowties, derby hats, sun dresses and fascinators.
The entire racing facility is beautifully designed and allows everyone to get close to the action. San Diego's sunny skies and pleasant weather afford guests the choice of watching the races from either outside or inside.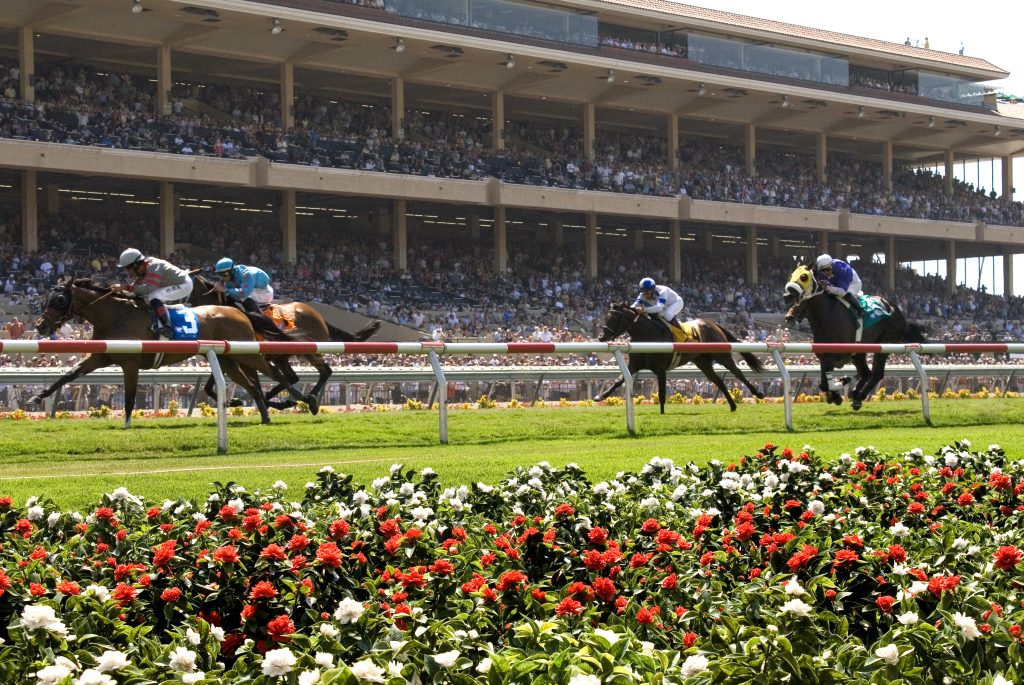 Prior to a race, onlookers can view the horses on the paddock and on the way to the starting gate. The sheer size and strength of the equines – combined with vivid patterns and colors of the silks and the diminutive-yet-confident stature of the jockeys – is quite a sight to behold.
Bing Crosby Season at Del Mar
The Bing Crosby season presents about eight to 10 races per day at the track, usually about 30 minutes apart. At the beginning of the season (early in the month), there are races multiple days of the week. However, for most of the month, races take place on Fridays, Saturdays and Sundays. There is additional racing during Thanksgiving weekend most years, with races on Thanksgiving (Thursday), Friday, Saturday and Sunday to wrap up the season.
Patrons must be at least 18 years old to wager on races. Children aged 17 and under receive free admission to the club, and must be accompanied by a parent or legal guardian. Kids are eligible for discounted grandstand seating.
You can view the Del Mar Thoroughbred Club's race calendar here.
Breeder's Cup 2021 at Del Mar
The main racing season at Del Mar is from mid-June through early September, but the fall is a prime time for racing. The annual Breeder's Cup takes place the first weekend of November most years. It is widely considered the most important international horse racing event of the year. It is hosted in a different location each year.
Del Mar hosted the Breeder's Cup in 2017 and will host the 2021 event from Nov. 5-6. The club has a good selection of seating and dining options if you want to witness all the championship racing action in person. See the head-turning fashion in the stands and all the exhilarating action on the track at this definitive American sports classic.
You can browse Breeder's Cup ticket options here.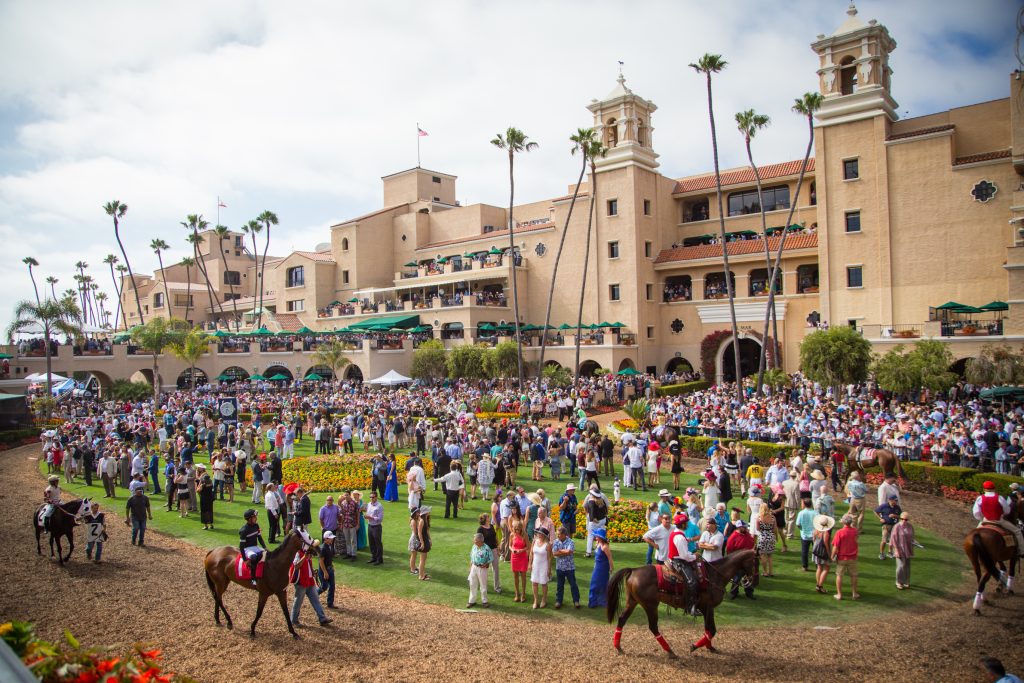 Around the Racetrack
Del Mar offers general admission, reserved seating, track-side dining, and special box seating. If your stomach starts grumbling when at the races, you have several excellent dining options. If you opted for the track-side dining seats, then you can simply order right at your table as you enjoy the races. The track offers various concessions that sell sandwiches, burgers, pizza, ice cream and more.
For a more elegant dining experience, you can eat at one of a handful of cafes and restaurants on the premises, including the Don Julio Veranda Café in the Clubhouse, the Paddock Tavern, Blue Moon Celebrity Grill, II Palio, and more. Some of the restaurants require reservations.
History of Del Mar Thoroughbred Club
Legendary actor and crooner Bing Crosby was a founding partner of the Del Mar Thoroughbred Club and a key figure in the racetrack's development during its early years, so it's only fitting that the club's fall horse racing series would be named in his honor. Crosby was in attendance when the track opened its gates on July 3, 1937.
Over the years, the track grew and prospered. A 2014 renovation included the installation of a new turf course that can accommodate up to 14 horses in a race. The improvements opened the door for its first Breeder's Cup race in 2017.
Learn more about Del Mar Thoroughbred Club here.
San Diego Horse Racing: Stay and Play
Don't pass up the opportunity to see some of the best horse racing in the world during the Bing Crosby season at Del Mar Thoroughbred Club. If you're fortunate enough to attend the Breeder's Cup, you'll be part of one of the nation's premier sporting events. And nothing beats Thanksgiving weekend in San Diego: a holiday feast, lots of sun and the ocean breeze, a few days discovering Del Mar, and an afternoon at the track for gambling, great food, and exhilarating sports action.
We have a fantastic array of vacation rentals around San Diego that are available during the month of November, or any time you want to visit America's Finest City. Choosing a vacation rental over a traditional hotel room can make a big difference in the overall aesthetic and vibe of your San Diego getaway. Our vacation rentals are in residential neighborhoods around the city, not stuck on "hotel row." At our residences, you can stretch out and enjoy ample square footage and additional spaces like a den, media room, deck or patio that you might not have at a conventional hotel.
Our vacation rentals are better than a bed and breakfast, too. Why stay in one room when you can have the entire home to yourself? There's no need to share a bathroom or make small talk with strangers in our rental properties. In fact, most of our properties have multiple bathrooms with high-end comforts like a Jacuzzi tub or an upscale steam shower with waterfall showerheads and soothing jets. And who wants to wait in line in their jammies for a cold Continental breakfast at a hotel when you can prepare your own breakfast feast in your full-size kitchen with stainless steel appliances, elegant dinnerware and your own coffee maker?
Our gorgeous, well-priced vacation homes and condos around San Diego come in all shapes and sizes. We have smaller, two-bedroom residences that are perfect for a growing family or romantic couples. There are also larger homes with five or more bedrooms if you want to get the entire family or a group of friends all under one roof. Our vacation rentals are all over the city, including cool neighborhoods like the Gaslamp District, La Jolla, Mission Beach, Ocean Beach, Pacific Beach, Point Loma and (of course) Del Mar.
Browse our vacation rentals here, or give us a call at (858) 531-3247. We're always happy to recommend one of our properties that fits your wants and needs … and budget!