San Diego, known for its sunny weather and pristine coastline, offers a treasure trove of beach communities perfect for a vacation getaway. Whether you're seeking family-friendly fun, vibrant nightlife, or a relaxed bohemian vibe, San Diego has a beach community that caters to your preferences. In this blog, we will explore some of the most alluring beach destinations this Southern Californian gem offers. Each of these communities is stunning and has a unique character, making them ideal for a wide range of travelers.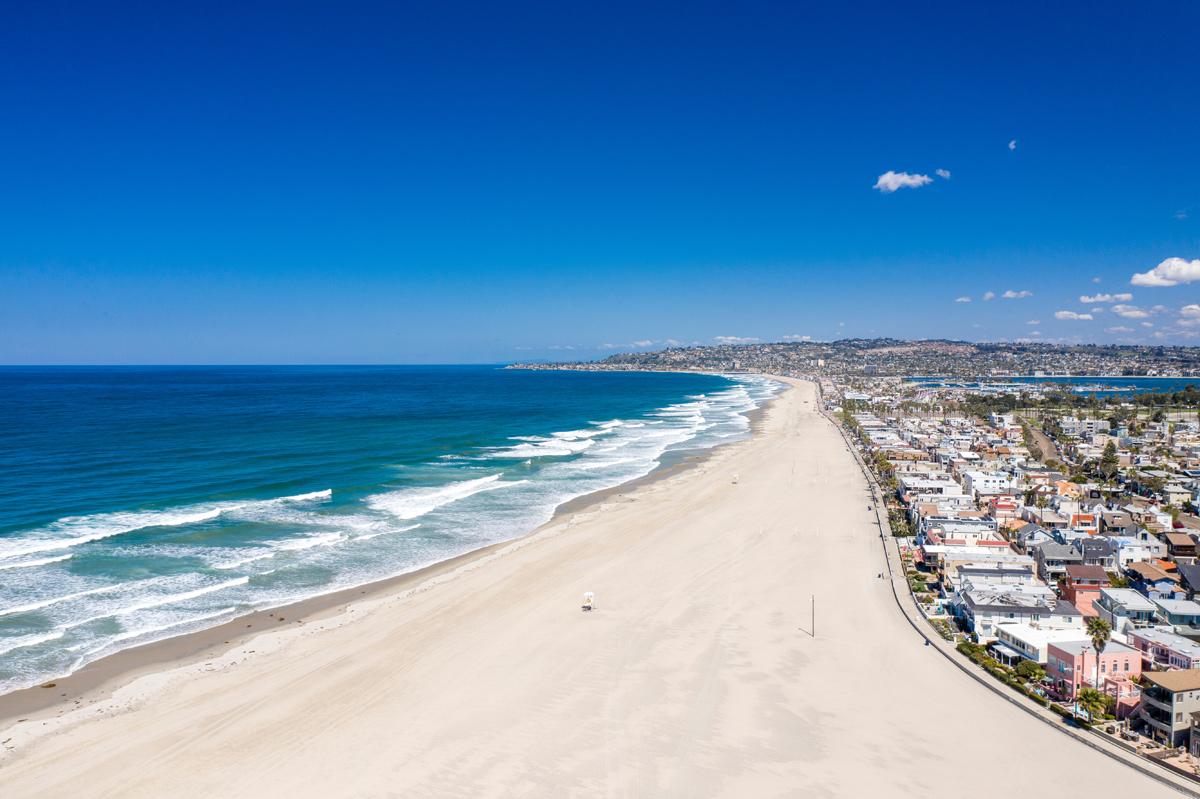 Mission Beach
Location: Approximately 8 miles northwest of downtown San Diego.
Mission Beach is a perennial favorite among vacationers for its family-friendly atmosphere and various activities that cater to all ages. This lively beach community boasts a picturesque beachfront boardwalk and is home to the iconic Belmont Park, a historic amusement park featuring a roller coaster, arcade games, and delicious snacks.
You can bike along the boardwalk, try your hand at beach volleyball, or bask in the sun. There are water sports like surfing, paddleboarding, and jet skiing for the more adventurous. Mission Beach is also known for its calm waters, making it an excellent spot for families with young children.
Mission Beach comes to life at night with various bars and restaurants along Mission Boulevard, offering delectable seafood and refreshing cocktails. So, if you're looking for a quintessential beach vacation in a community that offers fun in the sun and exciting nightlife, Mission Beach is the place to be.
Pacific Beach
Location: Approximately 10 miles northwest of downtown San Diego.
Pacific Beach, often called "PB" by locals, is renowned for its vibrant nightlife, making it a prime destination for those seeking a beach community with a lively atmosphere. The community is located just a short drive north of downtown San Diego and offers diverse activities.
PB is known for its stunning sandy shoreline, ideal for sunbathing and beachcombing. However, the bustling Garnet Avenue steals the spotlight, featuring an array of restaurants, bars, and shops. This street is the epicenter of Pacific Beach's nightlife, with numerous venues offering live music, craft beers, and delectable cuisine. You can enjoy everything from a casual beachfront meal to dancing at one of the many clubs.
For daytime activities, consider strolling along Crystal Pier, which stretches out into the Pacific Ocean and provides breathtaking views. Surfing is also a popular pastime here, with various surf schools offering lessons for beginners.
Ocean Beach
Location: Approximately 7 miles northwest of downtown San Diego.
Ocean Beach, often abbreviated as "OB," starkly contrasts Pacific Beach's lively atmosphere. Instead, it boasts a laid-back and bohemian ambiance, making it an ideal destination for those who prefer a more relaxed beach community.
OB's main attraction is its long wooden Ocean Beach Pier, perfect for leisurely walks and fishing. Nearby, you'll find Sunset Cliffs, a stunning natural wonder where you can watch the sun dip below the horizon in a mesmerizing display of colors. The cliffs also offer excellent opportunities for hiking and birdwatching.
One of the highlights of Ocean Beach is its weekly Farmers Market, where you can shop for fresh produce and artisanal goods, and enjoy delicious street food. The community has quirky boutiques and vintage shops, adding to its charm.
In Ocean Beach, the motto is "Keep OB Weird," you'll find a warm, welcoming community that embodies this spirit. Ocean Beach is the place to be if you're looking for a beach vacation that's all about embracing the California hippie vibe.
Point Loma
Location: Approximately 7 miles west of downtown San Diego.
Point Loma, a picturesque peninsula, uniquely blends nautical history and natural beauty. This coastal community provides a more tranquil and historical experience than some of San Diego's busier beach destinations.
One of the must-visit sites in Point Loma is the Cabrillo National Monument, which commemorates the landing of explorer Juan Rodriguez Cabrillo in 1542. From this point, you can enjoy panoramic views of San Diego Bay and the Pacific Ocean. Nearby, the Cabrillo Tide Pools offer an opportunity to explore the marine life on the rocky shoreline.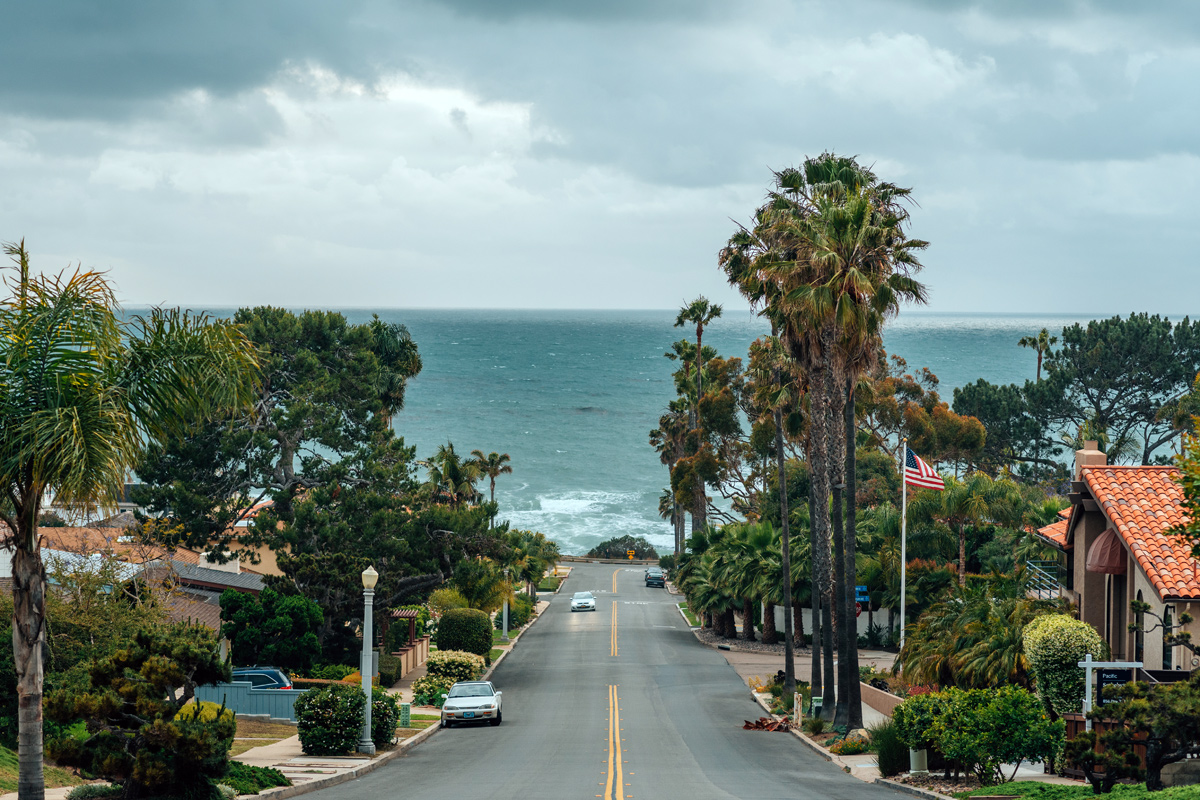 La Jolla
Location: Approximately 12 miles north of downtown San Diego.
La Jolla, a jewel of San Diego, exudes an upscale and picturesque charm, making it one of Southern California's most sought-after beach communities. Its location just north of downtown San Diego places it within easy reach for day trips.
La Jolla Cove, a protected marine reserve, is the star attraction. The clear waters and abundant marine life make it a haven for snorkelers, divers, and kayakers. The Children's Pool nearby is a great spot for observing seals and sea lions in their natural habitat.
La Jolla Village is brimming with high-end boutiques, art galleries, and fine dining establishments. Enjoy world-class cuisine with ocean views, or stroll the charming streets to explore local shops.
For those interested in marine life, the Birch Aquarium at Scripps Institution of Oceanography offers an educational experience showcasing the ocean's wonders. La Jolla is also known for its breathtaking coastal hiking trails, offering stunning vistas of the Pacific.
Bay Park
Location: Approximately 6 miles northwest of downtown San Diego.
Bay Park, along the shores of Mission Bay, offers a tranquil escape from the hustle and bustle of downtown San Diego. This hidden gem is ideal for those seeking a quiet neighborhood with beautiful bayfront views.
One of the main attractions in Bay Park is the Tecolote Canyon Natural Park, a haven for nature enthusiasts and hikers. The park features scenic trails, wildlife, and lush greenery, providing a serene natural experience.
For water enthusiasts, the Mission Bay Aquatic Center offers kayaking, paddleboarding, and other water sports opportunities. The calm waters of Mission Bay make it an excellent place for beginners to try their hand at these activities.
Bay Park also has a pleasant community park, Crown Point Park, where visitors can enjoy picnics, play sports, or relax by the bay. The neighborhood's laid-back ambiance and beautiful views make it a fantastic choice for those who appreciate a quieter, more natural beach experience while still being close to the heart of San Diego.
Encinitas
Location: Approximately 25 miles north of downtown San Diego.
Venturing farther up the coast from downtown San Diego, you'll find Encinitas, a coastal paradise known for its surfer's vibe and artistic spirit. This charming beach community uniquely blends natural beauty and cultural experiences.
Encinitas is home to several beautiful beaches, with Swami's and Moonlight Beach being popular for surfers and sunbathers. The town is also known for its meditative and relaxed atmosphere, with numerous yoga studios and wellness centers.
Downtown Encinitas boasts a vibrant arts and culture scene. You can explore local galleries and boutiques, and enjoy farm-to-table dining at various restaurants. The Self-Realization Fellowship Meditation Gardens offer a peaceful oasis overlooking the ocean, perfect for reflection and relaxation.
If you're a plant enthusiast, take advantage of the San Diego Botanic Garden, which features a stunning collection of flora from around the world.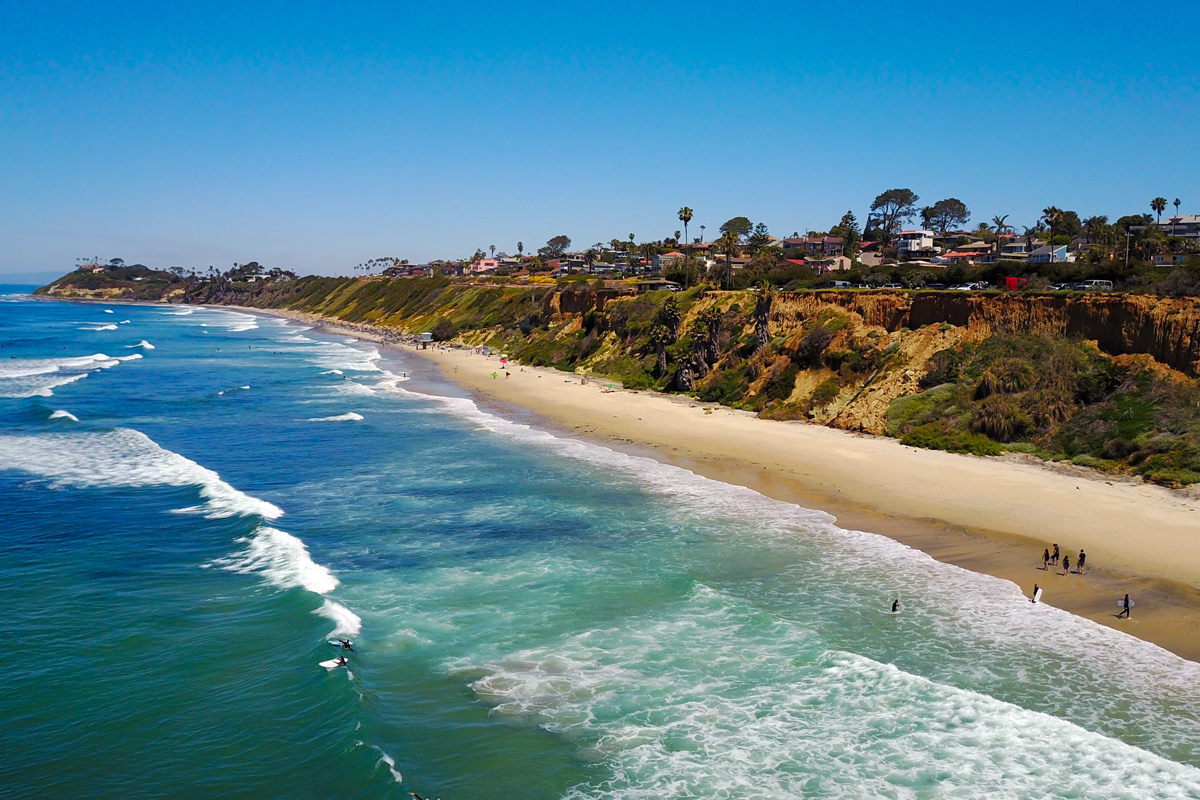 Crown Point
Location: Approximately 7 miles northwest of downtown San Diego.
Crown Point is a hidden oasis nestled along the shores of Mission Bay, offering visitors a peaceful and often overlooked beach community. This neighborhood's bayfront location provides stunning water views and a quiet, laid-back atmosphere.
Crown Point Park is a central attraction, offering a relaxing place for picnics and outdoor activities with scenic views of Mission Bay. The park is a popular spot for family gatherings, barbecues, and sports, making it an excellent destination for a leisurely day in the sun.
The nearby Mission Bay Aquatic Center provides kayaking, paddle boarding, and sailing opportunities, making it a fantastic place for water sports enthusiasts. The calm waters of Mission Bay are perfect for beginners to try these activities.
Oceanside
Location: Approximately 40 miles north of downtown San Diego.
Venturing north along the coast, you'll discover Oceanside, a charming beach town in North County San Diego that offers a unique blend of laid-back beach vibes and a thriving community. While it's a bit farther from downtown San Diego, the journey to Oceanside is well worth it for those seeking a more relaxed yet vibrant beach experience.
The Oceanside Pier is a highlight, extending over 1,900 feet into the Pacific Ocean. It's perfect for fishing, taking strolls, and enjoying panoramic coastal views. The nearby California Surf Museum is a must-visit for surf enthusiasts, showcasing the history and culture of the sport.
Oceanside offers numerous opportunities for surfing, thanks to its consistent waves and surf schools for all levels. The city is known for its Sunset Market, a weekly event featuring various international food vendors, artisans, and live entertainment.
Summary
These beach communities, each with its own character, are perfect for a San Diego vacation getaway. Whether traveling with family, friends, or solo, you'll find the ideal beach community in this sunny Southern California paradise to suit your preferences. So, pack your sunscreen, grab your surfboard, and prepare for an unforgettable San Diego beach vacation.
Ready to experience the beauty of San Diego's beach communities? Look no further! Discover your ideal beachfront rental property at San Diego Coast Rentals. Explore our wide selection of accommodations, from cozy cottages to luxurious oceanfront villas. View stunning images and detailed descriptions, check rates, and instantly confirm availability. Book your dream beach getaway directly online. Don't miss out on your perfect San Diego vacation – visit San Diego Coast Rentals now and make your coastal dreams a reality!